National Hunt expert Paul Jones on the trends that can lead to Grand National profits.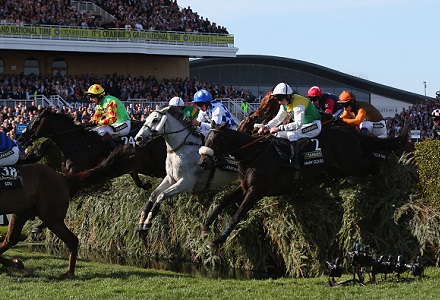 AGE
Can a horse aged 11 win for the fourth time in five years? The odds are more in their favour than you might think as horses aged 10+ have won 17 times in the last 26 years. The leading eleven-year-olds left in after the March 22nd confirmation stage up to number 60 in the handicap are Boston Bob, Alvarado, Soll and First Lieutenant. Also aged 11 are Roi Du Mee, Midnight Prayer and Maggio.
Six-year-olds are no longer eligible to run but it has still been a huge struggle for horses aged seven as their last winner was Bogskar in 1940. Not ideal for the likes of Onenightinvienna, Vieux Lion Rouge or Knock House. In fact, no seven-year-old has even placed in the first four since 1971 so Cause Of Causes can be marked up for his eighth-place finish as a seven-year-old last season. Only ten of their 47 contenders have completed the course since 1992.
Although there have been nine 12-year-old winners stretching back to 1962, no teenager has won since Sergeant Murphy in 1923 and no horse aged 13+ has placed since Rondetto in 1969. Pineau De Re and Vics Canvas are the only teenagers left in the race with any hope of getting a run.
No novice has won since Mr What in 1958, something that is against the likes of Katkeau, Bally Beaufort, Onenightinvienna, Vieux Lion Rouge and Rule The World (though the latter is a second-season chaser even if he is still a maiden over fences after 13 attempts including when second in last season's BoyleSports Irish Grand National).
The least amount of chases previously contested by a Grand National winner in the last 25 years is ten when Numbersixvalverde won in 2006 and Many Clouds last year. Contenders outside of the novices mentioned earlier with less than ten chase starts are Gilgamboa, O'Faolain's Boy and Pendra (9), Shutthefrontdoor, Morning Assembly and The Last Sumuri (8).
Key Age Stat:
20 of the last 26 winners were aged ten or older.
Click here for all the best Crabbie's Grand National odds
STAMINA
The race distance is now officially 4m 2f 74y but the Crabbie's Grand National remains the longest race in Britain so possessing sufficient stamina levels is clearly still a prerequisite.
In fact, and as daft as it sounds, maybe even more so following the reduction of the race distance in tandem with making the fences easier to negotiate, which should lead to a faster overall gallop, so there is even less of a let up in the pace ensuring that horses have to stay extra well to win. Maybe it was a coincidence or maybe it wasn't, but the 1-2-3-4-5 in 2013 had all finished in the first four in an Aintree, Scottish, Welsh or Irish National before underlining the stamina argument. Two years ago the winner, second and fourth had all won races over at least the best part of 3½ miles and last year saw a Hennessy winner emerge victorious with winners of the Welsh, Irish and Durham Nationals finish in the first six in addition to a horse placed in the previous year's Grand National.
Contrary to what is often quoted by ultra-positive-thinking (or deluded) connections, statistics tell us that you certainly do not "need a two-and-half miler for the Grand National". There is no better evidence than that to scan the records and note that we have to search back to Gay Trip in 1970 for the last such winner. The very minimum requirement is that our selection should have won over at least three miles like the last 44 winners.
It wasn't so long ago in 2008 that over a quarter of the field entered the race having failed to win a race over three miles but, given the rule put in place in the autumn of 2012 that to qualify a horse must have finished in the first four in a chase of three miles or more, those numbers have dropped. The likes of Turban, Ballycasey, Wonderful Charm, Third Intention, Gilgamboa, Buywise, Double Ross, Ucello Conti, Ballynagour, Home Farm and Present View have yet to win over 3m+ under Rules (the last three named did so in a point-to-point). This rule was actually first implemented in the late 1920s but then lapsed.
Key Stamina Stat:
The last 44 winners had won over at least three miles.
Click here for all the best Crabbie's Grand National odds
JUMPING
The modifications to the fences ahead of the 2013 renewal produced an immediate impact as all 40 horses were still racing after seven fences and only two horses fell throughout the whole contest and 33 got past half-way. Therefore it can be argued that being on a super-safe jumper is not quite the advantage it used to be. The first two winners since the safety modifications are unlikely to have got away with their jumping mistakes in years gone by.
In fact, the winner of that first running since the modifications where the fence frames were altered from wood to EasyFix plastic birch, Auroras Encore, was statistically the worst jumper to win the Grand National since Maori Venture in 1987 (who had seven previous falls/unseats) if purely judging by number of previous falls/unseats, which he had totalled six.
Fifteen of the last 19 winners had no more than two falls/unseats to their name beforehand but, that said, two of those winners came in the last four years. Pineau De Re had fallen twice earlier in his career and the last winner to have never fallen or unseated his rider was the Irish-trained Numbersixvalverde in 2006. Interestingly, before him it was two more Irish-trained winners in Papillon and Bobbyjo.
Entries to have fallen/unseated their rider more than twice are Vics Canvas (5) but he is aged 13 so had more opportunities than most, Katenko and Saint Are (4) though the latter-named has completed over Grand National fences on all four occasions he has tried and On His Own, Roi Du Mee, Turban, Gallant Oscar, Living Next Door, Black Thunder, Hadrian's Approach and the former winner Pineau De Re (3).
Key Jumping Stat:
15 of the last 19 winners had fallen or unseated their rider no more than twice.
Click here for all the best Crabbie's Grand National odds
LEADING RACE GUIDES
Of the last 19 Grand National winners, as many as 12 had won or finished placed in a National of one description or another. In fact, the 1-2-3-4-5 in 2013 had all finished in the first four in an Aintree, Scottish, Welsh or Irish National before so checking out the form from other Nationals is a more than worthwhile exercise. Pineau De Re, for example, won the Ulster Grand National by 23 lengths a year before winning his victory two years ago. Rule The World finished second in last season's Irish National.
The Coral Welsh Grand National has cooled as a guide of late featuring just one winner since Bindaree (2002) having featured as many as eight winners between 1976-2002. The previous season's BoyleSports Irish Grand National is the leading Irish guide featuring four winners in the last 17 years but it has been the previous season's Coral Scottish Grand National that has had most impact of late as three of the last seven Aintree heroes contested that 4m1f handicap race the previous spring where they finished ninth, sixth and second respectively. Last season's runner-up, Goonyella, represents last year's Ayr marathon form.
The Hennessy Gold Cup used to be an excellent guide as between 1987-2005 as many as 18 of its field went on to finish in the first four, of which seven won. It went quiet for ten years until Neptune Collonges ran at Newbury four seasons ago and Many Clouds then completed the double last season. First Lieutenant (3rd) is its chief representative this time.
Surprisingly, no winner of the Betfred Grand National Trial at Haydock won by Bishops Road has won but Red Rum prepped in that trial ahead of all five of his Aintree appearances and seven Grand National winners since 1973 used that trial as a successful platform.
Key Leading Race Guides Stat:
12 of the last 19 winners had won or been placed in a National of any description before.
Click here for all the best Crabbie's Grand National odds
CHELTENHAM FESTIVAL FORM
Eight Grand National winners going back to 1991 ran at the Cheltenham Festival. However, just one Cheltenham Festival winner from the same season has followed up in the Grand National since Nicolaus Silver won in 1961.
The Betfred Cheltenham Gold Cup will appeal to many punters as the best and Many Clouds finished sixth before winning at Aintree. We have to go back to the Gold Cup runner-up, Rough Quest, in 1996 to find the last winner. Potential contenders who ran in the Gold Cup are Carlingford Lough (4th), O'Faolain's Boy (7th) and On His Own (8th).
The Fulke Walwyn Kim Muir Handicap Chase is a notable guide. Cause Of Causes bolted up back in March and will be 13lb well in if he squeezes into the race. Sunnyhillboy in the same ownership could not have gone any closer here four years ago when nosed out by Neptune Collonges after winning that amateur riders' race at Cheltenham, which was also the final race contested by Mr Frisk (1990) where he finished fourth before winning the Grand National in a course record time. Greasepaint (1983) and Encore Un Peu (1996) also finished runner-up after winning and finishing second in the Fulke Walwyn Kim Muir. Ballabriggs (2011) did win a Fulke Walwyn Kim Muir, but that success was recorded 13 months before his Grand National triumph.
Many trainers now like to use a race over hurdles to help put the final touches to their preparation and Don't Push It (2010) and Pineau De Re (2014) both had their final start in the Pertemps Network Final where they finished pulled up and third respectively. The Romford Pele caught the eye with a running-on eighth in the Coral Cup.
Silver Birch (2007) finished third in the Cross Country Chase prior to his victory here but, a little surprisingly, only Bindaree (2002) of Grand National winners since 1991 contested the valuable Ultima Business Solutions Handicap Chase on his previous start in which Holywell (2nd), Morning Assembly (4th) and Kruzhlinin (5th) all ran well.
Key Cheltenham Festival Form Stat:
Only one Cheltenham Festival winner from the same season has gone on to win since 1961 though eight horses beaten at the Cheltenham Festival have won since 1994.
Click here for all the best Crabbie's Grand National odds
RECENT FORM
Since Lord Gyllene won in 1997, only Ballabriggs of subsequent winners had won more than once earlier in the season (and those successes were in novice hurdles) until Many Clouds last season. Horses with more than one win to their name this season are Aachen, The Last Samuri and Bishops Road plus the novices Katkeau, Bally Beaufort and View Lion Rouge. On the subject of hurdling, nine of the last 13 winners had run over hurdles at some point earlier in the season.
A total of 56 days had passed since Neptune Collonges (2012) had his previous start when he was narrowly beaten in the Betfred Grand National Trial at Haydock meaning that he became the first Grand National winner since Aldaniti (1981) to have been off the course for over 50 days. In the whole scheme of things six days is neither here nor there, the underlying point is that a fairly recent run is important (by fairly recent I'd say since the New Year) and it also doesn't necessarily have to be a good one. That's the only sticking point against the Becher Chase winner, Highland Lodge, who has not run since that success 126 days ago. Others arriving here off a notable break are Roi Du Mee (161 days), Wonderful Charm (120 days) and Pendra (112 days).
Three of the last nine winners were officially at least 5lb 'well in' having improved since the weights were unveiled in mid-February. In addition, Sunnyhillboy was defeated by just a nose in 2002 attempting to do likewise. This is significant as few contenders are 'well in' at all, let alone to the tune of 5lb+. Two years ago the best-in horse to the tune of 9lb, Balthazar King, also only found one too good and last season's best-in horse, The Druids Nephew (10lb), was going like a winner in many people's eyes when he fell when leading at Valentine's on the second circuit. The best-in horses this season are Cause Of Causes (13lb), The Last Samuri (12lb), Bishops Road (10lb) and Silviniaco Conti (6lb). Saint Are and Holywell are 4lb well in.
Pineau De Re became the busiest Grand National winner for 25 years two years ago as he had raced on eight occasions since the start of August whereas all other winners since Little Polveir (1989) had run between three and six times.
Key Recent Form Stat:
Only two of the last 18 winners had won more than once earlier in the season.
Click here for all the best Crabbie's Grand National odds
THE IRISH CHALLENGE
A total of 24 Irish-trained horses have won the Grand National and 20 feature in the top 60 in the handicap after the March 22nd confirmation stage. Eight years have now passed since we witnessed the last Irish-trained winner when Silver Birch (2007) was successful for Gordon Elliott which has to be considered as a mini drought given that they had plundered six of the nine runnings between 1999-2007.
Interestingly, those last six Irish-trained winners going back to 1999 had all run over hurdles in one of their previous two races. A Grand National contender running over hurdles earlier in the season is viewed by many as being a clever way to help protect a horse's chase handicap rating ahead of their big target but the BHA Head of Handicapping has been cuter to their plan in very recent seasons and had his say.
Willie Mullins has saddled a winner, second and third from his 28 runners and looks set to be represented by Boston Bob, Ballycasey, Sir Des Champs, On His Own and Turban. Gordon Elliott's contenders are Ucello Conti, Cause Of Causes and Roi Du Mee.
Click here for all the best Crabbie's Grand National odds
PREVIOUS AINTREE EXPERIENCE
So how important is the much-discussed 'Aintree Factor'? The recent facts are thus: five of the last 15 winners ran in the previous season's Grand National and eight winners over the same period of time had run in any race over the Grand National course before.
If you are referring back to last year's Grand National for clues then perhaps concentrate on horses that were not involved at the business end. Since Hallo Dandy won in 1984 having finished fourth the previous season, only Amberleigh House has won having finished in the first four 12 months earlier from as many as 18 defending title holders and 55 horses placed second, third and fourth to take their chance. Top-four finishers from 12 months earlier have an excellent completion record however with 47 of those returning 73 contenders successfully negotiating all 30 fences again, with ten of the placed horses going on to finish in the first four again in addition to three winners also hitting the frame. Last season's 1-2-3-4 were Many Clouds, Saint Are, Monbeg Dude (non runner) and Alvarado.
Key Previous Aintree Experience Stat:
Only one of the last 73 top-four finishers from last season's race to return has gone on to win.
Click here for all the best Crabbie's Grand National odds
THE BETTING MARKET
Despite the Grand National's public reputation as being a lottery, the fact that almost two-thirds of the last 25 winners were sent off in the first eight in the betting would suggest it is not as impossible as many believe.
However, winner finding has undeniably been far tougher of late with six of the last nine winners sent off at 100/1, 66/1, 33/1 (x2) and 25/1 (x2). The credit (if that is the right word as far as Form-Book students are concerned who like to concentrate on the leading fancies) for that can go to down to the BHA Handicapper who has certainly succeeded in his brief to make the race more competitive.
Punters have been pretty good at latching on to the winner come the day over the last 16 years correctly identifying Papillon and Don't Push It as being overpriced, who were both as big as 33/1 shots a couple of days before being hammered into 10/1 at the off, and Bobbyjo was a third 10/1 winner to be very well supported on the day opening up at 16/1. There have been four winning favourites or joint-favourites in the last two decades.
Key Betting Market Stat:
6 of the last 9 winners started at 25/1+.
Click here for all the best Crabbie's Grand National odds
JOCKEYS
The Grand National is often won by an unheralded jockey and their success will be by far and away their biggest career achievement. Ryan Mania, Liam Treadwell, Robbie Power and Niall (Slippers) Madden would not be names to trip off the tongue outside of the horseracing industry but they have all won the world's greatest steeplechase in the last decade. Leighton Aspell, Ruby Walsh, Richard Dunwoody and Carl Llewellyn have ridden the Grand National more than once in the last 30 years and, on both occasions Llewellyn was successful, he was picking up a spare ride.
Ruby Walsh has the best record of current jockeys having won on Papillon (2000) and Hedgehunter (2006) and he has completed the course on seven other occasions (four of which finishing second, third or fourth) from 12 rides. It is looking like Boston Bob will be his mount. Barry Geraghty won on Monty's Pass (2003) and has also ridden four other horses into a place from 15 attempts. He has a choice from six J P McManus horses in the top 60 left in the race with Shutthefrontdoor being the most likely. Paul Moloney has not ridden the winner but he has remarkably reached a place for the last seven years - three times on State Of Play, twice aboard Cappa Bleu and twice on Alvarado who is he likely to ride again. Richard Johnson has had most Grand National rides without winning (19) but has finished second on What's Up Boys (2002) and Balthazar King (2014). Kruzhlinin looks his most likely mount.
The last amateur rider to win was Marcus Armytage on Mr Frisk (1990) but Sam Waley-Cohen has an exceptional record over these fences having finished second, fourth and fifth in six starts in addition to winning six other races over these fences and three other second-place finishes. He doesn't have a confirmed ride at the time of writing but is eligible to ride on a technicality having been initially banned for the day.
Key Jockey Stat:
Paul Moloney has finished placed for the last seven years.
Click here for all the best Crabbie's Grand National odds
OWNERS AND TRAINERS
Nigel Twiston-Davies is the only trainer currently holding a licence to have won the Grand National more than once courtesy of Earth Summit (1998) and Bindaree (2002) and he looks set to run Double Ross and Bally Beaufort.
Paul Nicholls' Neptune Collonges (2012) could do what none of his previous 51 runners or ten subsequent runners had achieved when getting up on the line to win the race's tightest-ever finish which gave him the Trainers' Championship edging out Nicky Henderson. His main hopes look to be Silviniaco Conti and Just A Par but is also likely to run Wonderful Charm, Unioniste and Black Thunder.
With regards to Henderson, he has yet to win the Grand National from 37 attempts (seven fell at the first fence) of which four have placed, notably his very first runner, Zongalero (1979) who was one of two runners-up for the master of Seven Barrows. Hadrian's Approach and Triolo D'Alene will be attempting to put that right.
Jonjo O'Neill never completed the Grand National course in eight attempts as a jockey but one victory, two seconds and three thirds from 28 runners as a trainer is a superb return as a trainer and he has two live contenders in Shutthefrontdoor and Holywell.
Philip Hobbs has trained two seconds and a third from 25 runners. Evan Williams has saddled eight runners of which only two have not finished in the first four.
Trevor Hemmings has a love affair with the Grand National and has had at least one runner every year since 2000. His colours have been carried to victory in recent times via Hedgehunter (2005), Ballabriggs (2011) and Many Clouds (2015). The latter is likely to start favourite off top eight.
J P McManus may well have had owned three individual winners had the line come one yard earlier for Sunnyhillboy (2012) or if Clan Royal (2004 and 2005) had kept a straight line after the final fence or not been carried out when six lengths clear but Don't Push It (2010) gave him a famous victory in between.
Key Owners & Trainers Stat:
Trevor Hemmings has won three times since 2005 and J P McManus has owned a top-three finisher in 7 of the last 12 years.
Click here for all the best Crabbie's Grand National odds
WEIGHT
The consensus view after Neptune Collonges became the first winner since Red Rum to carry over 11st 5lb four years ago (98 horses had tried and failed in the intervening 24 years) was that it was time to raise the white flag regards opposing the top weights.
Every Grand National winner between 1984-2004 had carried no more than 11st but, with four consecutive winners between 2009-2012 carrying a minimum of 11st, the tide had not just started to turn, it had seemingly fully turned. And then up popped Many Clouds to win off 11st 9lb last season. The more compressed nature of the handicap nowadays means that this once-critical trends factor has run its course.
Incidentally, coincidence punters might be interested to know that five winners since 2006 were originally allocated 10st 6lb. Now that is some coincidence! Horses originally allocated 10st 6lb this time are Just A Par, Katenko, Vics Canvas and Living Next Door.
Key Weight Stat: Not longer relevant.
SUMMARY
There are so many trends it's virtually impossible to find a contender with the perfect profile so it's a case of seeing what is left after the strongest patterns have been applied and then which horses are the best fit thereafter.
My 'trends' three against the field would be the perennial bridesmaid
First Lieutenant
(so of each-way interest rather than win-only interest),
Highland Lodge
, who has all the credentials bar a recent run to his name to be a lot shorter than the general 50/1 at the time of writing (look out for bookmakers paying down to sixth in both of those instances on the day) and the class act of the race who is also 6lb well in,
Silviniaco Conti
.
Last year's sixth,
Royale Knight
, would also be of each-way interest if he squeezes in but he needs 19 to come out to get a run.
Saint Are
looks a good bet to place again, though historically, going one place better than last year will be difficult.
Click here if you would like to read more of Paul's horseracing and sports-based content
First Lieutenant - 1pt e/w @ 33/1
Saint Are - 1pt e/w @ 16/1