bet365 often advertise as being the world's favourite betting site – and after browsing their site you can get a good feeling why. bet365 are industry leaders when it comes to variety in markets – if you can't find what you want to put on at bet365, then you won't find it anywhere else because it doesn't exist! Their huge range of products, markets and services gives you a great reason to have an account with them but we found that their site and offering is probably more inclined to suit an intermediate / experienced punter. Newbies and those who don't bet that often can be a little overwhelmed with the amount of product on offer, especially how it is laid out on the desktop site. Besides that, bet365 are great for live streaming of thousands of events per year, have multiple deposit and withdrawal options, plus product features like Official Price Guarantee give them weight in an otherwise competitive Australian betting landscape.
Overall rating: 3.5 out of 5.
bet365 Background
bet365 was founded in 2000 by Denise Coates. It hasn't taken long for bet365 to establish itself as one of the major wagering operators in the world, with over 3000 employees worldwide in offices in England, Australia and Gibraltar. In 2012, they expanded from their offerings in Europe and the UK, opening offices in Australia where they are licenced in the Northern Territory.
What we love about bet365
- Huge variety of markets
- Best price offers
- Live streaming (one of the best in the industry)
- iPhone and Android App
- A massive array of deposit / withdrawal options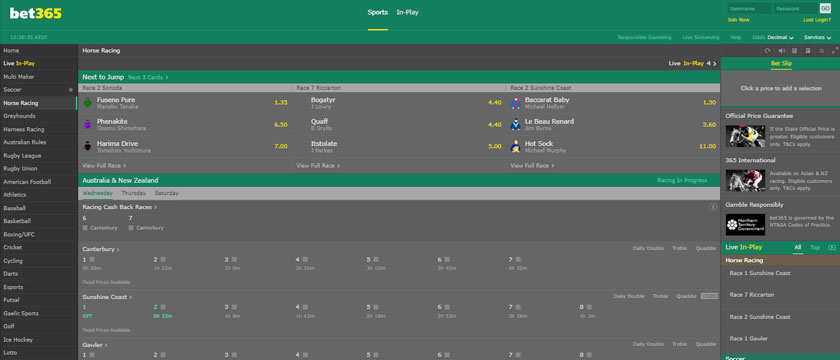 What you'll want to know about bet365
- Dormant accounts get slugged an admin fee
- Desktop is a little difficult to navigate
- Information overload
- Can be a little behind on pricing compared to others