BetEasy are one of the best in the business in Australia and their unique app is something totally different to what the competition offers. A lot of punters are price sensitive and from the selected markets we viewed, BetEasy were very competitive on price so from that perspective they really are one of the big boys. We love the live streaming of AFL and Sky Racing and if punters want information, there's plenty to be found via their info portal. With a bunch of innovative and exciting betting options BetEasy provide a good overall punting experience.
Overall rating: 5 out of 5.
BetEasy Background
BetEasy is a rarity in the Australian wagering space in that they pretty much entered the market as one of the major players. This was mainly due to the pulling power of the original partners, prominent Australian wagering identity Matt Tripp, and billionaire James Packer. They initially founded BetEasy after the pair were involved with BetEasy (Tripp) and Betfair (Packer) respectively, with the partnership taking effect in 2015. Together, they built a very competitive bookmaking business that holds its own on pricing, promotions and star power.
Crown Resorts sold their 62% stake in CrownBet in early 2018 to the Canadian owned The Stars Group with Tripp retaining the other portion.
What we love about BetEasy
- Huge product offering across racing and sports
- My Rewards
- Footy Tipping
- Competitive on pricing
- A unique app which provides a fabulous user experience
- New and exciting racing markets (Hot Wings, Back The Field, Rags to Riches, Tight Squeeze etc)
- Live streaming of AFL, NBL, Soccer and Victorian gallops
- Promotional focus
- Easy sign up process
- Information rich hub through 'The Call'
- Multiple deposit and withdrawal options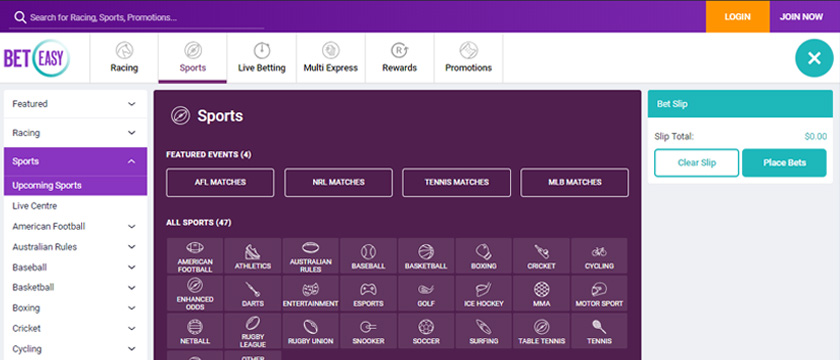 What you'll want to know about BetEasy
- Desktop site is good but we found the app to be better
- Pricing across some events wasn't as competitive as other corporate bookmakers
- Not as many offers, bonus bets, price boosts as the competition
BetEasy's Betting Products
- PROTEST PAYOUT. Get paid out even if you lose on protest.
- EARLY PAYOUTS. Get credited with your winnings soon after your bet has won.
- LIVE STREAMING. Stream AFL live to your mobile as well as soccer, NBL and Victorian thoroughbred racing including race replays.
- BETEASY TV. A highly informative portal to suit anyone's punting needs including news, previews and reviews.