Betstar is one of those bookies you've probably heard of but haven't really checked out. On review, Betstar was one of the easier and more pleasant bookies to use. This isn't really a surprise considering they use the same interface as parent company Ladbrokes, with the whole digital experience being world class. We liked Betstar's Pick Your Own Odds feature, which lets you increase the price of your horse by picking how far it wins by. While that exclusive product is great, Betstar lacks in the market stables that punters want specials / promotions and the bells and whistles such as live streaming. That aside, we still liked Betstar's offering as a whole and that definitely makes it worth downloading their app onto your phone.
Overall rating: 3.5 out of 5.
Betstar Background
Betstar was founded by bookmakers Michael and Alan Eskander in 2007. The pair, father and son, had run their own operations separately prior to merging to form Betstar. Licenced in the Northern Territory, Betstar was then sold just seven years later to British giant Ladbrokes, however, still operates under an independent banner.
What we love about Betstar
- Easy to use interface
- Mobile friendly
- Competitive on price
- Huge market selections across racing and sport
- Weekly promotions
- Multiple deposit options
What you'll want to know about Betstar
- Can be a little uncompetitive in price on some markets
- Not as many offers, products and promos as the competitors
- No 'hero' features or offers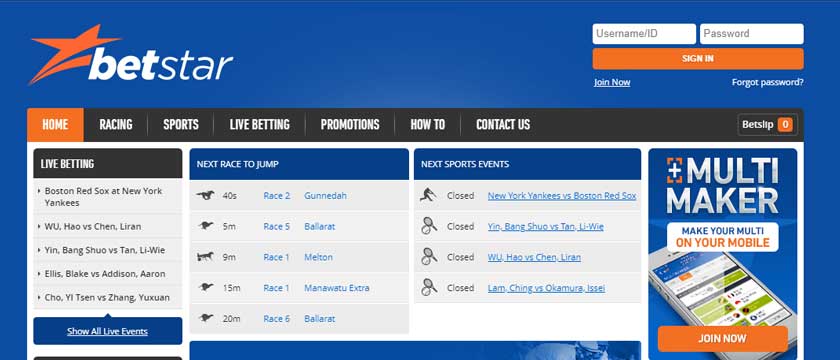 Betstar Betting Products
- FAVOURITE v FIELD. Take on the favourite with the field.
- BEST TOTE or SP. Get the Best Tote or Starting Price dividends (whichever is higher) on all Australian metro thoroughbred meetings.
- PROTEST PAYOUT. Get paid out if you horse is past the post first and loses on protest.
- PAST THE POST PAYOUT. Get paid quickly on all Australian racing.
- PICK YOUR OWN ODDS. Select the margin your horse will win by to increase your odds.