BlueBet is a no-nonsense Australian bookmaker that is owned and operated by legendary bookie, Michael Sullivan. Known for giving punters a fair go when fielding at the track, 'Sullo' offers the same service for punters through BlueBet.
It is obvious that BlueBet isn't on the same level as the big boys in Australian wagering, however, they hold their own on a number of fronts. We found that they truly excel with racing where they cover a huge range of meetings and have promotional activity on features. Their web / mobile / app is a simple offering and probably lets them down a little especially as there is no live streaming available. If you are a price sensitive punter then it is definitely worth checking out BlueBet because they can be quite competitive on price depending on the market.
Overall rating: 3.5 out of 5.
BlueBet Background
BlueBet is Australian owned and run by one of the pioneers for modern day corporate bookmaking – Michael Sullivan. A leading bookie for more than 30 years, 'Sullo' is known for giving punters a fair go and that is exactly what BlueBet is all about. Sullivan of course is best known for being the face of Sportingbet in Australia prior to it being acquired by William Hill in 2012.
What we love about BlueBet
- Australian Owned
- Huge product offering across racing
- Competitive on pricing
- Simple layout on their desktop site
- iPhone/Android apps
- Price fluctuations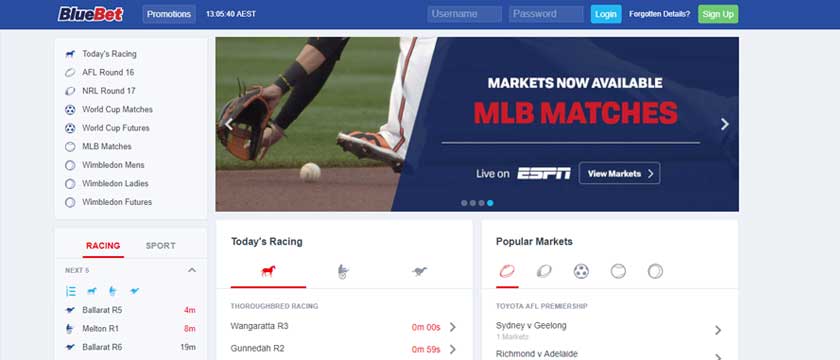 What you'll want to know about BlueBet
- The app and mobile offering is a little behind the rest of the competition
- While their pricing on some events was good, we found it dropped off in other markets
- A basic sports offering compared to other corporates
- Their whole offering (desktop, mobile, app) could use a refresh
BlueBet Betting Products
- PROTEST PAYOUT. Get paid out even if you lose on protest.
- EARLY PAYOUTS. Get credited with your winnings soon after your bet has won.
- BT + SP WIN. Best of 3 Australian TAB prices or official on-course starting price (SP)
- TOP FLUC. Best price declared by official on-course bookmaker fluctuations. Available 30 mins out from the jump and not on horses that have shortened.
- ODDS v EVENS. A fun betting market where you can back odds or evens to win a race.