Bookmaker.com.au aren't one of the biggest players going around, however, they don't act like they are or try to be what they're not. They are essentially a nice, competitive bookie who punch above their weight when it comes to certain markets and prices. Their offering is pretty good and covers most sports and racing events a large number of punters would want. For the casual punter, having an account with these guys is perfect because they use what they've got to the best of their ability. What they don't have is the offering that some of the bigger players have; including the amount of promotional activity or any live streaming. If you can get over that then Bookmaker.com.au are worth having a punt with.
Overall rating: 3.5 out of 5.
Bookmaker.com.au Background
Bookmaker.com.au was the brainchild of respected wagering figure, Dean Shannon. The business was launched in 2012 but in 2013 they came under the Ladbrokes banner after the latter took over. Shannon was then CEO of Ladbrokes in Australia with both betting providers remaining separate entities and maintaining their legacy brands.
Bookmaker does well to compete against the corporates and the TAB. There is no doubt their user interface is very user friendly while being quick and easy to use. When you look at their desktop / mobile sites there is a striking similarity to Ladbrokes' interfaces, however, they don't have all the bells and whistles that their 'bigger brother' has.
What we love about Bookmaker.com.au
- Easy to use interface
- Mobile friendly
- Competitive on price
- Vast array of products and markets
- Multiple deposit options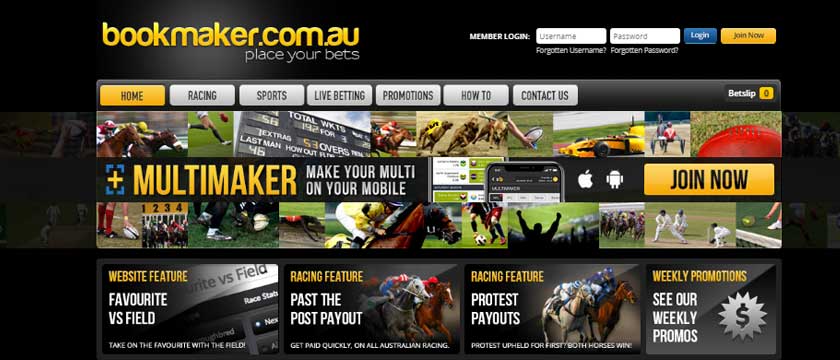 What you'll want to know about Bookmaker.com.au
- Can be a little uncompetitive on price on some markets
- Very similar offering to Ladbrokes
- Not as many offers, products and promotions as competitors
Bookmaker.com.au Betting Products
- BEST TOTE OR SP. Guaranteed to get the best tote odds all day, every day.
- PROTEST PAYOUT. If your horse is first across the line but loses on protest, get paid out as a winner
- PAST THE POST PAYOUT.. Get paid as soon as your galloper, harness horse or greyhound cross the finish line.
- FAVOURITE v FIELD. Take on the favourite with the field
- BOB (BEST OF THE BEST). Get the highest odds paid of the three main Australian totes or TopFluc
- BTOTE. (Bookmaker Tote). Highest paying dividend for the VIC or NSW totes
- SPG. Highest of either the fixed price taken at the time of the bet or the official final Bookmaker's fluctuation supplied by APN
- BEST TOTE. Highest paying of all three Australian totes.
- TOP FLUC. The top betting fluctuation offered by Bookmaker in the final 30 minutes of betting
- TOP TOTE. Best dividend derived from the three main Australian totes.