Ladbrokes don't mind giving customers the chance to get Bonus Bets or great odds for their favourite horse or sporting team. New customers are often rewarded with first deposit bonuses. For punters that are price sensitive, Ladbrokes' Odds Boost gives you the chance to get the best price possible for your bet so you won't have to take unders on your 'good thing' of the day.
What we Love about Ladbrokes
- New customer first deposit bonuses (not eligible across all states in Australia)
- Huge range of features throughout their mobile apps and website
- Plenty of price boost incentives (Odds Boost, Enhanced Odds, Best Tote, Pick Your Own Odds)
- Protest payout
- Daily Bonus Bet challenge
- Ladbrokes InfoHub (formguides, speed maps, bet tracker, fluctuations, video, featured bets)
- Ladbrokes Cash Card lets you pull your winnings out in seconds
- Past the post payout means you don't have to wait long for your winnings to hit your account
- Live streaming of Victorian thoroughbreds as well as NBA and NBL
- Huge range of racing and sport to bet on
- Easy to use mobile apps/website
- Daily promotions
- Generally price competitive
What you want to know about Ladbrokes
- Navigation of their betting platform (desktop, mobile, app) can be difficult at times
- Congestion of markets/promotions and information on some of their pages
- Prices on some markets are low compared to their competitors
About Ladbrokes
Ladbrokes are getting a good reputation in Australia, so much so that they are now considered one of the bigger players in the country. Their offering is fantastic with plenty of opportunity for punters to get Bonus Bets, price boosts and take advantage of daily promotions. Racing punters are also at an advantage when betting through Ladbrokes thanks to their fantastic InfoHub which contains live video and a stack of information to help you back a winner. When it comes to variety, Ladbrokes are one of the leaders of the pack and punters can't complain about a lack of markets to bet on or information to view.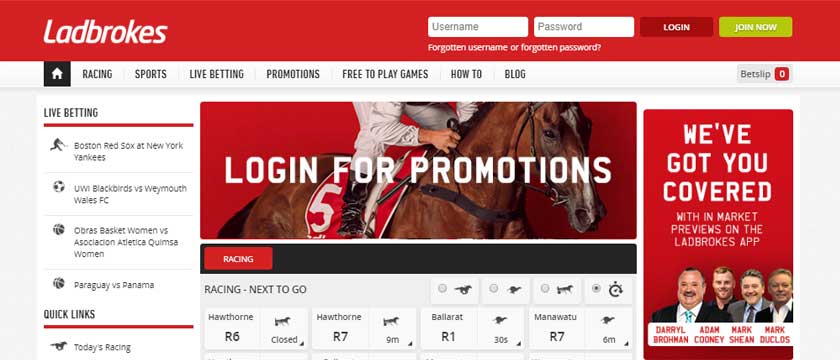 Ladbrokes Background
Ladbrokes is only relatively new in Australia having set up in 2013, however, their parent company in the UK is well respected having established themselves back in 1886. Their initial foray into Australia was via the purchase of Bookmaker.com.au which led to its founder, Dean Shannon, taking up the head job at Ladbrokes before he departed and eventually started Neds.
Ladbrokes has offices in Sydney, Melbourne and Brisbane while their UK operation has over 15,000 people employed and over 2,800 retail betting shops. Such is their global reach that they offer 13 tailored websites in nine different languages.
Ladbrokes Product List
- ODDS BOOST. Get at least one Odds Boost every day across a range of racing markets. Odds Boost can also be used across Exotics, Multis and more while there are daily promos for Odds Boost on sports too. Extra Odds Boost is available on selected markets.
- ENHANCED ODDS. Ladbrokes regularly offer Enhanced Odds on selected races on a daily basis.
- PROTEST PAYOUT. If a protest against the first horse to finish is upheld, get paid out on both the interim winner as well as the official winner. Australian thoroughbred and harness racing only.
- PAST THE POST PAYOUT. Get paid quickly once interim dividends are available.
- BEST TOTE OR SP. Available on all Australian metro thoroughbred meetings.
- FAVOURITE v FIELD. Take on the favourite with the field.
- LIVE BETTING. Call them or they call you.
- LIVE STREAMING. Watch Victorian thoroughbreds through the Ladbrokes app or website. NBA and NBL is also available.
- CASH IN. Gives you the opportunity to deposit cash straight into your Ladbrokes account at over 1000 newsagents across Australia.
- LADBROKES CASH CARD. Withdraw your winnings instantly at any ATM thanks to the Ladbrokes Cash Card.
- CASH OUT. Get out of your multi using the Cash Out feature. You can cash out anywhere between 10% and 100% of the offer you receive.
- BEST TOTE and MID TOTE. Best Tote is the highest of three paying totes across Australia which is available on Australian thoroughbreds only. Mid Tote is the second highest paying of the three totes, available on thoroughbreds (Place), harness and greys.
- BEST TOTE or SP + 20%. Available on selected races.
- LADBROKES INFOHUB. Get all the information you need to place a bet on your favourite horse with this great information portal.
- PICK YOUR OWN ODDS. An exciting feature that allows you to increase the price of your runner if they can win by a certain margin. Available on selected races.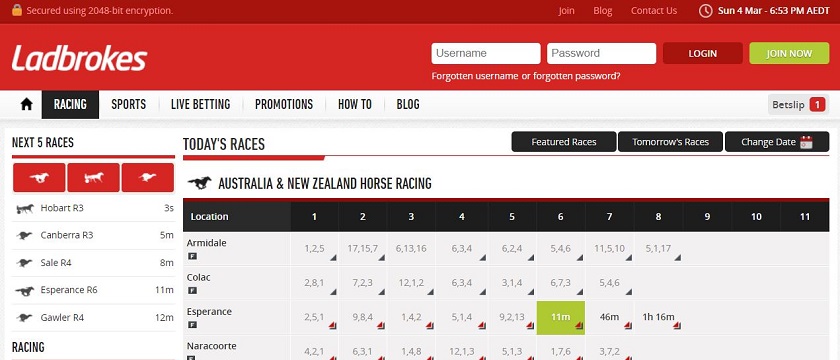 Summary
Ladbrokes is a great corporate bookie for any punter. Their website and mobile apps are designed with their customers needs first and foremost in mind. One of the more impressive things about them is their willingness to offer multiple price boosts on a daily basis that makes them one of the best in the business in that regard. With loads of information, markets and tools designed to help their customers, it is no wonder Ladbrokes continues to grow its brand in Australia. Their Ladbrokes Cash Card gives them a competitive advantage of most of the opposition in that winnings can be withdrawn from an ATM. One of the few complaints we had was their somewhat crowded website which became a little hard to read and navigate on occasions. The other issue we found was their lack of competitiveness on certain markets but overall Ladbrokes were pretty good on price.
Overall rating: 5 out of 5