Neds entered the Australian wagering landscape during Spring Carnival 2017 with a bang with plenty of offers to build their customer base. They're very digital savvy and have computer nerds (by their own admission!), statisticians and digital whiz kids on their books but most importantly, they know their stuff.
Neds has an offering that is slightly different from some of the other corporates. Their sites (mobile, desktop, app) aren't laid out the same as their competitors so it is a little strange to the eye when you first navigate through the home page and then into different markets.
Overall Neds is a great betting platform for any punter. They cater to all customers big and small and their market offering across racing is right up there with the very best of them. One of the big downers from a punting point of view is their sometimes lack of competitiveness on price across certain markets and sports.
Overall rating: 4.5 out of 5
Neds Background
While they are relatively young when compared to their opposition in Australia, Neds are stacked with quality and experience in the back end and at head office. They are managed by the highly respected industry figure Dean Shannon, whose first foray into the wagering landscape was with bookmaker.com.au. He was later tasked with guiding Ladbrokes through their initial launch in the Australian market as their CEO before branching out on his own once more with Neds.
What we love about Neds
- Slick, new mobile and desktop interface
- Ease of functionality
- Huge variety of racing and sports to bet on
- Multiple payment options
- Dual Live betting availability (call them or they call you)
- Bet by phone 24/7 availability
- Easy account verification process
What you'll want to know about Neds
- Takes getting used to their site (mobile, desktop, app) but good once you have navigated around a little bit
- Prices on some markets are low compared to other corporates
- Withdrawal of funds takes up to three (3) days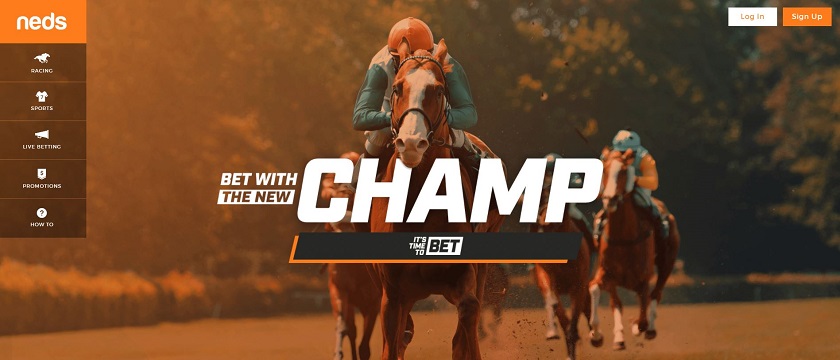 Neds Betting Products
- DAILY PROMOTIONS. Members should log in daily to check out the range
- MULTI BUILDER. Construct your biggest and baddest multis with relative ease.
- ACROSS THE LINE PAYOUT. Get paid quickly and within seconds after your runner has crossed the finish line. No waiting for the all-clear!
- HUGE RACING OFFERING. NEDS has one of the most comprehensive offerings on racing (Aus & International) of any bookmaker in Australia.
- FEATURED BETS. A great feature available across all their digital platforms showing notable bets on the market you have chosen. Great for those that like to follow the money.
- FORMGUIDE COMMENTS. A quick preview / summary of the race or sport you are looking to bet on. Short, sharp and to the point.
- LIVE INPLAY BETTING. Call up to place a live bet or alternatively, have a NEDS customer service representative ring you.