PointsBet is uniquely named because ultimately it is the points in a sporting event that determines how much you win or lose. They are Australia's only licenced wagering operator that offers spread betting which can result in some big wins and big losses – depending on the outcome of each event. One of the newer players in the market, PointsBet don't hold back on the promotional front either which makes them a worthwhile proposition.
Spread betting isn't for the faint hearted though and if you are a rookie punter or relatively new at sports betting, then spread betting can be overwhelming and confusing. Worse still, punters can lose quite a bit off an unsuccessful wager but the flip side is that the rewards can be great if you are correct. Outside of spread betting, PointsBet has a huge range of fixed odds sports betting markets which is great but if you love your racing, they don't have the arsenal that some of their competition do when it comes to things like exotics offerings etc.
Overall rating: 3.5 out of 5.
PointsBet Background
PointsBet was founded in 2017 and has a unique point of difference in Australia by being the only bookmaker to offer spread betting. Initially this was all they offered, however, they have since branched out by opening fixed odds across racing and sport. PointsBet is licenced in the Northern Territory but has a Melbourne mailing address. Sam Swanell is the current CEO having formerly been with Tomwaterhouse.com.
What we love about PointsBet
- Easy to use interface
- Mobile friendly
- Competitive on price
- Spread betting
- Attractive promotions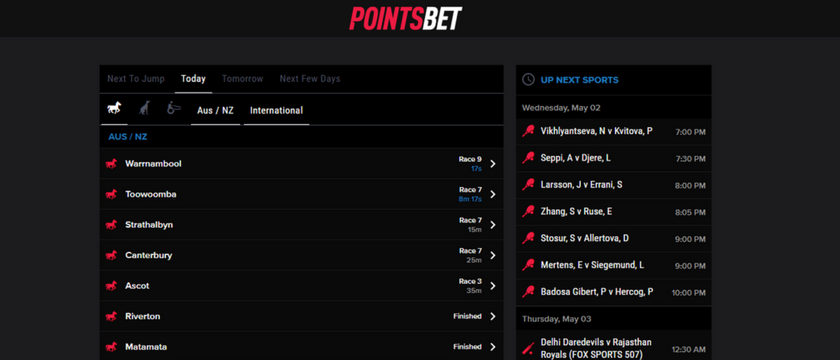 What you'll want to know about PointsBet
- Can be a little uncompetitive on price on some markets
- Not as many offers, products and promos as the opposition
- Spreading betting can be awfully confusing for the novice / amateur punter
PointsBet Betting Products
- SPREAD BETTING. The more your bet is right – the more you win!
- PROTEST PAYOUT. Get paid out if your horse is across the line first but loses on protest.
- FIXED ODDS and TOTE. Take Fixed Odds or the Tote across the board on your favourite thoroughbred, harness horse or greyhound.
- EXOTICS. Quinella, Exacta, Trifecta, First4s available across all three racing codes.