SportChamps is the new kid on the block when it comes to the Australian wagering scene. It's offering is completely different to anything you have seen before because punters enter sports and racing tournaments for the chance to get a collect, rather than bet on individual races or sports themselves. This is an exciting form of betting on racing and sporting events but it definitely takes time to get accustomed to.
SportChamps is, if nothing else, completely different to anything many punters may have experienced previously. If you are a hardcore racing or sports betting enthusiast then SportChamps probably isn't for you because there is no fixed odds or tote offering on either. Tournament betting is something new to Australia and definitely takes time to get into. Essentially you still bet on the outcome of racing and sporting events but in a casino-style format. You deposit with real money and get virtual cash. You then use that virtual cash to go into a tournament where you bet on the outcome against other players. The punter with the most virtual cash at the end takes the majority of the winning, however, you can still collect handsomely even if you don't win depending on how many other players were in your tournament. One of the great things about SportChamps is that you can set up your own tournament and bet against your mates and share a bit of banter, otherwise, you can go into a public tournament and pit your knowledge against all comers!
You'll either love it or hate it from a betting perspective. It all depends on how your tastes are as a punter.
Overall rating: 3 out of 5.
SportChamps Background
SportChamps is the brainchild of respected wagering industry figure, Alan Eskander. Better known as the founder of Betstar, Eskander sold out in 2014 before launching SportChamps in 2017. It is best described as a social betting company specialising in tournaments. This is no pipe dream though – Eskander has managed to raise a few million dollars in VC equity from some high profile investors who share his vision for the company.
What we love about SportChamps
- Easy to use interface
- Mobile friendly
- Tournament betting
- Social banter during tournaments
- Bet against your mates
- Start your own tournament
- Low buy-in
What you'll want to know about SportChamps
- No fixed odds offering on racing or sport
- Not as many offers, products and promos as the opposition
- No 'hero' features or offers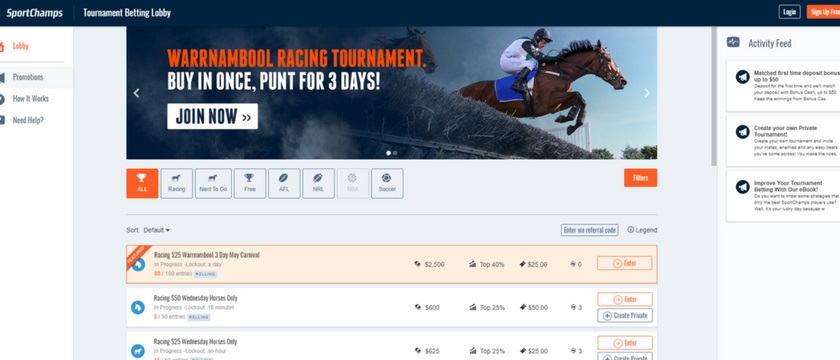 SportChamps Betting Products
- SPORTS TOURNAMENTS. Bet on AFL, NRL, NBA, Soccer and more. Get in on the latest tournaments to prove to your mates that you are the boss
- RACING TOURNAMENTS. Buy into racing tournaments that are conducted on a daily basis – the more winners you tip, the greater chances of your getting a collect.