Sportsbet continue to be one of the main players in Australian wagering and appear to be one of the few bookies that go from strength to strength each year. Considered to be very innovative, their unique products have set them apart from many in the pack whilst they are market leading on the promotional front. Most punters have a few accounts and more often than not, Sportsbet is one of their main ones.They appeal to punters of all shapes and sizes and have a huge product offering.
If you are price sensitive then Sportsbet is pretty good on pricing, however, like most corporate bookies it depends on which markets you are betting on. The ease of opening an account makes it clear that they understand the online environment as they maintain their title as Australia's leading online bookie.
Overall rating: 5 out of 5.
Sportsbet Background
Sportsbet is actually one of the pioneers of sports betting in Australia having been around since 1993. The legend of how Matt Tripp grabbed the ailing company and turned it into a powerhouse has long been told, however, in 2009 Paddy Power acquired a share before taking full control a year later. Sportsbet is considered one of the biggest players in the Australian space and continues to grow market share. Tripp has since exited the business to go on and establish Crownbet.
Sportsbet's offering is one of the best in the game and it is easy to see why they are so popular among punters. All in all, they seem to want to give punters a fair go, evidenced by the justice refunds that often come out of the blue. Sportsbet is also one of the few bookies that offers live streaming of Victorian and South Australian thoroughbreds.
What we love about Sportsbet
- Huge product offering across racing and sport
- Competitive on pricing
- iPhone/Android apps and desktop
- Live streaming (certain events)
- Price fluctuations
- Value for money
- Innovative products
- Novelty markets
- Ease of functionality
- Early payouts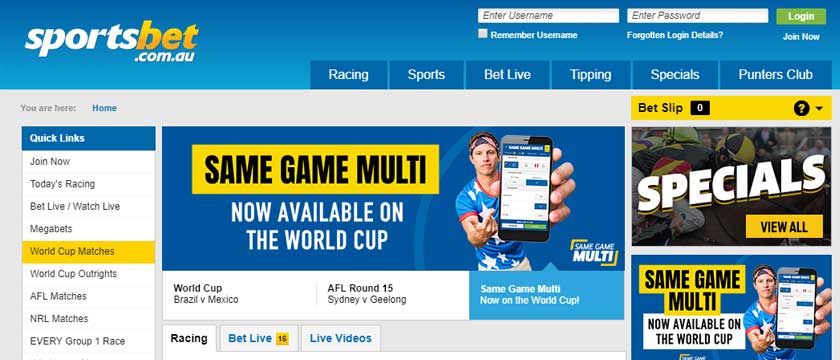 What you'll want to know about Sportsbet
- Their desktop/mobile offering can be a little hard to navigate at times
- Congestion of information/markets makes it difficult to read
- Pricing can be a little uncompetitive on some markets
Sportsbet's Betting Products
- EARLY PAYOUTS. Get paid out if you selection looks like a sure thing.
- PROTEST PAYOUT. If your horse is past the post first and gets relegated because of an upheld protest, you still get paid.
- LIVE STREAMING. Catch all Victorian and South Australian thoroughbreds live. Selected sports (cricket, soccer, tennis) are covered as well.
- SP, TOP FLUC, TOP TOTE PLUS. Pick the pricing option you want on a racing market whether it be tote (SP, TOP FLUC, TOP TOTE PLUS) or Fixed Odds.
- FORMGUIDES