TopBetta are one of the more unique bookies going around. The difference with them is that they have a unique product – tournament betting. On top of that their GOAT SP product gives you the best chance of securing some juicy dividends that you normally wouldn't get thanks to their access to the Global Tote.
TopBetta's overall offering isn't quite up to the standard of some of the big players in Australian wagering, however, that shouldn't stop punters from having an account with them. They offer a number of markets on racing and sport but their variety is a little thin. Tournament betting is really their thing and any punter with a small, medium or large budget can have a crack. There are tournaments going on all the time across a variety of sports and this unique betting feature is something no other bookie does so it gives TopBetta a nice point of difference.
Overall rating: 3.5 out of 5
TopBetta Background
TopBetta was launched in 2013 and is based in Newcastle. Originally the operation was run out of Norfolk Island before the Northern Territory gave them a license in 2016. Since then, they have merged with Mad Bookie and have continued to develop their tournament offering which gives them a unique point of difference.
What we love about TopBetta
- GOAT products
- Access to Global Tote pools
- Tournament betting
- iPhone/Android apps and desktop
- Quick payouts after an event has finished
- Ease of functionality
What you'll want to know about TopBetta
- Lack of features (live streaming, cash card)
- Little depth in racing markets and sports offering
- Pricing is generally lower than the competition
- Can take up to 7 days to receive winnings after withdrawing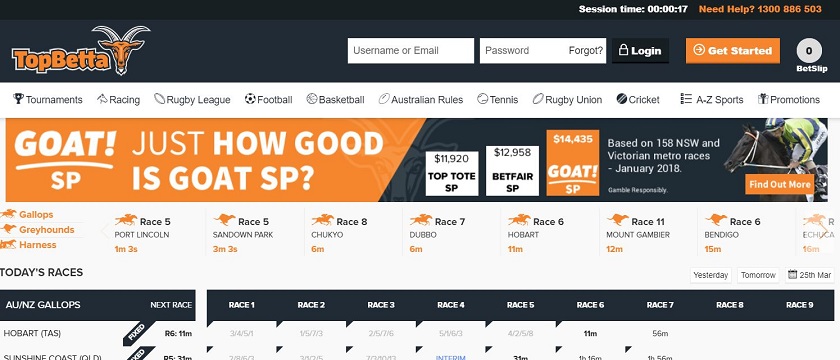 TopBetta Betting Products
- GOAT SP. Is a low takeout / low commission product which gives you the higher divi of either Global Tote or SP.
- GOAT Mid. Is the highest paying divi of Global Tote or middle of the three Australian totes.
- GOAT SUP. Is the highest price of Global Tote or Super TAB.
- GOAT Top. Is the highest paying price derived from Global Tote, NSW TAB, SuperTAB or Tatts.
- TOURNAMENTS. Compete against other punters with as little as $5 eachway. Real cash prizes are available very day.
- PROTEST GUARANTEE. Get paid out as a winner even if you lose on protest.