UBET has plenty going for it including Bonus Bet, Free Bets and Ubet + Rewards. UBET is a major player in Australia and covers tote betting across Queensland, South Australia, Tasmania and the Northern Territory. They are now part of a merged entity with TAB (Tabcorp) which makes them part of one of the biggest wagering companies in the world.
What we Love about UBET
- Bonus Bets (through UBET+ Rewards)
- Earn points for every bet you place
- Rewards points can be redeemed instantly
- Ease of functionality
- Updated mobile, desktop and app interface
- Huge variety of racing and sports to bet on
- Live racing vision (excluding NSW and VIC thoroughbreds)
- Multiple payment options (Credit/Debit card, BPAY, Direct Debit, in-store retail)
- Live betting availability (call them)
- Bet by phone 24/7 availability
- Easy account verification process
What you want to know about UBET
- Takes getting used to their site (mobile, desktop, app) but good once you have navigated around a little bit
- Prices on some markets are low compared to other corporates
- Other bookies and corporates have a wider range of markets to bet on
- Withdrawal of funds takes up to three (3) days
About UBET
It's exciting times for UBET who have recently merged with TAB to form one of the biggest wagering companies in the world. While the merger is still in it's infancy, UBET itself is still a big player in its own right. Currently, UBET has retail outlets in four Australian states as well as an app, mobile and desktop offering. While they are restricted in terms of their promotions and giveaways thanks to legislation surrounding their wagering licence, account customers can still get some great benefits such as bonus bets and special offers. These can be found in the 'account' section of the site and through their rewards program that gives punters the opportunity to redeem their points for bonus bets. The great thing when redeeming points is the process is instant, meaning customers can bet within minutes!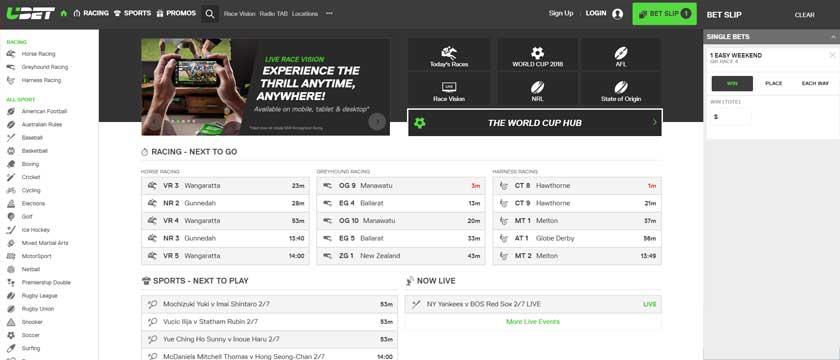 UBET Background
UBET is a major player in Australia and has retail outlets in four states of Australia – Queensland, South Australia, Tasmania and the Northern Territory. It also controls the tote in those states. The company has been around in its current form since 2015 but prior to that had come about through a merger between Tattsbet and UniTAB in 2006. Tote Tasmania was acquired in 2011 with the company then known as TattsBet until its branding was changed to UBET in late 2014.
In late 2017, it was announced that UBET (through its parent company Tatts) would merge with its biggest competitor in the retail space – TAB (Tabcorp). Between them, they now have control of retail outlets in six of the seven Australian states with Western Australia being the exception.
UBET Product List
- CASH OUT. You can Cash Out of your bet through this fantastic feature. It is not available on Live bets placed over the phone. PARTIAL CASH OUT is also available through this feature.
- LIVE RACING VISION. Access SKY1 and SKY2 through your account online or through the UBET app. NSW and Victorian thoroughbred vision is unavailable, however, audio is available across all three race codes.
- LIVE BETTING. Available in retail outlets or via phone.
- UBET TAPPY. Bet with cash using your UBET app. Create your bets via the app and then scan your unique code at the counter to pay for your bets.
- GUARANTEED POOLS. UBET can offer Guaranteed Pools on exotic bet types across all three racing codes, meaning customers can bet into healthy sized pools on trifectas, Quaddies etc.
- MULTI BUILDER. This lets you create your own sport multis at rapid speed. Punters can also built their multis across a range of sports and choose the price and the time.
- DAILY TIPS. UBET experts provide race tips every day. Experts include Gerard Daffy, Nick Curry.
- -RACE STATS. Quick statistics to help you find a winner.
- FOOTYTAB. Pick The Winners, Pick The Margins, Pick The Score. Pick The Result.
- MONEY BACK. UBET will release money back specials on specific markets. Keep on an eye on the promotions page for more details.
- AMBASSADORS. UBET ambassadors or spokespeople are former NRL player Anthony Minichiello and legendary racecaller, Johnny Tapp.
- BLACKBOOK. Never forget your favourite horses, dogs or trots thanks to the blackbook functionality.
- FORM. Race form for many of the racing codes across the world is available. Detailed form may vary from meeting to meeting.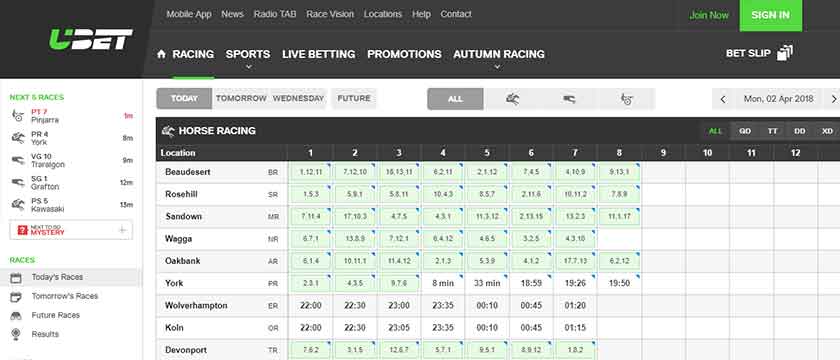 Summary
UBET is a nice betting platform that offers lucrative Bonus Bet offers for its account customers who are members of their rewards program. Their user interface is good without being great but overall, UBET gets the job done when it comes to the whole betting experience. There is no doubt that some of the bigger players in the market have a bigger offering than UBET, however, it seems as though they are playing a space they are comfortable with.
Overall rating: 4.5 out of 5.