10 of the Greatest Racehorses of All-Time
After 27 straight wins, is Winx the GOAT? We take a look at 10 racehorses who are worthy contenders in this unofficial contest.
Laura Slobodniuk
 | 
Thu, 13 Sep, 7:11 PM
"Winx – the greatest racehorse of all time". It's a hotly contested notion and after notching her 27th consecutive win in the Colgate Optic White Stakes this weekend making it her 20th Group 1 victory, it is something which is on most people's lips. There's no denying she's an absolute freak on the track but can she really be named the greatest racehorse of all time?
With so many outstanding names in racing, it's difficult to pinpoint the greatest. We take a look at 10 racehorses who are deserving of discussion in this unofficial contest.
10. Makybe Diva
Record: 36:15-4-3
Prize Money: $14,526,685 (AUD)
This wonder mare etched her name in the history books when winning three consecutive Melbourne Cups in 2003, 2004 and 2005. Considering only 5 horses have won more than one Melbourne Cup in its history stretching over 150 years, this is a feat that may never be eclipsed.
9. Phar Lap
Record: 51:37-3-2
Prize Money: £66,738 (Australian Pounds)
Cemented his name in folklore when capturing the hearts of the nation during the great depression. With an inauspicious record of 9:1-0-0 to begin his career he would rocket to fame winning a Melbourne Cup, two Cox Plates, an AJC and VRC Derby and 18 other weight for age races. He retired the third highest stakes earner at the time when taking out the Agua Caliente Handicap in Mexico (in race record time).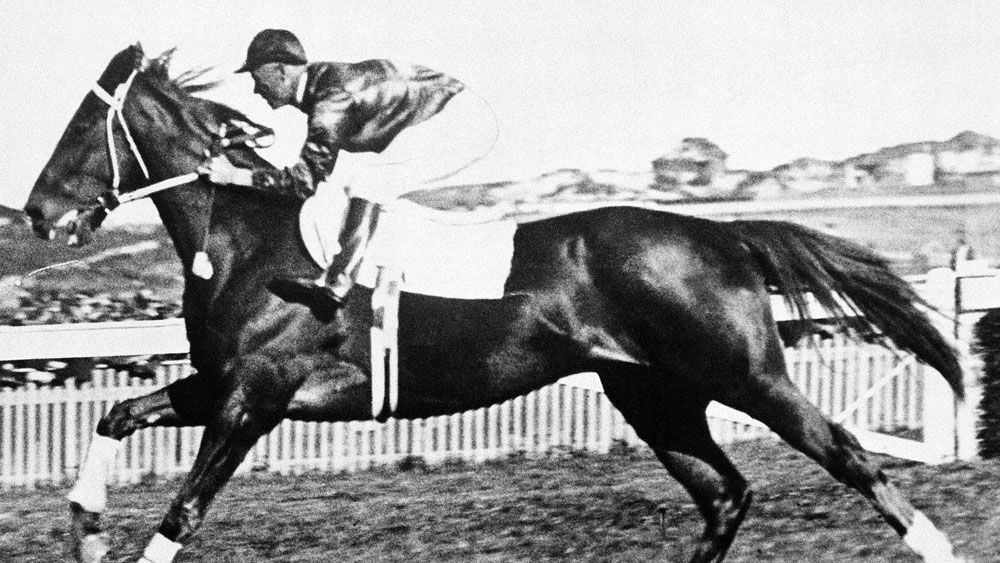 8. Kingston Town
Record: 41:30-5-2
Prize Money: $1,605,790 (AUD)
Winner of 3 consecutive Cox Plates from 1980-1982 (a record only recently eclipsed by Winx) and 11 other group 1 races, including a Rosehill Guineas, AJC Derby, Tancred Stakes, Sydney Cup and QLD Derby all in the same year (1980). A true sporting injustice was seen when he ran second in the 1982 Melbourne Cup after Malcolm Johnson got itchy hands too far from the post.
7. Man o'War
Record: 21:20-1-0
Prize Money: $249,465 (US)
The US Hall of Famer and grandsire of Seabiscuit was a winner of 16 stakes races and only tasted defeat once at Saratoga courtesy of the aptly named colt, Upset. Racing in 1919 and 1920, he would only step out of his age group once to defeat Sir Barton (triple crown winner) in a match race by 7 lengths. This was the first horse race to be filmed in its entirety. His most notorious win was a 100-length romp in the Lawrence Realization Stakes (another match race) setting a world record over 1 mile and 5/8.
6. Tulloch
Record: 53:36-12-4
Prize Money: £ 110,121 (Australian Pounds)
Won from 1000m up to 3200m and took on the handicappers. Missing a place only once (1961 Melbourne Cup) in 53 starts, consistency is what defined this true champion. As a 2yo he won the VRC, AJC and QTC Sires' Produce stakes then backed up as a 3yo taking out the VRC, AJC and Queensland Derbies. He would get struck down by a virus and return 2 years later to win 5 form 5 as a 5yo and a Cox Plate at 6.
5. Secretariat
Record: 21:16-3-1
Prize Money: $1,316,808
'Big Red' became the first Triple Crown winner in 25 years when romping in the 1973 Belmont Stakes by 31 lengths. His amazing feats on the race track are difficult to surmise but encapsulated in the documentary below. Secretariat would also become the leading broodmare sire in North America in 1992.
4. Frankel
Record: 14:14-0-0
Prize Money: $2,998,302 (Pounds)
A true modern-day champion is now becoming a successful sire. Frankel possesses the highest ever Timeform rating of 140 and was ranked the best racehorse the World Thoroughbred Racehorse Rankings Committee has ever assessed. However, these rankings came into question in 2013. What is unquestionable was his dominance on the track, taking out 12 stakes races and the scalps of some high-profile gallopers such as Canford Cliffs.
3. Black Caviar
Record: 25:25-0-0
Prize Money: $7,953,936 (AUD)
Just takes out third ahead of Frankel as the other undefeated juggernaut of the modern era. With 20 of her 25 wins in stakes class, she made top-line sprinters such as Buffering and Hay List look second rate on a weekly basis. 'Nelly', took out the Diamond Jubilee Stakes in the UK when sustaining a grade-four tear to her quadriceps. Tremendous will to win.
2. Winx
Record: 37:31-3-0
Prize Money: $19,290,420+ (AUD)
Recently surpassed Black Caviar's winning streak of 25 in the aptly named Winx Stakes. Any current racing fan will know of her exploits; having won 20 Group 1 races, defeating well in excess of 50 Group 1 winners over distances ranging from 1300 to 2200m. More modern benchmarking methods have her performances ranked superior to anything we've seen. Will she step out of WFA?
1. Kincsem
Record: 54:54-0-0
Prize Money: $379,805 (Goldmark)
With an unbeaten 54 start record over 4 seasons at distances ranging from 947-4022m, she possesses a record that will never be broken, having daylight on Black Caviar who's second with 25. She decimated both all opposition in Hungary, Germany, France and England. Taking out top-class races such as the Austrian Derby, Goodwood Cup and Grand Prix de Deauville. As a broodmare, her bloodlines continue to prove successful with descendants including the Epsom Derby and Irish Derby winner and up-and-coming sire Camelot.