Winx: GOAT or Overrated?
With her final start imminent, we take a look at what makes the champion tick as well as why her career could be considered disappointing in a facet.
Jack Zuber
 | 
Wed, 10 Apr, 12:00 AM
It's a fickle task to compare champions of the past and present eras in any sport, let alone the sport of kings. Innumerable variables comprise each race from the behaviour and physiology of the horse to the conditions of the race and even the human influence of the trainer and jockey.
But with Winx thrusting racing into the mainstream in recent years, there has been many a debate as to where this wonder-mare fits in an all-time ranking of the sport. We try to dig up some factors you won't see in your form guide that make her the greatest of all time as well as balance the ledger by pouring some cold water on an undoubtedly illustrious career.
What Makes Her The G.O.A.T?
On the Track (The Obvious):
There's been many an article entailing the exploits of this great mare. After her likely win in this weekend's Queen Elizabeth, she will move to 33 wins in a row encompassing 25 Group 1 wins. Those wins have ranged from 1300m to 2200m, Good 3 tracks to Heavy 10 tracks, fields of 18 to fields of 3 and come by margins of 0.2 lengths to 8 lengths.
There's nothing else she could've done in the races she's run. In terms of all-time records, she sits atop of the table for most Group/Grade 1 wins with 24, two clear of champion hurdler Hurricane Fly. Of those 24 Group 1 wins, a world record 10 were consecutive. Her streak of 32 wins sits 5th in all-time winning streaks but is head and shoulders above any record set in the modern era.
Off the Track (Gait Analysis):
The recent proliferation of "mounting yard analysts" has rejuvenated the parade ring and thrust, at times shallow, equine physiological analysis upon everyday punters. This analysis is a key part of the puzzle for many astute form students, just about all of whom rate Winx as the best animal they've seen. But why?
Looking deeper than her shimmering dappled coat and well-muscled, almost disproportionate hind quarter she epitomises the three locomotory variables with the highest correlation to performance (Barry et. Al. J.Eq.Vet 2010) being:
1) Stride Frequency:
Although she doesn't have the stride length of many of the greats the number of strides she outputs per second is unequalled. Although stride length, in general, implies faster speed (eg. Black Caviar), stride frequency is much more integral for overall performance.
2) Stride Regularity:
Another self-explanatory and easily quantifiable variable. Her never faltering stride allows her to excel over longer distances as she travels so effortlessly within herself.
3) Diagonal Midstance Phase:
In her stride, there is a significantly smaller distance between her girth and the spacial point at which her legs cross. To the layman, this would result in her "really stretching out" and coupled with the two factors about it's no surprise she glides across wet tracks.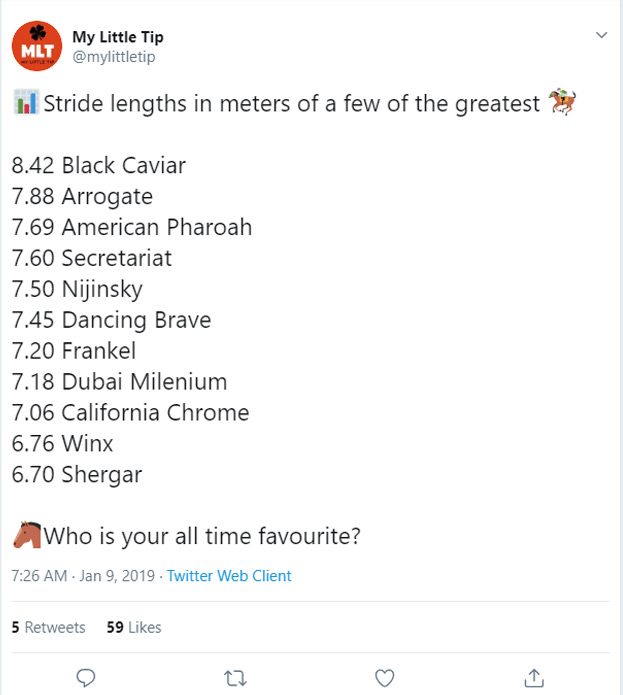 What Makes Her Disappointing?
Lack of Opposition:
Yes, you can only beat what's in front of you. But we have seemingly fallen on an era devoid of stoushes between champions. Where's the Hay List and Buffering to her Black Caviar, the Northerly to her Sunline or the Grand Armee to her Lonhro, the list goes on. Happy Clapper and Hartnell? Both are lion-hearted genuine Group 1 performers, but champions would be a stretch.
But is it more than an off-era? Quite possibly. Her dominance has turned many of Australia's greatest races on the calendar into one-act affairs. Her first Cox Plate was a genuine contest with 14 runners but has since dwindled down constantly to 10 then 8 and 8 again. This phenomenon has spread to the Queen Elizabeth also where she's run into fields of 9 and 10 and gone so far as to cut the 2016 Group 1 Caulfield Stakes to 3 runners. This lack of competition doesn't make for enthralling viewing for a racing purist.
Looking outside her beating up on 4-5 staying stablemates who are all looking for further, this avoidance of the mare can be seen in a discrete and quantifiable way through the lens of ratings. The current authority of such ratings, although they do have their inefficiencies, is the World Thoroughbred Racehorse Rankings where Winx has only once been installed as the outright best horse in the world (equal 1st in the 2018 yearly edition with Cracksman) with a relatively moderate rating of 130 (Frankel peaked at 140).
So, does the onus of competitive racing fall upon international challengers to come and meet the champion? We think not.
Conservative Placement:
Unlike the previous point, this is within the control of her connections. Since her outstanding and underrated wins in both the Doncaster and Epsom Handicaps, she's never started in a handicap race meaning inferior horses are constantly giving her weight. A by-product of dodging the handicapper is limiting the pool of races she competes in down to copy and paste preparations where, though dynamic, all her wins bleed into one.
This is the area in which connections could undoubtedly improve the profile of their mare. Perhaps their reluctance to travel her overseas comes in wake of Black Caviar's injury when winning at Royal Ascot despite the continual flow (and dominance) of horses coming from overseas to compete in Australia. Although picking up easy paychecks at home is enticing, money cannot be the deciding factor for these connections.
She would look at home in an Arc settling off a strong tempo with some cut out of the ground and taking the scalps of horses like Enable or Almond Eye would certainly improve her profile in anyone's eyes. Outside of that race, there would be a plethora of other options for her in the UK, US or the rest of the world. However, that is but a dream if they never even let the handicapper run the rule over her for a Melbourne Cup.
She is the greatest but we often dream about what could've been.