Five sports personalities who would make a great Bachelor
Daniel Lopes
 | 
Mon, 20 Aug, 12:00 AM
As Nick 'Honey Badger' Cummins' amusing turn as The Bachelor continues this week, it got us thinking about other sporting celebrities who might be ratings gold on the popular reality show.
Shane Warne
The Spin King's love life has covered the front and back pages of newspapers for the best part of three decades. The former I'm a Celebrity Get Me Out of Here contestant was famously engaged to English starlet Liz Hurley, but has also had some very public dalliances with women rumoured to include Sophie Monk and model Emily Scott. A proven performer under pressure, Warnie would no doubt knock a few maidens over in the Bachelor palace.
Boris Becker
Once dubbed 'Bonking Boris' by the British tabloids, the former Wimbledon champ has a storied love life that has attracted plenty of headlines over the years. Perhaps his most famous escapade occurred in 1999 at London restaurant Nobu. The then 32-year old had a broom-cupboard romp with waitress Angela Ermakova which ultimately led to the birth of his third child, something he disputed for a period. Looking back at the episode, Becker has since described it as "the most expensive five seconds of my life".
George Best
When asked how he spent his fortune, George Best famously replied, "I spent a lot of money on booze, birds and fast cars. The rest I just squandered". Although the Manchester United and Northern Ireland winger died in 2005, an appearance on a show of this nature in his heyday would have been ratings dynamite. Why? The answer might just lie in another George Best quote: "In 1969 I gave up women and alcohol - it was the worst 20 minutes of my life."
Chris Gayle
"Don't blush, baby" were the famous words uttered by Chris Gayle to Mel McLaughlin in a Big Bash interview that sparked a firestorm of criticism. The self-proclaimed "Universe Boss" appeared to be attempting to flirt with the then Channel 10 reporter also telling her that "I wanted to have an interview with you as well, that's why I'm here". The famous dialogue earned the Jamaican a $10,000 fine from Cricket Australia, however, he later cashed in on the widely-reported incident by appearing in an advert for Indian condom company.
Gabrielle Richens
Although the woman dubbed 'The Pleasure Machine' isn't technically a sporting personality, her legend will live long in Rugby League circles. A part of FHM's 100 Sexiest Women in the World list in 2002, 2003 and 2004, Richens captured the heart of Canterbury Bulldog Solomon Haumono. After meeting the English model at an Australian nightclub, the big Second Rower followed her back to the UK without informing his family or club, placing his career at great jeopardy in the process. Richens should also know how to handle the pressure of being a Bachelorette as she hosted a short-lived dating program, Love Rules, in 2000 and appeared on Celebrity Survivor six years later.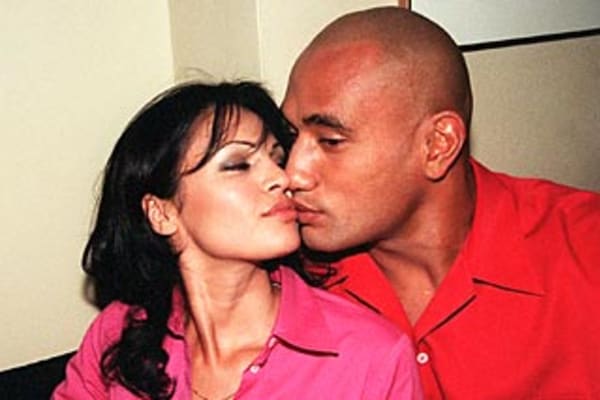 For all the latest odds on who will steal the Honey Badger's heart this year, check out our Bachelor 2018 page by clicking here.