Exploiting Non Runner No Bet
Matt Tombs / Thursday 17th January 2013 / 12:20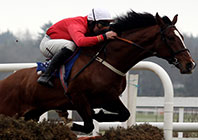 1pt Bog Warrior to win the Gold Cup @ 66/1 NRNB

To be a successful punter you need to spot new angles before the market does, (and be aware of the market working out angles you've had in the past, or the sport moving on and making them redundant.) One of the best betting angles at the moment is exploiting bookmakers who don't seem to understand how to price up non runner, no bet (NRNB) a long time before a race. It's a relatively new betting medium and layers typically just shorten most horses by 10-20%, leave one or two at top price that they really want to lay, and materially shorten a couple of high profile horses - like Tidal Bay in the Gold Cup market, because it's well known he might run in the World Hurdle.

So what should be happening when a firm goes NRNB? Simplistically, there are 3 elements of a horse's ante-post price for a Festival race.
1. Will it remain sound?
2. If it does, will it run in this race or another race?
3. If it runs in this, will it win?

In a NRNB price you only have the 3rd element – for some horses the first two will be a small part of it's overall chance, for others a huge part. On that basis you'd expect some horses to be slightly shorter in NRNB books and others less than half the price they are ante-post.

For example, we all know Bobs Worth is going to run in the Gold Cup if remaining sound and in form, so the impact of the second element is zero. Even the previously soundest of horses like Big Buck's can get injured, but Bobs Worth hasn't got a history of fragility. The first element should therefore be part of his price - but no more, and probably a bit less, than the average horse. You would therefore expect his NRNB price to be slightly shorter than his ante-post price – say 10-15%.

By contrast, Grands Crus could run in the Ryanair (or possibly even the World Hurdle) instead of the Gold Cup. I'm not sure where he'll run, so for sake of illustration let's say there's a 50% chance the Gold Cup will be the race chosen if he gets to the Festival. Having had breathing problems this season, he must be slightly more fragile than average, so a slightly higher proportion of his price than usual is the first element. Yet he's top price 33/1 ante-post and 25/1 NRNB. There's no way the proportion of his price that reflects his chances of lining up in the Gold Cup is less than 25%. He should be at most half his ante-post price in a NRNB book.

That's just one illustration and of course Betfred could just have taken a view he won't win the Gold Cup if he turns up and want to lay it. But, these NRNB markets way in advance of races are still an embryonic concept and there are typically dozens of doubtful starters like Grands Crus who are miles better value NRNB than ante-post.

Over the next few weeks, more and more markets will have one or more bookmaker offering NRNB and the best way to exploit that is to have already identified a horse whose price is mainly comprised of the first two elements. Ie a horse that is quite likely not to get to the Festival at all and/or if it does has multiple realistic targets - but who has a decent chance of winning the race if it does line up. Unless bookmakers get their act together, plenty of those are going to be seriously overpriced – unless they're high profile horses like Tidal Bay.

From a punting point of view, if you back a horse NRNB and it doesn't run – it's a nothing. You get your money back and, importantly, you can look at the race again and try to find the winner. Some punters seem to count it as "another bet that hasn't won" which is ludicrous. I've even heard one punter lamenting that he "didn't get a run for his money" – there was no money spent! If you can get your head round the fact you may have wasted some time (but not money) in placing a voided bet, it's quickly apparent it's a great market to bet in.

In fact I reckon it's just about the best betting medium around at the moment for the level weights races at the Festival. A perfect example in the Gold Cup is Bog Warrior, who I think is one of the most talented horses in training. As a novice chaser last season he thrashed Flemenstar and then won a Grade 1 by a distance on the bridle. A bad fall next time looked to have left its mark on this already very fragile type and when he fell again on his come back run this season I feared we'd never see him fulfill his potential.

Tony Martin then pulled a masterstroke getting his confidence back over hurdles and he recorded an RPR of 164 last time, even though he coasted home. To put that in context of possible opponents at the Festival if he stays over hurdles, only Hurricane Fly and Oscar Whisky have recorded higher hurdle RPRs this season, which shows just how talented this horse is.

He's very fragile and could get injured at any moment. Partly because of his fragility, he has a marked preference for soft ground so won't run unless there's plenty of give. If he does run at the Festival, he could run in the Gold Cup, Ryanair or World Hurdle. He's 66/1 both ante-post and NRNB for the Gold Cup. If you say he has a 25% chance of lining up in the Gold Cup, it means that either Betfred should be 16/1 NRNB or everyone else should be 250/1 ante-post.

The reality is that few punters bother to look at long priced horses that are long prices because they're unlikely to run, (rather than because they're not good enough to win if they do.) Punters are so used to just betting ante-post at this stage, ie in a medium where most punters are unlikely to want to back a horse like Bog Warrior, that they haven't yet adjusted any more than the layers have – which gives us an opportunity to be ahead of the game. Whilst it's obviously impossible to predict exactly what connections of any such horse will do, thinking through the likely scenarios when a horse would and wouldn't run helps assess the value.

If Bog Warrior does run, he'll almost certainly have had a run over fences in the meantime, perhaps in the Irish Hennessy. To earn a place in the Gold Cup he'd have to win or come close with the likes of Flemenstar in opposition. There's no way he'll be running to give the owners (Gigginstown) a day out - there are too many good races to be won in Ireland on bad ground to risk him if he isn't good enough, and they have Sir Des Champs and possibly First Lieutenant in the mix already. Similarly, if the ground goes against him, he's not the type they'll risk getting jarred up on it.

So if Bog Warrior does run, the ground is likely to have enough cut to seriously inconvenience Silviniaco Conti, Flemenstar, First Lieutenant etc. What price would he be if he lines up then having run well over fences in the interim? Less than 20/1 and possibly a single figure price? Yet we can back him at 66/1 with a run – ie taking out the risk he gets injured, the risk he can't cut it over fences and the risk connections target the World Hurdle or Ryanair.

Whilst I don't have an issue backing two long shots in the same race, it's always worth thinking about how the 2 bets fit together. Having already got Flemenstar in the portfolio ante-post at 25/1, Bog Warrior compliments that bet quite well. If the ground comes up soft, I can see Flemenstar being diverted to the Champion Chase or Ryanair. If it is soft, we'd have done our money on him, but that would suit Bog Warrior so we could have a good bet. Both horses need to prove themselves in the interim to run even if they get suitable conditions, but in some senses Bog Warrior is a free hedge against the ground going against Flemenstar.

This will be the first of several NRNB bets in the next few weeks before the markets mature. Few, if any, will run – but if they do, one might just make the week...