Exploiting Ten To Follow Changes
Matt Tombs / Tuesday 13th November 2012 / 13:05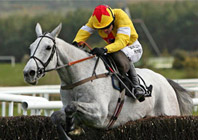 Every few years the Betfred/Tote Ten To Follow rules change and arguably this season's changes are the biggest ever. That gives a huge advantage to anyone who successfully adapts and I've set out below my revised approach.

1. Stick to the obvious - every year I look at the winning entry and usually all the horses were on my long list of about 40-50. It's not about finding a dark horse, it's about selecting the right combination of obvious horses.

2. Focus on the bonus races – if you get 10 horses to each win a bonus race you're going to win. The Bula ("International") and Aintree Hurdles, which have replaced the Betfair Hurdle and Racing Post Chase as bonus races, are much more predictable and so the focus on bonus races is greater than ever.

3. If you've got a 2.5m handicap hurdler who's a stone well in, go and back it, don't include it in your Ten To Follow – even if he wins a couple of handicaps that may be 30-40 points which isn't enough. Don't be lured into trying to find this season's Hunt Ball.

4. Rid yourself of natural prejudices about which races are most important - focus on the races and horses that'll score the most points – the Irish Champion Hurdle is usually a more important race than the Champion Hurdle as it carries the same number of points and is much easier to find the winner of. Similarly the Irish Hennessy is more important than the Gold Cup. The Bula is in mid-December and is often not that competitive so should now also be more of a priority than the Champion Hurdle.

5. Know your trainers – how often does the trainer run their horses, (eg Philip Hobbs vs Henrietta Knight)? Do they often need a run (eg Nicky Henderson - though with a wet autumn that may be less relevant this season)? Do they target specific races (eg the Pipes and the Paddy Power Gold Cup)?

6. Don't be too keen to pick novice chasers – there's no bonus window any more, which was often the best time to pick them. The Arkle is much more predictable than the RSA so is a better place to look, (especially given its 8/1 the field in the RSA).

7. Spend more time constructing your team than picking the horses – it sounds counter intuitive but it's working out the right combination of top horses that matters. I start by picking horses for the bonus races in order – easiest first, (looking at the ante-post odds on Oddschecker is a good starting point in putting the races in order.) My order is, (easiest first): Champion Chase, World Hurdle, Irish Champion Hurdle, Bula Hurdle, Irish Hennessy, Paddy Power, King George, Aintree Hurdle, Arkle and Ryanair. For the last 3 I'm anticipating only having a horse in 60%-80% of teams.

The fact that I don't have the two most prestigious races of the season, the Gold Cup and Champion Hurdle, on that list will be an anathema to some. This isn't about racing snobbery, it's about trying to win £250,000. In any case, the fact that I won't always have eg a Ryanair horse, means I'll be able to put some Champion Hurdle or Gold Cup horses in (or the odd horse I think will run up a sequence in eg uncompetitive 2m chases in Ireland.)

8. Focus on the right rule changes to get an edge – I don't think the fact that bonus points are now the actual tote returns (eg £2.50 inc stake = 2.5pts, maximum 50pts) makes much difference. Nor do the bonus points for placed horses, (again based on tote returns.) It's not feasible to predict a horse that'll provide a huge win or place dividend – it's much easier to predict what'll win bonus races. The 'star' horse who gets double tote bonus points (but not double race points) probably won't have a huge impact but it does need considering.

The abolition of the bonus window, the new bonus races and the flexible entry dates are the key changes to focus on.

9. Best 10 out of 10 is very different to best 10 out of 12

When you discarded the lowest two scores that meant you had margin for error – 2 horses scoring zero didn't matter. When the 10 from 10 format was used before, the winning team generally had all 10 horses contributing. One horse scoring zero – eg getting injured – was often enough to rule you out.

The key tactic is therefore to consider opposing a banker horse. The two this year are Big Buck's and Sprinter Sacre. Under the 10 from 12 system I'd have had them in every team as they're very likely to score enough points to justify their place and if they did, you probably couldn't win without them. If they bombed you could have discarded them without doing much damage.

Given that both will be in a very large percentage of entries, opposing one might pay huge dividends. If either were to score zero, then the likely 'one strike and you're out' format of all 10 counting might knock a lot of entries out of contention. I finished 6th in 2006 and that team was one of 10% in my perm that didn't include Moscow Flyer - who didn't score a point. Whilst I'm very positive about both horses, Big Buck's is rising 10 and Sprinter Sacre is moving out of the novice ranks so they're not as bombproof as the likes of Istabraq or Kauto Star have looked in the past. They'll be in 80-90% of my perm.
For the same reason, I'm also more reluctant to include horses under an injury cloud. I had Bog Warrior and Last Instalment behind only Flemenstar in the Irish novice chasers pecking order last season. With neither having proved their wellbeing (Last Instalment not due out until after Christmas) I'm opposing both.

10. When do you want to make your entry?

Previously entries had to be made by the first day of Cheltenham's Open meeting. However, now you can make entries until 30th November (the day before the Hennessy.) Points are scored after you enter so the fundamental question is – do you want to enter early to get the chance to eg get the Paddy Power winner, or do you delay to get more information, eg on the Hennessy & Bula?

Probably the biggest factor is what the Paddy Power winner does afterwards. If an Exotic Dancer or Imperial Commander wins the Paddy Power and ends up with a huge score, missing out on 50odd points from the Paddy Power seriously dents your chances.

However, last year Great Endeavour didn't score another point and the joint winning teams had hardly scored a point by the day before the Hennessy - so waiting would probably have been advantageous. It's hard to quantify the knowledge you'd have obtained but the obvious benefit would have been seeing Kauto Star win the Betfair Chase (scored 50 more points in the King George). Some of the Irish horses that did well subsequently, proved their well being in soft contests – Voler La Vedette (52 more points) and Quel Esprit (65) particularly.

On the flip side, plenty of horses might have convinced you to include them on the back of a good performance only to disappoint afterwards – Thousand Stars, Great Endeavour, Master Minded & Brampour didn't score any more points. Similarly, Grands Crus (25 more), Al Ferof (15) and Join Together (12) all looked top novice chase prospects going into Hennessy day after impressive wins, but failed to deliver many points after that.

Entries have halved in cost to £5 and I'll be doing my usual 30 entries 'early' to focus on getting a Paddy Power winner who'll win other races and become a 'must have' selection. If eg Grands Crus wins off 157, it's very likely he'll win other races (it would probably be a performance good enough to win the Ryanair,) and if Hurricane Fly has won the Morgiana etc, there may be little point making further entries.

By contrast, if the Paddy Power winner is an ordinary handicapper who may well not score more points (or is not in the competition like Little Josh), and the Morgiana, Betfair etc fall to horses who won't be in many teams - then I'll probably make another 30 entries on 30 November. If Sprinter Sacre or Big Buck's were to get injured during that fortnight, then the incentive to make more entries would be hugely increased.