Matt Tombs / Wednesday 20th February 2013 / 13:30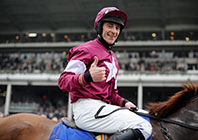 0.5pts Molotof each way in the Jewson @ 33/1

So far I've had the enjoyable luxury of looking at any Festival race I wish to see if there's a value bet. I might choose a race because I've got a positive view about a specific horse, or because I think there's a bad favourite or that it's a race that's likely to cut up etc.

There are now less than 3 weeks to go and I need to take a cold, hard look at how the portfolio is shaping up so I can plan what I'm going to look at during the manic build up. If you don't plan, there is so much information being fired at you in the last 10 days or so before the Festival, you always end up missing horses you should have backed. Sometimes, like this year, standing back and looking at the bets I've already had, helps something jump out that I should be backing now.

Despite the formidable presence of My Tent Or Yours, having Jezki for the Supreme at 12/1 (now 4/1) is ideal and hopefully he'll get the portfolio off to the sort of flyer Cinders And Ashes did last year. Despite a slight drift since missing the Kingwell I'm happy enough to have Grandouet in for the Champion Hurdle and if he turns up on decent ground I still think Cotton Mill could cause a shock. (He's up 5lb to 150 after his Betfair Hurdle 2nd and whilst he could go the handicap route it's worth noting that only 2004 County Hurdle winner Sporazene has been placed off a mark of 150 or more this century and in the Coral Cup only last year's runner up Get Me Out Of Here and 2004 3rd Rhinstone Cowboy have managed it.) For anyone new to this column, of all the bets in the portfolio - the one that represents the best value at current odds is Unaccompanied at 7/1 for the Mares Hurdle, in what on form looks a match with Quevega. I doubt I'll get a run for my money on Oscars Well in the Arkle (25/1 from 16/1) and I'll look at that race again nearer the time.

Given it's often the best day's racing it's unusual I've only had one bet on Wednesday's card - on Rocky Creek in the RSA at 25/1. As I keep saying, I think connections would be crazy to miss the race and if he does run I expect him to be a lot shorter than his current 12/1. I've looked closely at the Neptune and 4 miler and will be dipping my toe into those markets shortly. I can't see Sprinter Sacre getting beaten but once there's some competition in the 'without Sprinter Sacre' market I might have a bet.

Thursday looks a bit of a disaster with 66/1 Ryanair outsider Lambro scratched and 16/1 World Hurdle shot Trustan Times (now 33/1) looking outclassed. I'll probably get a run for my money in the World Hurdle and in an open year anything could happen, but I might well go in again nearer the time. Tap Night is still the 25/1 I backed him at for the Jewson and given that might cut up into a weak race I'll be delighted with that bet if he runs. Despite his easy win last time he's oddly still rated 140 which would make him eligible for the novice handicap on the opening day – it'll be frustrating if he ends up there.

With Flemenstar sadly missing the Gold Cup with a lung infection, a potential 25/1 payday has gone west. Bog Warrior is in non runner, no bet (66/1) so I'm happy to wait and see whether he runs and look at the Gold Cup again nearer the race. Ballycasey is 5/1 from 6/1 for the Albert Bartlett and looks to hold a favourite's chance, and my best bet of the week is Salsify in the Foxhunters (7/2 from 10/1).

The simplistic way I assess the state of the portfolio is to compare the theoretical chance each horse had when I backed them with their theoretical chance now, (ignoring the over-round). So if I backed a horse at 9/1 and it's now 4/1, it originally had a 10% chance and now has a 20% chance. On average you'd expect to make a 100% profit on such horses so that's your margin, (less the over-round.) Obviously I'm backing them because I think they have substantially better chances than the odds imply so hopefully that edge will bump up the actual profit margin.

I've assumed Flemenstar and Lambro are non-runners and so at the moment the theoretical profit margin is 32%, which is decent. To put it in context the theoretical margin was 20% at this stage last year but ended up 67%, so hopefully that's a sign we're in good shape. There have been two big shorteners in Salsify and Jezki who'll be crucial in deciding our fate. I've probably only struck just over half the total bets so far, so there's plenty of time left to make an impact, (only 2 of the 4 winning bets last year were ante-post).

For completeness I should include the 3/1 on Sprinter Sacre's SP (4/11 or longer) – that market is shut but he's obviously shortened since. Flemenstar was quoted as 7/4 to run in the Champion Chase at that time and had he run, the bet would have won. That hasn't helped but what's really hurt is that the likes of William's Wishes and Kumbeshwar being scratched - even 16/1 outsiders take a decent chunk out of the market. Finian's Rainbow looks as if he's going to run and on good ground the defending champion won't be allowed to go off a big price. Unknown quantity Mail De Bievre will have supporters as will Sanctuaire on good ground with Ruby up. On that basis, the crux is whether Cue Card and Sizing Europe run. If both do, we'll collect, if neither run, we won't. If one does it'll probably be close.

So the next steps are to sort out the Neptune, 4 miler and Champion Chase. When the handicaps come out I'll take a look at those and I'll also run my eye over the Bumper. Even in the unlikely event nothing else goes wrong, I'm likely to need to look at the Arkle, Ryanair, World Hurdle and Gold Cup markets again – and possibly the RSA.

The market I've got interested in again now though is the Jewson. Whilst I like Tap Night's chances, I'd like them even more in a 2½m novice's handicap off 140 and he may well not run. Unsurprisingly, the market is chock full of unlikely runners. Of the other 15 at 25/1 or shorter, I reckon 10, (Dynaste, Arvika Ligeonniere, Fago, Boston Bob, Unioniste, Oscar's Well, Benefficient, Hadrian's Approach, Twinlight and Lyreen Legend) probably won't run. With Captain Conan (5/1) looking a bit of a hype horse and a doubtful stayer and Aupcharlie (6/1) and Third Intention (25/1) looking talented but a bit soft, there are few realistic contenders. Argocat (20/1) is interesting and Bucker's Bridge (33/1) bounced back yesterday at Navan, but I think Molotof is hugely overpriced at 33/1.

This looks his trip having been outstayed over 3m, by Rocky Creek (who he gave 2lb) at Doncaster and by Dynaste at Kempton. Yes, he may have been a bit outclassed too, but the gut reaction is he didn't get home and they're the 2 most likely RSA winners in my book. He then beat the four timer seeking Drumshambo off 143 in a good open handicap at Warwick (extended 2m4f, heavy.) He's up to 152 now and with good ground likely to suit better he could improve again. He's running in the Pendil on Saturday and Nicky Henderson says that if he runs well there he'll go for the Jewson.

To put it in context, Noble Prince was rated 146 and Sir Des Champs 148 coming into this, so it's hard to see why a 152 rated horse from a top stable, who's being aimed at the race, is a 33/1 shot. Of course he's the Henderson second string - though if anything went wrong with Simonsig or Captain Conan he'd probably be his main representative in the Jewson.

He's tough and genuine, will have the big advantage of 5 chase runs under his belt, and is the sort who always looks to run his race. I rarely back each way but given its 1/4 of the odds for the first 3 places and the race looks like cutting up to a few runners, I'm going to make an exception with him. The Pendil doesn't look a great race on Saturday unless Fago turns up and if he wins impressively he could be less than half the price, so I'm keen to get involved now.