Martin Still The Man For Handicap Coups
Matt Tombs / Thursday 28th February 2013 / 14:00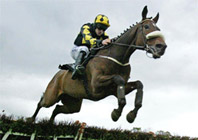 1pt Ted Veale to win the County Hurdle @ 25/1 NRNB

As someone who does a relatively small part of his betting in handicaps, the day the weights come out for the Festival handicaps isn't the manic day it is for some of those for whom handicaps are their bread and butter.

I'll usually have a couple of bets in handicaps at the Festival but it's a very different approach to betting on the conditions events where I'm analysing just about every horse in the race. With the handicaps it's more a case of looking through the weights for the type of horses that tend to do well in an event and then looking at the prices to see if anything jumps out.

Unsurprisingly, the horses that attract my attention are usually those who are at the front of the market - for example, in the County Hurdle the likes of Cotton Mill, Mr Mole, Court Minstrel and Tennis Cap all have obvious claims. Ranging between 10/1 and 14/1 that's hardly news to anyone and I've rarely any interest in backing horses in handicaps at that sort price at this stage. You can knock holes in them too (Cotton Mill is off 150 which is a mark rarely defied in this, Mr Mole has looked really green and may lack the experience for this, for all he looks well handicapped off 136 and so on.)

Without an obvious handicap good thing at the front of the market, it is in the County that the stand out handicap bet of the meeting jumped out at me. A few years ago, the trainer the bookies were most frightened of in handicaps was Tony Martin. The huge gamble on Xenophon in the Coral Cup ten years ago cost the industry millions. The extraordinary Dun Doire's handicap chase win off a 50lb higher mark than he started the season a few years later added to the folklore.

It's a while since he's successfully laid out such a handicap snip, though Psycho went very close in this five years ago. Punters and layers alike have short memories and Paddy Power look to be taking a huge chance going top price 25/1 Ted Veale, non runner, no bet.

Ted Veale has looked a really talented animal when kept to the minimum trip. He bustled up the talented Sizing Rio at Navan, (2m, soft to heavy) giving him 3lb and going down by only 1 1/2l. Sizing Rio has run only once since when well backed into 5/1 for the Grade 1 at Leopardstown at Christmas won by Jezki, only to chase a suicidal pace. We therefore don't know how good he is but I suspect he's a 140 horse at least.

Ted Veale made his handicap debut off 130 in the big January handicap at Leopardstown, (2m, heavy.) This was the race Martin used for Xenophon before his Festival triumph. Ted Veale was a heavily backed favourite and ran well to finish 7l 3rd to Abbey Lane (who is 10lb worse off here, with Rocky Wednesday, who is unlikely to get a run here, splitting the two.)

That Leopardstown race has been a good guide to the County with Final Approach doing the double two years ago and Thousand Stars and Spirit Leader both being beaten in it before winning the County in the last decade.

Ted Veale has only gone up 4lb to a mark of 134 which looks fair even before you factor in the difference between British and Irish ratings. It's a measure of how highly he's thought of that every time he's run over hurdles Martin has booked Ruby Walsh, Barry Geraghty or Davy Russell to ride.

One of the great imponderables at this year's Festival is that so many of the young horses will have only run on really testing ground and it's hard to know how they'll react to the likely sound surface. Ted Veale is one of those but there are two reasons for optimism that good ground might bring out improvement. The first is that his sire's progeny have liked a sound surface (best overall strike rate on good to firm.) He also has a couple of half siblings and whilst they've not done much racing they've generally been running on decent ground.

The second is that he was kept on the go last summer. Whilst he ended up running on testing ground, there is a difference between summer soft/heavy and the sort of ground horse's have been running on this winter. Additionally, trainers aren't long range weather forecasters and the fact that he was prepared for a summer campaign suggests they think he'll go on a sound surface.

He's on 10-1 now but the weights look likely to go up a fair bit (at least 4lb as Petit Robin is due to run over fences) so hopefully he'll get a weight that will allow Martin to book a top jockey. He is also in the conditional's handicap hurdle but that's over half a mile further and he has looked a pure 2 miler so far. He also looks the type who responds well to strong handling and might not be an inexperienced jockey's ride.

In any case, Paddy Power who are top price 25/1, are now non runner, no bet so we don't need to worry too much about him running elsewhere. He might not have pulled off a coup for a while but there's nobody better than Tony Martin at organising one and if they really do fancy him his price will plummet next week so it makes sense to take the plunge now.