Silver At The End Of The Rainbow
Matt Tombs / Thursday 21st February 2013 / 15:00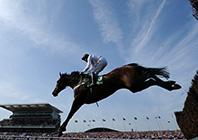 1pt Finian's Rainbow to win the Champion Chase w/o Sprinter Sacre @ 11/2

For many jump race fans, the Champion Chase is the race of the year. The sight of the fastest steeplechasers going flat out over 2m is breathtaking and at the moment we've a horse, Sprinter Sacre, who could be on the cusp of being the best we've seen.

He really does look to be in a different league altogether and it feels pointless trying to find something to beat him for the sake of it - you're almost gambling he gets injured or something knocks him over on the day. Additionally, whilst this is a betting column, it's also one about enjoying the sport and on the rare occasions you get a truly brilliant horse like Sprinter Sacre we should enjoy him winning not cheer something on against him.

I don't bet each way very often, though the place terms are so generous (the exchanges show what they ought to be,) I probably should. It doesn't suit my style of betting though as I get distracted working out how the beaten horses will finish in search of the classic 'each way bet to nothing' and end up backing horses that I don't think can win, at tight margins. That would be exactly the case here – there'd be virtually no chance of the win part of the each way bet coming in.

I've also tended to ignore 'betting without' markets as I've seen them as a cop out, but the reality is that less competitive races, with more odds-on shots, are what we're going to get at the Festival for the foreseeable future. Successful punters adapt to changing circumstances and for those who took advantage of Sportingbet's evens, non runner, no bet on Sprinter Sacre before the Tingle Creek, having another bet in the 'without' market now fits quite well.

The obvious additional criteria in 'without' markets is whether the horse will be ridden to try and put the favourite under pressure to maximise the chances of winning the race, or whether it'll be ridden for 2nd. (All prices quoted are in the without Sprinter Sacre market).

My guess is that 2011 winner Sizing Europe (6/4) will run in this despite having the option of the Ryanair, but it's a close call. He's still got loads of ability and comfortably beat Rubi Light in the Grade 1 at Leopardstown at Christmas, (2m1f, soft.) He's been wonderfully consistent, having won 14 of his 21 chases and finished no worse than 3rd, nor beaten more than 7½l, in the others. He loves Cheltenham and if he lines up, he's the obvious one.

However, he's priced up as if he's a definite runner (and on the assumption some of the others won't run). Even if he does run, he might be one of the few to take Sprinter Sacre on, making it more likely he'd lose 2nd in consequence. Much as I love the horse, he's appalling value in this market.

Cue Card (7/2) is also in both the Champion Chase and Ryanair. Whilst the Ryanair looks the obvious race for him, I wouldn't be surprised if he showed up here as he's the horse that's got nearest to giving Sprinter Sacre a race so far and he was impressive in the Haldon over an extended 2m1f, (good to soft). It's hard to be sure but he may have been coming to the end of his tether when winning the Ascot Chase (2m5f, soft) and the owner was clearly keen to contest the Championship race not the Ryanair. He obviously stays well at 2m which would help him in the battle for 2nd, but equally he loves to front run which might make him susceptible to losing 2nd by taking Sprinter Sacre on. He's also on the short side given he is at best 50:50 to run.

Wishfull Thinking (5/1) would be better off in the Ryanair but the same connections' Menorah contests that so he runs here. Whilst he's had all sorts of breathing problems he's a good horse on his day and I can see him running on past better, but beaten, 2 milers to take 2nd. He doesn't have the toe of Sizing Europe, Cue Card or Finian's Rainbow though and when you factor in the chance of his having a day where his breathing catches him out (stopped to nothing at Kempton 2 runs ago) 5/1 isn't big enough unless you're convinced virtually all the main protagonists won't run.

Sanctuaire (11/2) looks a pure 2miler and will run unless the ground is bad. Having tried to blaze away in the Tingle Creek and ending up tired, Ruby Walsh sensibly tried holding him up in the Victor Chandler. That didn't work either but both those races have been on testing ground in the middle of winter and Santcuaire is miles better on good ground in the spring. It's hard to imagine the likely improvement for a sound surface will enable him to put it up to the favourite, but it could easily be good enough for 2nd. He is a temperamental character though and he could easily spit the dummy. All in all 11/2 is about right.

The consensus during the season has been that last year's winner Finian's Rainbow (13/2) was more likely to run in the Ryanair or Gold Cup to keep him apart from Sprinter Sacre. However, after bombing twice on very testing ground over intermediate distances, he hasn't proved his stamina and now looks set to defend his crown.

It's always hard to know whether it's the ground that has been the problem in a case like this or whether the horse has an issue. Interestingly, Barry Geraghty thought the ground when he won the Melling last April was as soft as he wants. It was officially good, good to soft in places, though the times might imply it was verging on good to soft. Ignoring a race where he started 2/13, he'd not run on worse than good to soft over fences in 8 runs before this season, though he'd run creditably 4 years ago in the Challow on his one try on a testing surface over hurdles.

I'm inclined to give him the benefit of the doubt and he was disappointing in his prep last season before winning this. He looks the classic Henderson type who improves out of all recognition at the Festival. If you look at the last 2 seasons form in total he'd be favourite in this market and he has the huge advantage that being in the same stable as Sprinter Sacre, he might be ridden to get 2nd.

Somersby (8/1) ran a fair race in the Victor Chandler but disappointed when stepped up to an extended 2m5f in the Ascot Chase. He rates a doubtful runner at this stage, with the Ryanair the more likely target unless this cuts up completely, and makes no appeal.

Realt Dubh (20/1) is unlikely to run and Tataniano (33/1) looks a shadow of his former self but Mail De Bievre (10/1) would be interesting if supplemented. He's an unknown quantity – he was a leading young chaser in France as a 4/5 year old (rated 160). He'd only had 1 run in 3 years before contesting the Denman over 3m at Newbury where he went off very quickly and got tired. Many French races are run crawl-sprint and there are few opportunities at 2m, so it's perfectly possible he could be a high class 2 miler. Assuming he'll trailblaze there must be a good possibility he uses too much energy trying to mix it with Sprinter Sacre, so doesn't look the type for this market.

Whichever of Sizing Europe, Cue Card and Mail De Bievre run are likely to be up with a hectic pace. It looks the classic sort of race where they'll get tired and a horse ridden to finish 2nd will come past them close home. At the odds clear preference is for the proven class of defending champion Finian's Rainbow. You have to forgive him his 2 runs in the mud this year, but if you do he'd be favourite for this as he beat Sizing Europe last year, is a year younger at 10 which is crucial at this stage of their careers, and is more likely to run.

My initial response to this market being priced by just 2 firms to 136% is that I'd wait for other bookmakers' prices. But when I actually thought through the race I had Finian's Rainbow in as 2nd favourite (as he is on the exchanges) at a much shorter price. It's always a difficult decision in this sort of situation as a couple of other firms could easily price it up with him even bigger – but if Sizing Europe or Cue Card is definitely aimed at the Ryanair, the price will collapse. It's therefore worth going in now as 11/2 is too big and that's what matters.