Stars May Get Stuck In The Bog
Matt Tombs / Friday 7th December 2012 / 14:50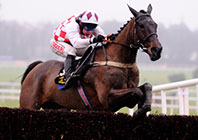 1pt Bog Warrior to win the John Durkan @ 12/1

Sandown is a great track for 2m chases, which is why the Tingle Creek has become a mid-season championship event over the minimum trip. This year there's the mouthwatering prospect of Sanctuaire blazing away over the line of fences in the back straight and trying to take Sprinter Sacre out of his comfort zone.
Sprinter Sacre (4/9) was probably the best novice chaser I've ever seen when destroying good horses last season. Whilst my guess is Cue Card is better over further, his 26l stroll in the Haldon off 157 suggests he's high class around the minimum trip. He couldn't lay a glove on Sprinter Sacre in the Arkle despite having an ideal passage and I think Sprinter Sacre is already about a 175 horse. I think he'd have won the Champion Chase had he run in it and he looks exceptional. He was ready to run at the Open meeting so fitness shouldn't be an issue as it is for some of the Henderson horses first time.

He could have been 1/5 but for the presence of Sanctuaire (9/4) who is much more difficult to weigh up, his only meaningful form being in the end of season 2m conditions event here. Four things make me question his chance. Firstly, that was an end of season race where his main rivals may have been a long way from their best. It's been a dreadful guide to the following season's 2m chases with only course specialist Twist Magic proving a Grade 1 horse. Secondly, it looked as if the others gave Sanctuaire far too much rope and against a horse with the cruising speed of Sprinter Sacre he won't get that benefit again here.

Thirdly, he's looked a temperamental sort in the past, (very reluctant to race in the Christmas Hurdle) and I'd be worried how he'd react to being in a scrap with such a talented opponent. Finally, and most importantly, it's become clear that whilst last season's novices were a vintage crop, the more established chasers were an ordinary bunch. My gut feel is that he didn't achieve that much and whilst I think the handicapper has underestimated Sprinter Sacre on 169, I'd be itching to take on Sanctuaire off 166 in a handicap.

That said, if he is ever to beat Sprinter Sacre it's likely to be tomorrow. Whilst Sprinter Sacre will be pretty fit, Nicholls generally has his horses nearer their peaks at this time of year than Henderson does and Sandown is a front-runners course. The fences in the back straight take a lot of jumping and a front runner jumping as well as Sanctuaire did here last time, means even a single mistake by a pursuer can be really costly.

The question marks that remain over Sprinter Sacre are how he'll cope with making a real error and what will he find off the bridle – neither has been tested yet. Whilst I expect Sanctuaire to go a breakneck gallop, I don't think it will get Sprinter Sacre out of his comfort zone and Barry Geraghty is too experienced to panic if he's a few lengths behind. In what's effectively a match, their prices are about right so its one to just enjoy.

From a betting point of view, there's more scope in the clash of the Irish Gold Cup pretenders in the John Durkan over 2m4f at Punchestown on Sunday, where the ground looks likely to be really testing, (officially heavy).

Sir Des Champs (15/8) was favourite for the Gold Cup over the summer after a fine win in the Jewson over 2m5f and then taking a weak novice Grade 1 at Punchestown over 3m1f. He's unbeaten in 7 races since coming over from France and it's impossible to know how good he is. Willie Mullins thinks he's a Gold Cup horse and his good record of backing up such public statements about horses, compared to other trainers, means that's a tip in itself.

As a novice, he might have been beaten by Knockfierna at Limerick if she hadn't run out and then scrambled home from Fists of Fury (who was being aimed at the 4 miler) at Leopardstown. That suggested he improved throughout last season and he may not be the type to go well fresh. He looked a good horse when winning the Jewson but if you take the view For Non Stop beat horses needing the run in the Old Roan, the form hasn't worked out, (Cristal Bonus was sick so couldn't give his running in the Jewson).

It doesn't look as if Sir Des Champs is straightforward to train. I got the impression Mullins had to give him the kid glove treatment last season and the short term vibes weren't positive at the beginning of this season. It wouldn't surprise me if a clear round and a good performance was the aim on Sunday, with the Gold Cup the only race prioritised because he's not the sort you can train hard all season.

Flemenstar (Evens) is a different type. Having been readily outpointed by Bog Warrior at Navan, he won 5 in a row, (reportedly comes on a lot for his first run of the season). That included a 19l demolition job in the Irish Arkle and an 11l rout in the Powers Gold Cup over 2m4f, to pick up 2 novice Grade 1s.

He has the advantage of a run this season – he dropped back to 2m in the Fortria and demolished Big Zeb (who gave 3lb) by an easy 7l. Big Zeb's not the top class horse he was but he goes well fresh and looked a 160 horse last season, on which basis this was an impressive win from a horse needing the run, over too short a trip. This has always been his first big target of the season and with race fitness on his side and no question marks over the trip, if he can't beat Sir Des Champs here then, rather like Sanctuaire, it's hard to see him ever doing so as Sir Des Champs looks as if he'll be better on decent ground later in the season.

Rubi Light's (7/1) win in this last season doesn't look anything like as good now and I was all set to suggest Flemenstar was one for those who like short prices to steam into, when to my surprise Bog Warrior (12/1) was declared, which has really thrown a spanner in the works. He was brilliant when beating Flemenstar at Navan and winning the Grade 1 Drinmore by a distance last season, but has always been fragile and hasn't looked the same horse since taking a heavy fall at Leopardstown.

This time last year he was being hailed as much the best novice chaser in Ireland and the big question is whether he retains his ability. If he does 12/1 is the best value you'll get all season. The fact that they're running him here suggests that the same owners' Sir Des Champs might not be at his peak and with the Flemenstar camp are making concerned noises about the ground, it's possible there'll be an upset.

My hunch is that we've seen the best of Bog Warrior and that Flemenstar will probably win pretty easily but 12/1 is a huge price for such a good horse and so is worth a small bet.

Elsewhere this weekend the soft ground at Sandown has robbed racegoers of Overturn in the Grade 1 novice chase, which leaves it looking a poor race and at the mercy of Captain Conan, but he's likely to be odds-on and not a betting proposition.

The ground at Cork will be even softer and I can't wait to see Days Hotel back in action in the Grade 2 Hilly Way Chase (2m). He thrashed subsequent novice Grade 1 winner Lucky William at Punchestown a year ago but has been off since. The big question is how fit he'll be after his long absence but unless the vibes are that he isn't straight enough to be competitive, the 6/1 tissue is a crazy price. In the unlikely event that sort of price is available I'll be backing him provided the sentiment from Henry De Bromhead is decent.

Having put Oscars Well up for the Arkle I'll be hoping he can get his chasing career back on track after falling last time – a clear round should be enough to account for Dylan Ross and Jenari but I'll probably sit this one out.