Matt Tombs / Wednesday 14th November 2012 / 12:20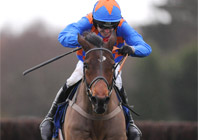 With the strategy already alluded to, let's get stuck into the key races and contenders.

Starting with the easiest two bonus races, the Champion Chase and World Hurdle, Sprinter Sacre and Big Buck's are the obvious picks and if you're putting just one team in you're likely to get more fun for your fiver by including both.

However, given its now all 10 selections counting again - often one horse scoring zero means you're out of contention. Given they'll be in so many peoples teams, if you opposed one and he did score zero, you'd have a huge advantage. For those of us doing perms, 80-90% looks the right allocation. Sanctuaire is the obvious other one for the Champion Chase, though I'll be looking to oppose him generally. None of the established staying hurdlers appeal and Get Me Out Of Here could be one for the World Hurdle perm.

The next easiest bonus race is the Irish Champion Hurdle, and Hurricane Fly is well clear of the domestic opposition with little coming through from the novice ranks. He's fragile and arguably his best rivals come from his own stable, such as Zaidpour and So Young who might run if Hurricane Fly doesn't. I also like Unaccompanied who looked good when beating Thousand Stars at Christmas and is unexposed. She's entered for the Morgiana on Sunday, so check running plans as she may concentrate on the flat or head for the paddocks.

Few of those near the front of the Champion Hurdle market are targeting the Bula (International) Hurdle. Zarkandar is and should improve significantly for winning the Elite on Saturday, so has obvious claims. I'd thought Grandouet would be my Bula horse but the Seven Barrows vibes are that he might go for the Fighting Fifth with Darlan going the Racing Post Hurdle (formerly Greatwood) / Bula route. Darlan has looked much better on a flat track previously so if he bombs on Sunday, that may cause a rethink. The Bula has been a race for up and coming horses rather than established ones, and the Racing Post Hurdle has been a great trial providing 6 of the last 10 winners. Check the declarations on Friday but Cash and Go and Vendor fit the profile, (and might be your 'star' horse.)

It looks like last season's novice chasers were a vintage crop and with the established staying chasers in Ireland ordinary, I suspect it'll be a 2nd season chaser who wins the Irish Hennessy. I'm a Flemenstar man – he radiates star quality and I think he'll improve for the step up in trip and have too much class for Sir Des Champs, though the latter will also be in my perm. Hidden Cyclone has plenty to prove at open Grade 1 level but he looks to have lots of ability so might get a small allocation.

Leave choosing your Paddy Power horse as late as possible as 6 of the last 10 winners came from the front 3 in the SP market. I'm opposing Grands Crus in the race itself on value terms but he's probably the most likely winner, which is what matters most here. Crucially, if he can win off 157 he has a great chance in other bonus races like the King George and Ryanair – in which case you won't win without him. Whilst I've backed Walkon he has a history of failing to fire after his first run of the season so although he'll be in my perm, he's no banker.

I'm opposing Hunt Ball (157) and Al Ferof (159) who don't look well handicapped. I'll be watching the market carefully to see the confidence behind Michael Flips and may consider Quantitativeeasing if it's soft. It's worth noting that Nadiya De La Vega isn't in the competition and so if you fancy her, going in without a Paddy Power horse is an option. Unless you're going with Grands Crus, your Paddy Power choice may be your 'star' horse.

The King George looks more open than normal. Team construction is the art to this competition, so I'll be having Grands Crus in a small percentage of my King George lines. If he wins either this or the Paddy Power, but not both, that should maximise my chances of getting the winner of the other race. If your strategy is that he'll win both, you musn't have another horse for either race. The same principles apply re him winning the Paddy Power and Ryanair, (and for other horses you think may win 2 of these 10 bonus races – eg Cue Card.)

Long Run looks a decent favourite as even last season's form is a fair way ahead of the others. I also like Riverside Theatre who's been continually underrated and who much prefers Kempton to Cheltenham, though he won't run much. I've backed Cue Card at long odds and he'll also be in my perm. I'll probably oppose Silviniaco Conti as the Charlie Hall form rarely works out and he's not a certain runner. I'm taking the view that Finian's Rainbow won't get the trip but that Sizing Europe will so he may gets the nod depending on the vibes after his Clonmel run tomorrow.

The Aintree Hurdle is an unpredictable race on the day, let alone 6 months before, though it very much favours speed horses not stayers. It does produce multiple winners, (Morley Street won 4 and Al Eile 3.) Oscar Whisky has won the last 2 renewals and with plenty of other likely ammunition for the Champion Hurdle, I suspect Nicky Henderson will have him peak for Aintree not Cheltenham. He has the advantage that he's likely to run in soft races during the winter and pick up easy points. Willie Mullins has nominated this as Thousand Stars main target for the season and with a more positive ride he might have won either of the last two runnings, so if he bypasses Cheltenham he has a great chance too. The two combined will be about 70% of my perm, (I won't have a horse for this in the remainder.)

The Arkle is a fairly predictable race with top class hurdlers having a fantastic record. It's rare for a hurdler to record an RPR over 160 in a novice hurdle but Simonsig did and he's the obvious one to go with. Oscar's Well has also exceeded the magic 160 RPR mark and has already shown he's taken to fences. The downside is he might go for the Jewson but he'll probably run regularly in valuable races in Ireland. I'm against Overturn who won't run much during the winter on soft ground and will be 9 by race day. For those looking for a higher risk strategy, Arvika Ligeonniere looks to have the class if he stays sound. I'll have an Arkle horse in about 60% of teams.

The Ryanair is always a hard race as the likeliest winners are often considering the more prestigious Champion Chase or Gold Cup. Unless anything happens to Sprinter Sacre I think Finian's Rainbow will run here and he's in my perm. I don't know where Cue Card or Grands Crus will run at the Festival but it may well be here and so they're in too. For Non Stop looks on the upgrade and he'll complete my quartet, which will total about 60% of my perm.

If you haven't picked a horse for all the above 10 bonus races, you'll have room for another selection. Hopefully the Bula and Irish Champion Hurdles cover a good chunk of the Champion Hurdle picture but I'll also have Cinders and Ashes and Rock on Ruby in as floaters as they could easily win a couple of 25 point conditions races and then the Champion.

Similarly the King George and Irish Hennessy should cover a fair bit of the Gold Cup market and I've tried to persuade myself to oppose Bob's Worth as I think he'll score zero points, but this Cheltenham specialist is a feasible Gold Cup winner. The clincher is that he's 5/1 favourite for the Hennessy. Although 160 looks a stiff mark, the entries don't look that strong. If he wins both you can't win without him and if Grands Crus wins a couple of bonus races too, then making entries including Bob's Worth nearer the Hennessy won't be any use. I suspect I'll include him in a few lines where Grands Crus is the Paddy Power horse.

The open 2m chasing division in Ireland is crying out for a horse to mop up the, often uncompetitive, conditions events. For those who want a dark horse then consider Days Hotel who thumped subsequent Grade 1 winning novice Lucky William at Punchestown last November. He's due to reappear in the Hilly Way at Cork in early December.