Matt Tombs / Wednesday 5th December 2012 / 12:35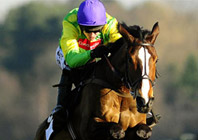 Rightly, much has been written about the legendary Kauto Star since his retirement. The dust having settled, I'm adding my own tribute. Superlatives are scattered like confetti in many sports including our own, but on any measure Kauto Star was a great. 2 Tingle Creeks, 5 King Georges and 2 Gold Cups amongst 16 open Grade 1 chase wins is astonishing.

As might be expected from a dual Tingle Creek winner, Kauto Star had bundles of class and his aggressive (if sometimes careless) jumping put a huge amount of pressure on his rivals. Time and time again high-class horses were beaten a long way from home, such was the effort of racing against Kauto Star.

There was a special feeling about going racing if Kauto was running, and for those of us fortunate enough to see his 36 length demolition of the King George field in 2009, I think it was the zenith of a great horse's career. It produced in-running comments in the Racing Post that I've never seen before or since, culminating in "magnificent". Kauto Star truly was magnificent – the sort of horse people like me follow racing for.

I'd use 3 measurements to assess great horses. Firstly, the ability to keep producing top class performances over a long period. Between December 2005 and December 2011 Kauto Star won 16 open Grade 1s, (including at least 1 every season,) registering a Racing Post Rating (RPR) of at least 180 an incredible 8 times. The come back last season was one of the great racing stories and his longevity is unparalleled.

Secondly, flexibility. Kauto won 2 championship events over 2 miles, 5 at 3 miles and 2 at 3¼ miles, on quick and very soft ground, going left and right handed, on tracks that were sharp or galloping, flat or undulating. 3 miles round Kempton suited him best but he had the class and guts to win when conditions didn't suit him ideally.

Thirdly, performances in the top handicaps. Sadly Kauto didn't get a chance to prove himself in this discipline (he won a weak renewal of the Old Roan off 167), though his owner was reportedly keen to tackle a big handicap. If there is a regret it's that he didn't take in something like the Racing Post Chase, (which Desert Orchid won off 185, carrying 12-3.) Perhaps that race is deemed to come too close to the Gold Cup for modern training methods.

The only chaser in the modern, (post Desert Orchid,) era who comes close on class and longevity is Moscow Flyer, who between October 2001 and April 2005 won every race except when he fell (on no occasion of which did he look like being beaten), winning twenty times. This included 2 Champion Chases (the second as an eleven year old) and 2 Tingle Creeks amongst 7 open Grade 1 chase wins (in addition to 3 novice Grade 1s.) He'd previously won 2 novice and 1 open Grade 1 over hurdles between November 1999 and April 2001.

Whilst Kauto had Denman to deal with in 4 Gold Cups, Moscow Flyer had to contend with Azertyuiop and Well Chief, in both the Tingle Creek and Champion Chase. To put that in context, in the 2004/05 season they won the two biggest handicaps around the minimum trip off huge marks, Azertyuiop winning the Haldon off 174 and Well Chief winning the Victor Chandler off 176. Neither looked like beating Moscow Flyer in either the Tingle Creek or the Champion Chase – assessing how good Moscow Flyer was is hard because you always felt there was more to come, but he was worth a rating well into the 180s.

Jessica Harrington once told me that Moscow Flyer wouldn't have stayed three miles in a horsebox. I'd have loved to have seen him try in the King George, but she knew him best and it is the performances over such a range of distances that makes Kauto Star the number one of the modern era.

Ironically, I'm not convinced Kauto was even the best Gold Cup horse in his own yard. He ran in 6 Gold Cups, 4 against Denman and Denman beat him 3 times out of 4 (it's hard to imagine Kauto would have finished in front of Denman in 2010 even if he had stood up.) In fact the only time Kauto did finish in front of him was after Denman had had a nightmare preparation, whereas there were no obvious excuses for Kauto the 3 times Denman beat him.

Denman was also a great horse – his Gold Cup victory and second Hennessy win off 174 were both awesome, but he 'only' produced stellar performances three or four times and always around 3¼ miles (3 RPRs over 180 to Kauto's 8). The Gold Cup suited Denman better than it did Kauto Star (although 3¼ miles round Newbury probably suited him even more.) Three miles round right-handed Kempton was what Paul Nicholls used to call Kauto's "home" fixture. He only ever took Denman on away from home.

The difficulties of trying to compare Kauto Star to legends of different eras such as Golden Miller, Easter Hero, Arkle, Flyingbolt and Desert Orchid are well known. Suffice to say that only ignoramuses who simply count Gold Cups would dispute Kauto Star and Denman's status as the greatest staying chasers of the last 20 years. I'm with the majority who reckon Kauto was the best steeplechaser since the Arkle era.

A final word of thanks to Clive Smith and Paul Nicholls. Whilst understandably Kauto didn't race so frequently towards the end of his career, when he was a young horse they wanted to run him regularly. In his first Gold Cup season (2006/07) he ran six times, winning a handicap off 167 and then the Betfair Chase, the Tingle Creek and the King George in the first half of the season, before taking the Aon Chase on the way to the Gold Cup. That's how to campaign a healthy, top class horse and one reason why the racing community loves him so much.

In Desert Orchid's era, that sort of campaign was the norm, now it's not. Great horses don't come along very often – when they do, lets hope connections let the race-going public see them in action regularly all the while they are fit and well. It's easy to under-estimate how much the health of our sport depends on it.

Farewell Magnificent One, and thanks for the memories.