Value In Backing Doubtful Runners
Matt Tombs / Tuesday 5th March 2013 / 12:00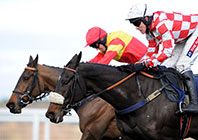 When looking at the Gold Cup I talked about the huge value there is in non runner, no bet (NRNB) prices on Festival races in advance of the meeting. The reason is that, with the exception of the odd high profile horse (eg Quevega in the World Hurdle,) layers often don't shorten the prices enough when switching from ante-post to NRNB.

This is particularly the case for doubtful runners as hardly anyone focuses on them. That's logical enough – if you're trying to wade through 27 races and find some winners, most people would use their energy trying to find something that is likely to run. Most of the time finding an unlikely runner that would be a third of its NRNB price if it does line up is a waste of time, because it doesn't line up. Occasionally though you end up with a fantastic bet for the small price of lending your money to a bookmaker for a week or so.

For those who like the idea of backing doubtful runners NRNB, who'd have a good chance if lining up, but don't have the time to wade through all the races - below are some worth considering. Whilst you can't predict the SP (ie the 'right' NRNB price) without knowing the opposition, I've made a guesstimate, which, if roughly accurate, shows just how much value there is in backing these horses.

In that Gold Cup article I suggested backing Bog Warrior at 66/1 and nothing has made me change my mind. He'd obviously like testing ground but he's 9 now and connections sounded as if they felt he might go on good ground once. If he lines up I think he's got as much ability as anything in the race and my guess is he'd have an SP of about 14/1 on soft ground and 25/1 on good ground.

Equally, he's 11/1 for the World Hurdle and more likely to run there if he goes to the Festival. This year it's hard to know how the British and Irish horses compare. The best way to evaluate his chance might be to compare him to the other two main Irish contenders Monksland (6/1) and Solwhit (10/1).

Quite how Solwhit is a shorter price is hard to fathom. When they met at Punchestown (2m4f, heavy) Bog Warrior absolutely blew him away and unlike Bog Warrior, Solwhit hasn't proved himself at 3m. Yes, that was Solwhit's first run back after injury but unless Bog Warrior can't handle the ground, it's hard to see the form being turned round.

Bog Warrior and Monksland have both run against good yardstick Zaidpour over 3m this winter. Monksland (getting 2lb) beat Zaidpour 2½l at Leopardstown, (soft) looking in trouble at one stage but staying on well to lead close home. Bog Warrior was getting 4lb at Gowran, (heavy,) but beat him very easily (would have been a fair bit further than 3¼l if he hadn't been allowed to run down the final flight with the race won). Zaidpour is better going right-handed so that looks much the better of the 2 performances, yet Bog Warrior is a much longer price. I think he'd be no more than 6/1 if lining up on decent ground and if it was soft he might be challenging for favouritism.

In the Champion Hurdle, Oscar Whisky looks a huge price at 16/1. He's a simpler horse than most of these to assess in terms of the circumstances in which he'd run - the plan is to contest the World Hurdle unless it comes up very soft. If it is really testing he'll probably run in this and with the exception of Hurricane Fly, there isn't another serious contender who'd like soft ground, (though the test of stamina might help Zarkander) so a lot of the principals would drift significantly.

Grandouet has had an interrupted preparation and the vibes weren't great from the work he did on Monday. If it did come up soft he might not run or Barry Geraghty might pick Oscar Whisky. I'd therefore see him being about a 5/1 shot if running.

Amongst the novice hurdlers, the obvious one is Annie Power who is 20/1 for the Supreme and 25/1 for the Neptune. She's unbeaten in 3 bumpers and 3 hurdles and whilst she'd been running in weak races previously, it was a Grade 1 in all but name that she bolted up in at Naas recently, (2m, soft to heavy). It's hard to know how good runner-up Defy Logic is, but well beaten 3rd Don Cossack ties in with lots of the best novices and Annie Power would look to have a similar chance to Pont Alexandre if lining up in the Neptune – I think she'd go off at no more than 7/1. The Supreme looks a tougher race with My Tent Or Yours and Jezki in opposition but I'd expect her to go off 3rd favourite at about 8/1 if running, as I reckon she has a better chance than Un Atout, who I think will drift unless it comes up soft.

I've mentioned before that I think some of those at the front of the Neptune market would be better off in the Albert Bartlett. Pont Alexandre looks the ideal type for it and presumably would only run if Ballycasey didn't so I'd expect him to be clear favourite about 5/2 on the day rather than the 5/1 available now. Taquin Du Seuil is 16/1 ante-post but the 10/1 NRNB still looks big – again I'd expect him to be challenging for favouritism at no more than half that price if lining up.

In the novice chases, Dynaste is widely expected to run in the RSA (9/4) but he's 11/4 for the Jewson which is usually a weaker race. Running in the Jewson would erase the stamina question and avoid the general unpredictability of the RSA so he'd look to have a better chance in it, yet he's a bigger price. I can see him going off close to even money in the Jewson (especially as his presence might frighten some of the opposition away.)

Equally good value in the Jewson is Unioniste (16/1) who is being aimed at the RSA unless the ground gets very soft. So far he's looked much more effective around 2m5f and on testing ground which makes him a much more likely winner of this than the RSA on good ground. That scenario might mean Dynaste runs too but Captain Conan probably wouldn't and I think Unioniste would be second favourite to Dynaste at around 5/1.

In the RSA, it looks as if Boston Bob is going to represent the Mullins/Wylie combination. However, if the ground did come up testing I can see him being diverted to the Jewson and in that scenario Back In Focus (12/1) would probably be their runner in the RSA. Even if they let Back In Focus take his chance against all the principals on good to soft, (I can't see him running on good, quick ground) I think he'd be shorter than 12/1. If it did come up soft, Dyanste and Unioniste might well run in the Jewson and he could well go off favourite.

In the National Hunt Chase (the 4 miler), Sea of Thunder's (25/1) chances are slightly harder to assess. He's a rarity these days – a genuine firm ground horse. If I thought he was only going to run if there was good, fast ground then he'd be an obvious one to back as I think he'd be about a 10/1 chance at most. Some of the value is eaten away by the fact I can see him taking his chance on good to soft but can't see him winning on it.

It's hard to find likely runners who are at least twice the price they should be. Given that there are so many doubtful runners available to back at those sorts of inflated prices NRNB, backing a stack of them ought to produce a runner – in which case we've got a great bet.