Matt Tombs / Wednesday 19th March 2014 / 08:00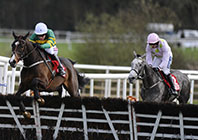 The Champion Hurdle was the most eagerly anticipated race of the week and shaped up as the best of the modern era. As so often seems to happen in those situations, the outcome was unsatisfactory. Our Conor tragically took a fatal fall at the 3rd, badly hampering The New One.

The race was run at a strong gallop on what, despite being officially called good to soft, was clearly good ground – the winning time beat Istabraq's course record by nearly 3 seconds. The stronger pace and the good going suited Jezki perfectly and he travelled and jumped well, (the hood seeming to help as he wasn't as keen as usual,) and was always holding My Tent Or Yours on the run in.

Once again, the steadily run trials were no guide to the Champion itself and Jezki showed a perfect blend of speed and stamina to win. My Tent Or Yours belied the doubters who thought he wouldn't find up the hill and ran a belter, without ever looking like quite getting there. They are both top class and would be strong contenders again next season. If My Tent Or Yours settles better, (earplugs are being mooted,) he could reverse the form, though he is a year older, so might not have the same improvement in him. It would be no surprise to see My Tent Or Yours sent over fences now, especially given they are in the same ownership.

Whilst Hurricane Fly is now 10 and the track has never seemed to suit him ideally, he had been in cracking form all season and the fact that he was beaten a decisive 5l shows this to be vintage Champion Hurdle form. It's very doubtful he'll join the three-time Champion Hurdle winning club now, but nobody should doubt his status as a great horse – for me, the best since Istabraq.

There was much debate about how The New One would have fared with a clear run. He lost more than the 2¾l he was beaten when hampered, but he had plenty of time to get back into the race and was within 2l of Jezki as they started down the hill. He then got outpaced before staying on powerfully after the last.

The reality is that anyone who says Jezki would have won anyway or The New One would have won with a clear run, is probably talking through their pocket. It's very hard to quantify how much energy The New One had to use to get back into it at the top of the hill. It might be that he'd used his energy when the others quickened coming down the hill. Equally, he might just have been done for toe. He's certainly a top class hurdler and deserves to get back to the race in good shape next year and get a fair crack of the whip. The fact that Jezki, My Tent Or Yours and The New One are virtually inseparable in the Champion Hurdle market (between 6/1 and 7/1) shows how little there is between them.

Arguably the most impressive winner of the week was Vautour in the Supreme. He treated his rivals with disdain, jumping really well again from the front, (didn't seem bothered by being taken on by The Liquidator,) in control from a long way out and cruising clear. He is likely to go to chasing next season and, unlike Champagne Fever, he has won a good ground Supreme, (time more than 9 seconds faster than last year and a course record, albeit one beaten by Jezki later in the afternoon.) He should have the toe for the Arkle (5/1), for all he'll get further. He looks really exciting and it was fascinating to hear Willie Mullins compare him favourably to Neptune winner Faugheen.

Even though they were thumped, there were a number behind who look good prospects. Chief of those was Vaniteux who was just edged out for 2nd by stable mate Josses Hill. He looks the classic Henderson novice who isn't hard trained for a Festival novice hurdle and whose class gets him into the frame, before really improving the following season. He looks a cracking novice chase prospect, (12/1 for the Arkle).

Sgt Reckless isn't an easy horse to weigh up. He was last coming down the hill but ran on strongly to finish 4th. He's done all his racing around the minimum trip and would be interesting upped to 2m4f at Aintree. By contrast Wicklow Brave travelled really well before not looking to get home. He's only 5 and as he strengthens up and learns to settle, he should see the trip out better. I wasn't too discouraged by my fancy Western Boy who was beaten 10½l in the end in 7th but was out in the car park for much of the last mile, jumping considerably to his right. It was only his 3rd run over hurdles and he will hopefully have learn a lot from this – in the short term, he might be underestimated at right handed Punchestown next month.

Since Norton's Coin unbelievable Gold Cup win, it's hard to remember a Grade 1 chase at the Festival that has thrown up a stranger result than Western Warhorse's Arkle win. He'd been described as a fruit loop by Tom Scudamore when edging out Victor Hewgo on his sole chase start over 2m3f at Doncaster, and it was impossible to make a case for him beforehand.

Like Jezki, Western Warhorse was wearing a first time hood but got outpaced coming down the hill and looked as if he would be well beaten. However, he got a second wind and with leader Champagne Fever not really quickening, he nailed him in the last stride. This may have been a fluke but he deserves the chance to show it wasn't - 25/1 for the Champion Chase is the biggest price I can remember about an Arkle winner.

Those of us who thought Champagne Fever was in the wrong race looked to be vindicated. He jumped and travelled well but isn't a 2 miler and didn't quicken, getting mown down late on. You have to imagine he'd have taken all the beating in the JLT and looks the horse to take out of the race. He'll have to prove his stamina for the Gold Cup, but if he gets the trip he'll have a great chance. He remains a terrific prospect and 20/1 for the Gold Cup looks too big.

Not surprisingly Rock On Ruby's inexperience over fences caught him out and he hardly jumped a fence. He may be on the downgrade now, but he deserves to get some more experience in calmer waters whilst the ground is in his favour this spring, before any decision on retirement is made.

The 4 miler was characterised by jumping errors from the three market leaders Foxrock, Shotgun Paddy and Shutthefrontdoor. Despite the ground being much quicker than he likes, Shotgun Paddy very nearly pulled it out of the fire, and with a decent jump at the last he'd have surely won. He's the type who shouldn't be underestimated in top staying chases when the mud's flying next season – rather in the mould of Harry Topper this year.

Jumping won the day and Midnight Prayer jumped much better than the other principles, just holding on close home. He stays really well and looks the right type for the Scottish National if the handicapper doesn't overreact to a race where the principles didn't perform, (rated 139 before this.)

The one to take out of the race might be the hugely inexperienced Suntiep. The 8 year old was having just his 3rd chase start and his 6th in all here so is entitled to improve more than most. He was hunted round the back, presumably to not put his fencing under too much pressure, but was probably given too much to do before flying home to be beaten 1½l. He was rated 136 coming into the race and could well win a good marathon handicap if he doesn't go up too much for this.

The first handicap of the meeting, (open handicap chase over an extended 3m,) proved something of an embarrassment for the handicapper, who let last year's Pertemps winner Holywell in off 145, 12lb lower than his hurdles rating, only to see him win cosily. It's hard to assess these sorts of novices and Holywell had hardly looked a natural in his 5 novice chases, jumping sketchily and appearing a hard ride. However, it's highly debatable whether horses should be given chase marks so much lower than their hurdles ratings for Festival handicaps. Plotting up horses for handicaps is part of racing, but the handicapper doesn't need to encourage it.

With the blinkers back on for the first time since his hurdling days, he travelled much better in this much more competitive race, and only made one real error. He stays really well and wore down Ma Filleule on the run in, the pair clear. This form, (the highest mark a novice has won a handicap off at the Festival this century,) puts him in the mix for the top graded staying novice chases in the spring. It'll be fascinating to see how he gets on.

Ma Filleule travelled really well but hit the 3rd last hard and Nico De Boinville lost an iron. She got back on an even keel but was outstayed close home. She might be one for a big spring handicap dropped back slightly in distance.

The novices handicap chase over an extended 2m4f tends to effectively be a limited handicap and this year there was only 9lb between the field. It's often a better race than its given credit for – last season's winner Rajdhani Express was 3rd in the Ryanair and 2012 winner Hunt Ball was subsequently rated 162. This year's race looked full of promising types but its debatable if the best horse won.

Brian Hughes went for gap on the run in that never looked like being there on Attaglance and, switched back outside, finished strongly to go down by ½l. If you backed him you have every reason to curse your luck. Present View was the beneficiary and, only 6, looks a potential improver. They were both rated 137 here so need to find a fair bit of improvement to trouble the best novices but Present View deserves a crack at them during the spring.

Quevega duly landed the odds to achieve the 6 timer in the Mares race, although she got tapped for toe coming down the hill, and only stayed on close home to beat Glens Melody. It's a fantastic training performance to get any horse, let alone one who's clearly fragile, to win any race 6 years in a row. Willie Mullins sounded afterwards as if she might be retired at the end of the season and I can't help feeling a sense of regret at the wasted opportunities to test her in Championship events.