Matt Tombs / Wednesday 19th March 2014 / 10:00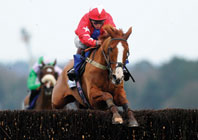 In stark contrast to the two hurdles championships, it was the weakest Champion Chase I can remember. It was also a perfect example of the value that can get created when there is a consensus about a horse. Sire De Grugy was well clear on form and had the same field been lining up for the Tingle Creek he'd probably have been odds on. However, there was a virtually unanimous view that he wouldn't act on the track and he was allowed to go off at 11/4, (available at bigger in the morning.)

With the benefit of hindsight, he made a couple of mistakes and got there a bit soon when failing to give the talented Kid Cassidy 10lb in November. This time he jumped well and won as his form suggested he should. When everybody has the same view about a single element of a race - like Sire De Grugy not acting on the track – the horse often drifts to the sort of artificial price where they should be backed. Sadly I didn't react to that opportunity. In an era of mega yards and owners, it was great to see a smaller yard like the Moores winning a championship race.

It was also a good advert for the merits of keeping a horse busy throughout the season. Sire De Grugy had had five runs and there was nonsense talked from some quarters before the race about his having had a "hard season". With the current fashion for giving horses the cotton wool treatment, many seem to forget that horses often thrive on racing. Every horse is different and needs treating as an individual, but as a racing fan it's always great when horses who've been more aggressively campaigned win the Festival championship races. Unless Sprinter Sacre or Simonsig get back on track, there doesn't look an obvious horse to take him on with and he could well dominate again next season, (4/1 for the Champion Chase.)

There aren't many others to take out of the race, but Baily Green was still going well when coming down 4 out and is worth another chance. The other one is Special Tiara who travelled and jumped well but just didn't see out the trip on this stiff track. Unfortunately for him there's no open Grade 1 over 2m at Aintree, which would have suited him ideally, but he's one to look out for in the spring in any race where the emphasis is on speed.

The Neptune looked to revolve around Faugheen, who had been nicknamed the monster at Willie Mullins' yard. Earlier on in the season I'd got the impression he was their number one novice hurdler but it sounds as if he'd been hard to train and Willie Mullins didn't sound confident about his being robust enough for this.

He hadn't jumped that well previously but was good during the first part of the race. However, he flattened three out and wasn't great at the second last, but again it made no difference. He flew up the hill and outclassed the others, a great leap at the last sealing matters. Normally it'd be a case of thinking the sky was the limit, but connections clearly think Vautour is better. Even so, if Faugheen respects fences more than hurdles he should make up into an RSA prospect (7/1) next season.

For those seeing the top Mullins novice hurdlers as the obvious bets for Festival novice chases for next year, it's worth remembering that his previous novice hurdle winners at the Festival don't have a great record over fences. Mikael D'Haguenet is 2/14 over fences and Ebaziyan was 0/2. Fiveforthree, Scolardy (if you include the Triumph winner) and Tourist Attraction never jumped a fence in public. For all his huge promise, Champagne Fever is 1/3 at this stage and there are no graded race wins amongst the sextet. It's likely that'll change next season and the likes of Vautour and Faugheen looks top prospects, but don't get sucked into thinking it's a formality that they'll make the transition to chasing.

Runner up Ballyalton might well take him on in that race next season. The vibes were that he wasn't that hard trained for this as chasing will be his game. He ran a cracker and looks a smart prospect. Interestingly for a horse that's bred to want quick ground Paul Townend didn't think Rathvinden enjoyed the fast surface. He got into a barging match in the straight and might have been second otherwise. He's worth another chance. The eye-catcher was Killala Quay. He got into traffic problems with some sketchy jumping but powered home to finish 4th. He might make the progress to be a World Hurdle contender next season.

The RSA looked really competitive, (13/2 the field) without their being an obvious likely star on show. Corrin Wood and Annacotty cut each others throats up front and the fierce early gallop made it a true test of stamina. At the business end there was a good duel between O'Faolains Boy and Smad Place, with the former just prevailing by a neck.

Both are smart novices but despite being the same age, (seven,) O'Faolains Boy is much less exposed having just his 9th start under rules, whereas Smad Place has had 20, ran on the flat and contested two World Hurdles. You wouldn't want to be dogmatic about it, but if there is a Gold Cup contender coming out of the race it seems much more likely to be Rebecca Curtis' gelding (20/1), especially as he ripped off a shoe and twisted another. I'm open minded at this stage about how straight forward he is.

There weren't too many hard luck stories amongst the finishers but Ballycasey might be better than the result suggests. He was very inexperienced having had just 2 chases runs but jumped pretty well and travelled like the winner turning in - but didn't seem to get home. Whilst he's always been seen as a stayer by connections, he looks as if intermediate trips will suit. He shouldn't be written off and might be one for the Ryanair next season.

A typically competitive Coral Cup produced what's probably some sort of unwanted record with Get Me Out Of Here finishing 2nd for the fourth time at the Festival, having now been beaten a head, a short head and a nose. He ran a blinder and didn't deserve to be chinned again.

The winner Whisper put up a cracking effort off 153 – the highest mark defied in a handicap over conventional obstacles at the Festival this century. Only 6, he's made great strides as a second season hurdler and this takes him to the fringes of Grade 1 class. He would make a cracking prospect for novice chasing if connections go down that route next season, but before then he deserves a crack at either the Aintree Hurdle (2m4f) or Liverpool Hurdle (extended 3m) at the National meeting.

The 24 runner Fred Winter Juvenile Handicap Hurdle is always an incredibly hard race to fathom and after 25/1 and 40/1 winners in the last two years, it was 33/1 shot Hawk High who prevailed this time. He was battle hardened from the flat and should continue to give a good account on spring ground.

The hard luck stories included the Nicholls pair Katgary and Keltus who were beaten ¾l and 3l respectively, both being hampered by fallers. Katgary in particular might be one for the future as that was his first run for the stable.

It's often worth following the late money in the Bumper but the wall of money that forced Shaneshill into 7/2f came unstuck as the Dermot Weld second string, Silver Concorde took the honours, (the first leg of an incredible treble from only 3 runners for owner Ronan Lambe). He'd returned from 18 months off with a win at Leopardstown at Christmas and enjoyed the quicker ground here. It looks as if he might have the flat as his priority going forward, but will hopefully be given a chance to show what he can do over hurdles.

The Irish dominated with the first 6 home and the Mullins trio all finished in that group. Shaneshill looks all about speed and whilst most of those who finish in the mix for this tend to want further than 2m over jumps, he might be one for the Supreme.

By contrast, Black Hercules looks all about stamina and Patrick Mullins tried to make all Champagne Fever style, but gone done for toe close home. He looks a cracking prospect for staying novice hurdles next season. Joshua Lane was a maiden coming into this but had run well both times in good races and settling much better he ran a stormer to be a staying on 3rd. He's the type to be underestimated for his small stable that has done so well with Captain Cee Bee.

If ever there was going to be a time when I was in favour of the cross country race being part of the Festival, it ought be now after Balthazar King landed a 33/1 double for winning this and the November race. For all it was great watching the game 10 year old keep finding more for Richard Johnson, I can honestly say that I still don't think the race has any place at the Festival.

It is there though and it looks a fantastic betting medium. The emphasis on agility and being able to handle the obstacles as they crawl round, means that weight doesn't seem to matter too much. In the last decade there have been 29 cross country chases. The November race is a conditions event but the other two are handicaps and the market seems to underestimate the specialists, especially in the handicaps, (only 4 of those 29 races went to horse priced at bigger than 7/1.)

Of those 29 races, 16 have fallen to 3 horses. Spot Thedifference won 7 of them, from 10 starts. He won at 6/1, 4/1, 4/1, 13/8, 5/1, 6/1 and 11/4. Garde Champetre won 6 from 13. He won at 4/1, 7/4, 7/2, 4/6, 9/4, & 6/1 off marks ranging from 129 to 156.

Balthazar King is a much classier animal than either, (bolted up off 139 in a conventional chase at Cheltenham in October). He was carried out on his first try over the course but since then is 3/4 winning at 11/2, 5/4 and 4/1. He won off 150 here and I doubt it'll make much difference if he runs off 155 or 160 next time. The ground is key to him and Richard Johnson said he'd have won much further on better ground. If he gets that, he's almost bound to be underestimated for the handicaps in December and at the Festival.