Matt Tombs / Tuesday 17th December 2013 / 13:30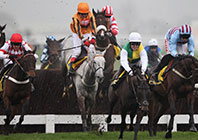 Many punters love an accumulator for the Festival. The chance to perm a few horses together and make a decent sum of money is alluring. Often punters choose a selection of short priced horses that are obvious to fancy, but only by combining them is there a chance of a good payout.

If we're betting ante-post, what are the key criteria for placing accumulators? A key criteria with any bet is value, and with any ante-post bet is the likelihood of it shortening. Those criteria are important for ante-post accumulators too, but there are others.

The first is mathematical. You can't pick the best prices available as you can with singles. You have to pick the bookmaker who's offering the best value on the combination. It's important not to get sucked into backing horses at artificially short prices just to get the accumulator on. It's often better to identify more horses than you need and just include those which can be backed at top price or close to it with a particular bookie, (or back different combinations with different layers.)

The second is that when doing ante-post accumulators, don't be put off by odds-on shots. Unless you bet in chunky sums, backing Sprinter Sacre at 4/9 for the Champion Chase probably doesn't appeal. However, he started 1/4 last season, never having won the race. He's likely to scare off the opposition and start a lot shorter this time if he gets there with his reputation unblemished - I can see him starting at around 1/8. He's due to run at Kempton at Christmas and should shorten significantly if normal service continues there.

If you look at the others quoted for the Champion Chase its really hard to see where meaningful opposition is going to come from – and its not a race for horses to come from left field late in the season. Simonsig (8/1) is unlikely to run against his stablemate even if he makes the Festival. Flemenstar (20/1) is injured and would probably run over further if he recovers. Cue Card (14/1) won't be running at 2m again. Tingle Creek winner Sire De Grugy (16/1) was turned over by Kid Cassidy (25/1) and is likely to run in France rather than at the Festival. Captain Conan (25/1) doesn't look good enough and is also in Sprinter Sacre's stable. Arvika Ligeonniere (25/1) is a possible if proving he can go left-handed but is more likely to run over further. It's 33/1 bar those.

When looked at like that, Sprinter Sacre looks a classic ante-post bet – he could shorten significantly and his current price looks good value. It may be the lack of people wanting to back a long odds-on shot 3 months in advance that is inflating his price.

Some punters look at a 4/9 shot and can't face the prospect of getting the other legs of the accumulator up, only for it to fail because a horse, that would have made much the smallest contribution to the return, doesn't win. Others look at a, say, 9/1 shot that they think will go off 4/1 and see the return on a tenner being £100 ante-post rather than £50 SP. That difference sounds much more alluring than the £14 or so ante-post return on Sprinter Sacre, rather than £11 or £12 SP. That's an artificial way of looking at it – it's the percentages by which the horse's chance is underrated and by which it'll shorten that matter. Sprinter Sacre therefore looks an ideal component of an ante-post accumulator.

By contrast, the only other short priced ante-post favourite Quevega (5/4) doesn't look a likely shortener. She went off 8/11 last year and only scrambled home. On likely better ground, 2m4f doesn't look her trip anymore and I think the bookies will want to get her on the day. I doubt Willie Mullins will run the likes of Annie Power, Glen's Melody or Upsie against her. However, Cockney Sparrow split My Tent Or Yours and Grumeti in the Fighting Fifth, something I'm not convinced Quevega could still do over 2m. Cockney Sparrow might be better suited to the 2m4f trip than Quevega at this stage - she's already into 6/1 and is an intended runner. She ought to stop Quevega starting too short as a 10 year old. If anything I think Quevega might drift from her current 5/4 rather than shorten, (she's obviously not going to run before the Festival so won't shorten through beating market rivals.) She is definitely not one for ante-post accumulators.

A third way to derive more value out of the accumulator is to look at a horse whose price is inflated by uncertainty over its target. If you can get two such horses, whose targets are mutually dependent, you can derive value in an acca. There are far more opportunities like this now that so many of the top horses have the same connections. At this stage of the season the novice chase division is a great area to look for such horses, (after Christmas the novice hurdle division probably will be.) I recently analysed the Arkle and Jewson markets.

Given that virtually all winners of the level weights novice chases at the Festival in the last decade had run over fences by this stage of the season, it looks as if Willie Mullins' top novices over shorter trips are Champagne Fever, Felix Yonger and perhaps Mozoltov, with Ballycasey more likely to go for a stayers race. Mullins likes to keep what he calls his A team apart. Mozoltov is owned by Gigginstown so which race he runs in will be influenced by the targets for the likes of Don Cossack, Road To Riches and Bright New Dawn.

If they all get there I suspect Mullins will train Champagne Fever, Felix Yonger and Ballycasey for 3 different races, (ie between them they'll run in the Arkle, Jewson and RSA,) so Ruby can ride all 3. As 4 into 3 won't go, (and none look candidates for the 4 miler,) I think Mozoltov, (who'll be ridden by Davy Russell,) will take one of the other 3 on.

Neither Champagne Fever nor Felix Yonger are obviously 2m or 2½m horses. Both their prices for each race are therefore inflated due to that uncertainty. If you have a strong positive view about both horses generally, then consider combining both in two doubles, (ie to cover them each running in the Arkle and Jewson.) But if you also have a strong view about which race each will run in, then by just having one accumulator you ramp up the margin that is there due to the perceived uncertainty of their target.

So for a punter like me who guesstimates that the value lies in Felix Yonger running in the Arkle and Champagne Fever in the Jewson, Stan James are top price both Felix Yonger (12/1) and Champagne Fever (8/1), ie a 116/1 double. They are 2nd best on Sprinter Sacre at 2/5, which gives around a 163/1 treble.

A fourth angle is where you have a view that of, say, 7 horses at the front of the market, the winner is very likely to come from 3 of them. For example, if you took the view that last season's slogs through the mud in the King George, Gold Cup and Punchestown Gold Cup might have bottomed those who ran in them, that takes the two Gold Cup favourites Bob's Worth (5/1) and Sir Des Champs (13/2) out, plus possibly also First Lieutenant (20/1). If you then had a specific negative view about one of the other market leaders – say you were convinced Al Ferof (16/1) wouldn't stay, then its 25/1 bar three.

You might think the Betfair Chase form is incredibly strong and so want to have Cue Card (7/1), Silviniaco Conti (9/1) and Dynaste (16/1) onside. Narrowing it down to 3 you fancy equally at the prices isn't all that helpful for singles - most punters don't want 3 ante post singles on the same race. However, when backing high odds accumulators, you're usually backing to smallish stakes so having a perm of a few different lines is attractive.

All have the propensity to shorten significantly between now and Gold Cup day as they'll be running against other top horses in races like the King George. You might therefore combine each with Sprinter Sacre, Felix Yonger and Champagne Fever to give 3 four folds, (or 6 if you want to hedge your bets on which race Felix Yonger and Champagne Fever will run in.)

Finally, a fifth angle is to make an assumption about a specific constituent of the Festival – eg the ground. Individually the price of each horse will include an element re the ground, especially if it's very ground dependent. By combining several horses with the same ground requirements, the accumulator gets more value than the individual singles. (You clearly don't want to be combining horses that demand the opposite conditions anyway.)

A simplistic illustration, (ignoring for simplicity other factors like the chance of getting injured or running in a different race,) involves a horse that would have a 50% chance of winning if the ground is soft and no chance otherwise. If the likelihood of him getting soft ground is also 50% then he has a 25% chance of winning. He's quoted at a 'fair' price of 3/1, so there's no margin in backing him in a single.

However, if there were two such horses, (aimed at different races,) then the chances of both winning are a multiple of the ground being soft (50%), the first horse then winning (50%) and the second horse then winning (50%) – ie 12.5%, so 7/1 would be a fair price on the double. By backing a double with both at 3/1, you get 15/1 because you're effectively getting two 'prices' on the same event, (the ground being soft).

A good ground treble could be Jezki (Champion Hurdle), Cue Card (Gold Cup) and Felix Yonger (Arkle or Jewson). A soft ground treble could be Taquin Du Seuil (Jewson), Arvika Ligeonniere (Ryanair) and At Fishers Cross (World Hurdle).

If I was doing an accumulator today, it'd assume a sound surface and include some or all of the below. The combination currently pays almost 11,500/1:
Felix Yonger (Arkle - 12/1) / (Jewson - 8/1)
Champagne Fever (Jewson - 8/1) / (Arkle - 3/1)
Cue Card (Gold Cup – 7/1)
Sprinter Sacre (Champion Chase - 4/9)
Jezki (Champion Hurdle – 9/1)

With so many of the top horses running over the Christmas period, many markets will alter significantly as a result. This is a great time to do accas - we have quite a bit of information from the autumn form and we've got the chance to back some horses that might really shorten as a result of the Christmas races. One final suggestion - if you're combining lots of horses, including some at fancy prices, check out the maximum payout rules. They vary considerably between layers and it would be galling to have secured a once in a lifetime million pound acca, only to find the maximum payout is a half or a quarter of that.