Five Festival Predictions
Matt Tombs / Monday 10th March 2014 / 12:40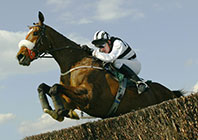 One of the things about tipping, especially if you're looking for big prices ante-post for the Festival like I am, is that you're going to be wrong most of the time. The good news is that you only need to be right occasionally to make a profit - but this is the time of year when we all tend to feel we'll be right about almost every race. That's part of what makes the final build up to the Festival so exciting - we all have our theories and our hopes haven't yet been dashed. Whilst I still feel like that, here are some predictions for the week:

1. The ground will be quicker but safer than almost everyone expects

After over 2 months of torrential rain there was a consensus that this would be a soft ground Festival. The reality is that Cheltenham drains so well that it doesn't matter how much it rains during the winter – if there is a dry and warm week or so in the run up to the Festival, we'll always be racing on a sound surface. The fact that Simon Claisse has said he'll consider selective watering on the new course, (used on Thursday and Friday,) tells you how much it is drying out.

The ground was altered to good to soft all round on Saturday and with the weather set to be warm, sunny and breezy – it's surely going to dry out a fair bit more than that by the time the tapes go up for the Supreme. The pleas from Nicky Henderson and Paul Nicholls not to water did feel slightly staged – it's almost as if Simon Claisse is arranging a consensus that proper spring ground is acceptable, (which it is).

The water table is so high that even though it's dried out on top, there'll be plenty of spring in the ground so there'll be no excuses for anything. That's crucial – there's no need to water when there is no jar in the ground, watering is needed when its firm underneath. I'm expecting plenty of horses with soft ground form to win, but that fast horses at the trip will be at an advantage.

There's always a political element to official ground descriptions, especially on the Tuesday. My prediction is that the ground for the Supreme will be officially good to soft, good in places. Times will show it's quicker than that and it will be changed to good, good to soft in places during the day, (maybe after the Arkle.) By Wednesday it'll be officially good.

2. The Old Guard will struggle

There's a lot of sentimentality about old favourites at the Festival. That's a good thing as one of the joys of the sport is the longevity of the horses. But from a hard headed betting point of view it's crucial to know when to abandon those old favourites. If the likes of Big Buck's, Quevega and Hurricane Fly win, there will be plenty of people saying that anyone who didn't back them just didn't understand the form. Those people tend to be pretty quiet when their old favourites get beaten and, sadly in some ways, I think they're going to be very quiet this year.

Hurricane Fly is the best value of the 3. He's shown this season he's still a top class horse and whilst Cheltenham doesn't seem to suit ideally, his class has got him home two years out of three. This is a much harder race though and ten year olds have a dreadful record in championship races. Big Buck's looks more opposable. Great horse though he is, he was disappointing on his comeback and had a hard race. He's eleven, which makes it an even bigger ask, against what's a stronger field than looked likely. Quevega is in a poor race but it may be she's vulnerable to a horse with a turn of foot on the drying ground.

I think the classy older horses that have belatedly gone chasing like Rock On Ruby and Oscar Whisky, are even more vulnerable. Rock On Ruby looked on the downgrade on his last two runs over hurdles and lacks experience over fences. Oscar Whisky's jumping has got worse rather than better with experience. He has plenty to find with Wonderful Charm at level weights and he looks the classic type that the young horses will improve past. Class will out – but not forever.

3. There will be more upsets than usual

With more races and fewer horses, the races have naturally become more predictable as the best horses are spread more thinly. That's led to more favourites winning. There were 9 last year, with 9, 8, 4 & 6 in the previous four Festivals. Punters have more information than ever and the collective brain of the exchanges predicts results more accurately than ever, so generally I'd expect there to continue to be a strong performance by favourites over the next few years.

However, the combination of the wet weather and the bugs that have been more prevalent with the mild winter, have caused serious problems for a number of trainers. 20 years ago such climatic conditions would have really caused havoc, but even now they will have a real effect. There will be trainers who have had a low grade virus in their yard who have got away with it in day to day racing, but will get found out in the white hot competition of the Festival.

There will also be more horses than normal that have ran poorly over the winter because they weren't quite right – that will bounce back at the Festival. When looking through the form, especially for novices, it may pay to concentrate on the best performances and forgive a bad one. I'm expecting more than the usual quota of upsets.

4. Willie Mullins will dominate

Perhaps because he's an Irish rather than a British trainer, plenty of punters don't seem to have cottoned on to just how much more firepower Willie Mullins now has. If you add up the odds of all his runners, (making some assumptions about what will run at all and if so where,) then he should be on course to at least match last season's five winners. I think he may well exceed it and that this will be the Festival where he moves to a different level to the big British stables of Nicky Henderson and Paul Nicholls.

5. It'll be the year Bryan Cooper establishes himself as an elite jockey

Everybody knows that Bryan Cooper is one of the best, and many would argue the best, young jockey around. However, most punters still see a gulf between him and the likes of Ruby and AP. Cooper won 3 races at the Festival last year, arguably outriding Barry Geraghty and Tom Scudamore in the JLT, when he got a breather into Benefficient after they'd gone very quick coming down the hill – before Benefficient powered clear of Dynaste and Captain Conan.

At the moment, having Cooper on board doesn't move the price as occurs when Ruby or AP get jocked up. Now that Cooper rides all the Gigginstown horses, and will be in demand in the races where Gigginstown aren't represented, he'll be much higher profile than last year. This might be the last Festival where you can back his horses without the premium of a lower price for his being on board.

Looking at the top jockey market, I think it's arguable that Ruby Walsh is too big at 4/7. He has so many short priced favourites to ride that things are really going to have to go wrong for him not to win, (especially with countback almost inevitably being in his favour if there's a tie.) However, SkyBet are offering a 'without Ruby' top jockey and I think Cooper is far too big at 5/1. Neither Barry Geraghty (2/1) nor Tony McCoy (9/4) look to have that strong a hand this year, so its quite open.

Cooper has the likes of Trifolium, Mozoltov, Valseur Lido, Don Cossack, Last Instalment, First Lieutenant and Rule The World for Gigginstown. I'm also expecting him to get the call up for well fancied types in the handicaps as he did for Ted Veale last year. Geraghty and McCoy will ride almost exclusively for Henderson and McManus respectively. By contrast, with Gigginstown having fewer runners than McManus or Henderson, Cooper will be more available to any trainer who has a well fancied horse.

I think he should be challenging for favouritsim in this market, but he has to pass the doctor before being allowed to ride on Tuesday, after a fall at Naas yesterday. I can't therefore put him up as a bet at this stage, but he's apparently going to be fine and, once he gets the all clear, he'd be worth backing at those sorts of odds.