Matt Tombs / Wednesday 29th January 2014 / 12:10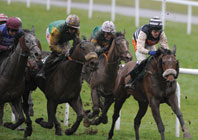 Last week saw a £2m betting coup involving horses with connections to Barney Curley. As ever, this divided opinion, and produced some extraordinary commentary. The usually excellent Paul Kealy said in Friday's Racing Post "If the coup didn't leave a sour taste you're not a proper punter."

Starting with the fundamentals – as any punter with some basic knowledge of the game knows, (and as a top class tipster, Kealy knows very well,) horses are not put in every race with winning as the primary objective. Connections try to avoid giving horses hard races, especially at the start of their career or on their first run of the season. For example, if you have a Festival class novice hurdler, you don't bottom it by having it at its peak for its seasonal debut in November.

In other words - horses regularly have their chances of winning a specific race they contest reduced, because they aren't trained and ridden to the limit as if it were the Gold Cup.

Equally, horses are often run in less than ideal conditions, for longer term benefits. For example, Willie Mullins often runs his top staying novice chasers around 2m to teach them to jump at speed. In his novice chase season Cooldine ran in the 2m1f Grade 1 at Leopardstown at Christmas, in which he had little chance, rather than the 3m Grade 1, in which he would have had a favourite's chance. When he bolted up in the RSA, much was made of his ability to jump at a fast pace, which his rivals, (who'd been running in steadily run staying races,) couldn't.

Once you accept these legitimate tactics, you can't escape the fact that handicap plots will occur. If its acceptable to have an inexperienced horse brought along gradually; or to leave plenty to work on, on a horse returning from a lay off or with a bigger subsequent target – you have to accept that horses will be raced when less than fully fit and given considerate rides, simply to get an attractive handicap mark.

If it's acceptable for Willie Mullins to run novice chasers at much shorter trips than their optimum, to teach them to jump at speed so as to improve their chances in the Festival Grade 1s - it's inevitable that horses will be run at the wrong trip to get attractively handicapped. The same principles apply to ground conditions, going left or right handed, and so on.

Some commentators have complained that it's the previous races that are the problem - punters have been conned because the horses involved weren't being hard trained/ridden in those previous races. Every day plenty of horses run to try and get themselves well enough handicapped so as to pull off a coup at a later date. If that's the definition of punters being conned, punters are conned every day.

The reality is that every trainer plays this game. Unless you own a top horse, its career will mainly involve contesting handicaps - and if you don't get your horse decently handicapped, you'll probably never win a race. For many small time owners, getting their horse handicapped to win a little race, and backing it, is a way of paying the training bills. Every week a few such coups are pulled off at a low level.

The only difference here was the scale of the coup. It's hypocritical to argue, as some have, that a coup is morally acceptable provided only a modest sum is bet, or provided the horse has only dropped a certain amount in the handicap. How much are you allowed to win? £1,000? £100,000? £2m? How many pounds down the handicap is it acceptable to get your horse? 5? 10? 50? Those sorts of arguments are absurd.

I have some sympathy with the argument that the headlines are bad for racing's image – that's an arguable point. However, the average person on the street, who doesn't follow racing, doesn't understand the complexities of handicapping. What puts them off is stories about people stopping horses. Stories of big gambles landed probably attract as many people as they deter.

One bizarre argument put forward by Kealy was that it's distasteful because it was a private coup, rather than a public one inspired by a top tipster like Pricewise. Last season, this column spotted that Tony Martin had plotted up Ted Veale for the County Hurdle. According to Kealy's logic that's fine because readers got on at 25/1, but connections of the horse having a bet at that price would be wrong, as that would be a private coup.

In actual fact, Kealy isn't quite right about it being only a private coup – once word got out in the morning, ordinary punters jumped on the bandwagon, (albeit at shorter prices), forcing the prices down much further.

In any case, it was perfectly possible for ordinary punters to work out what was going on. Curley only had a small number of horses in training when he retired. There are several websites that alert you, (via eg email,) when any horse you've entered into their system, is entered for a race. If you'd put all the ex-Curley horses into such a system – then when you saw 2 were entered on the same day, alarm bells would have rung.

If you'd checked the trainers who used to work for Curley and noticed that Des Donovan also had a couple of runners on that day, (his only 2 so far this year), those alarm bells would have been ringing louder. Didn't do that? Me neither. Looks like we don't have the patience and attention to detail that those who organized this coup have. For my part, I reckon that's my own fault, nobody else's –I'm certainly not complaining that this was a private coup I couldn't have spotted.

If anyone can work out a better system of races for the vast majority of ordinary horses than handicaps, I'd be delighted to hear it – but I won't hold my breath. Once all the huffing and puffing has stopped, we're back where we've always been. Every trainer tries to get horses well handicapped so they can arrange a coup and win a race. Curley and the people he's mentored just happen to be very good at it and bet on a bigger scale - but it's hypocrisy to only complain about the people who do it most effectively. If you eat sour grapes, you will end up with a sour taste in your mouth.