Matt Tombs / Wednesday 19th March 2014 / 12:00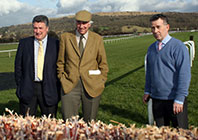 There are Lies, Damned Lies and Statistics

I'm not a stats based punter, but I do take notice of statistics, usually when they look to back up or disprove a theory I've got. This year, having always had a gut feeling that the main handicaps were won by horses further down the handicap than was generally perceived, I did some research – and looked at the marks of all the winners this century.

Those results backed up my theory, with each of the 6 main open handicaps having been won off marks in the 120s, and the highest mark defied being 147 over fences and 151 over hurdles. The highest mark any novice had defied was 142.

This year Whisper won the Coral Cup off 153, Fingal Bay won the Pertemps off 148 and Savello won the Grand Annual off 147. The lowest mark won from was 139. Novice chaser Holywell won the 3m handicap chase off 145.

I only had bets in 2 of those 6 handicaps, and backed horses in the low 140s so it wasn't as if I was guilty of picking horses to back up a statistical theory – but it's a reminder of the dangers of paying too much attention to statistics. These handicaps will generally be won by the best handicapped horses, regardless of where they are in the handicap.

Watering Trends

There's one thing at the Festival that's usually less true than statistics – and that's the going description. This year we had the absurd situation where first Vautour, and then Jezki, broke the 2m½f hurdles course record, Jezki's time lopping almost 3 seconds off Istabraq's record – on good to soft ground!

There wasn't a Grade 1 run over jumps on the old course that wasn't under standard time. By contrast, on the new course after watering, no horse ran within two seconds of standard time – on officially good ground.

In the decade or so since a watering policy has been in place at the Festival, the general consensus has become that, (in the years when its not wet in the run up), the course will be watered so it's on the slow side of good on Tuesday and no quicker than good by Friday.

However, where like this year, there's the possibility of soft ground in the run up so there's no watering – there is a strong chance of watering later in the week. That's because if you get a dry and mild week or so before the Festival, you'll be racing on good, quick ground on Tuesday.

In that scenario, that occurred this year, the opposite to the perceived wisdom tends to apply – the ground is quick early in the week and dead on Thursday and Friday. If, for example, you've got a 2 – 2½m novice chaser that's very dependent on good ground, then they might be better off in the Arkle on Tuesday than in the JLT on Thursday – the opposite of what's often assumed.

It May Be Easier Laying Horses At The Festival Than Backing Them

Before the advent of the exchanges, punters regularly said how much easier it was for the bookies – laying horses was much easier than backing them. The exchanges gave punters the chance to do just that and many have found that it's harder than it looks.

One of the key rules when backing horses is not to think you're clever when you're winning, and not to think you're an idiot when you're losing. Theoretically, the same rules apply when you're laying, so perhaps I'm in danger of breaking them.

However, if you're basically a backer of horses like me and so will back several a day at the Festival, you'll have a smaller subset of those horses you're backing that you're particularly keen on. Logic suggests that there ought to be loads of value in laying the equivalent smaller subset of horses that you're really convinced will bomb out.

I'll learn whether this is true over the next few Festivals, but having got all four (Rock On Ruby, Ballycasey, Big Buck's & Kings Palace) out of the frame this time at short prices – my gut feel is that I should put more emphasis on laying horses for a place.

There Is Value In Long Range Ante-Post Betting

There has been a growing consensus that long range ante-post betting is getting harder. The proliferation of options at the Festival has certainly added an element of complexity - as I showed when calling the Champagne Fever & Felix Yonger targets the wrong way.

However, we've never had so much information as punters and I'd argue the opposite is true. There are so many markets where the value looks to have been squeezed out of them come the day (and often well before that) – I reckon long range ante-post betting is easier, as that's where the value lies.

Having put up Jezki in May and Balthazar King in November, I'll be looking for the value for next year's Festival during the big spring meetings at Aintree, Fairyhouse and Punchestown. Hopefully Dynaste can do the business for us in the Gold Cup next year.

Bravery And Dignity Of Jockeys Makes The Sport

After the tragic injury to JT McNamara last season, this year there were a number of serious injuries to jockeys during Festival week. On Monday Jason Maguire had a horror fall at Stratford, which left him needing part of his liver removed. On Wednesday in the Fred Winter, Bryan Cooper broke both the tibia and fibula in his right leg, which has been described by an attending doctor as the worst break of its type he'd seen. On Friday, Daryl Jacob broke his knee, leg and elbow when he was dumped on the concrete on the way down to the start in the Albert Bartlett.

Add in Ruby Walsh breaking an arm and it was a salutary reminder of the dangers these guys run every day, for our entertainment. The best news of the week came a couple of days after the Festival when it was announced that Bryan Cooper is anticipated to make a full recovery.

Ruby Walsh got plenty of criticism in the non-racing media for having the courage to say that important though equine welfare is, the welfare of the jockeys is a bigger priority. The anti-racing lobby were always likely to seize on those sort of remarks, but it's important he said it, (even if he wasn't initially as eloquent as usual.) It's true and racing needs to stand up for its beliefs and values more than it has in recent years.

The dignity shown by Barry Connell in his piece in the Racing Post after losing Our Conor spoke volumes for the care the vast majority of those involved in racing have for their horses – those who argue otherwise rarely know much about the sport.

The other person who showed great dignity was Davy Russell. Sacked from one of the best jobs in racing as Gigginstown's retained rider a couple of months ago, he never complained. Having ridden a treble including the Gold Cup on Friday he might have been forgiven for crowing. Instead he quietly said "This is a lesson for anybody who gets knocks through their career. You keep your mouth shut and try to do your best." A top man, who deserved everything he got on Friday.