Matt Tombs / Monday 3rd March 2014 / 11:50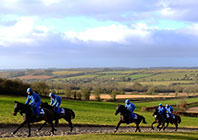 As you'd expect at this stage, there were very few Festival form clues this week. The Grade 2 novice hurdle at Kelso, (2m2f, good to soft), drew a decent field but Clever Cookie thrashed them to complete a hat-trick, despite pulling hard for much of the race. He jumps well and looks like a fast run race would suit, so would be interesting if allowed to take his chance in the County Hurdle (20/1) off 136 plus a 5lb penalty. Peter Niven thought he might not be battle hardened enough for that and so he might wait for Aintree.

Sailors Warn had been really disappointing since a 1l 3rd to Alderwood in the County Hurdle 2 years ago, off 143. He ran all over Thousand Stars, (who gave 10lb,) at Leopardstown, (2m2f, yielding to soft). He's in the County (25/1) and Martin Pipe (33/1) off 139 (plus a 5lb penalty). It's hard to know how good Thousand Stars is now, but Sailors Warn shouldn't be underestimated if turning up at the Festival. Eddie O'Grady's yard is not the force of old but has run into form at the right time, and there's nobody shrewder at laying one out.

One interesting outsider for an open looking Foxhunter is Double Bank who is 100/1 despite beating the useful hunter Picaroon easily at Wincanton, (2m5f, heavy.) Picaroon led the Foxhunter field to 3 out last season despite clearly hating going left-handed. Double Bank was still leading in Harbour Court's race in April when ploughing through 3 out. It was disappointing the way he folded after that, as he'd looked as if he would be involved in the finish. It's the sort of year that there could be an upset and he makes some each way appeal, especially with soft ground getting more likely.

With almost all the Festival clues coming from off the course now, it's a good time to think about handicaps, with the weights having been published this week. I've got one or two fancies but the doubts over the ground are growing - so there's too much uncertainty for me to be having a bet yet in a handicap. In the meantime, I've set out some thoughts on betting in the main handicaps.

Every handicap is different and getting lost in a blizzard of stats isn't, for me at least, the right way to approach those races. I prefer to take a look at the weights and see if anything jumps out, as I can't effectively compare all the potential runners at this stage.

There is one point I do remind myself of every year though – the winners are usually further down the handicap than is generally perceived. There are 6 open handicaps at the Festival over conventional obstacles. Over hurdles there's the County, Coral Cup and Pertemps Final, and over fences the Grand Annual, the Byrne Group Plate and the Festival Handicap.

How many times this century do you think 1 of those 6 races has been won by a horse running off a mark of 150 or more?

It'll surprise some to know that its once – Sporazene won the County Hurdle off 151 a decade ago, (and that was somewhat controversial as stablemate Rigmarole ran in the Champion Hurdle and was also declared, (but didn't run,) in the County off 164.) The highest chasing mark defied was 147 by Young Spartacus in 2003.

In fact, 72% of these chases and 64% of these hurdles have gone to horses rated below 140. Every one of those six races has been won by a horse rated in the 120s this century, showing that it's wrong to dismiss such horses as not classy enough for a Festival handicap, (a comment you often hear.)

That's absolutely not to say horses with marks around 150 can't win – it's just that it's much harder than it looks at first sight. If you really fancy a horse off a high mark then back it – one will go in sooner or later, but just be aware of how tough a task its historically been. The shape of the handicap is especially important to those horses - for example, Wishfull Thinking is a likely runner in the Byrne Group Plate off 162, which means a horse rated 150 would carry 11st. Keeping those below 136 out of the handicap proper and only having to give away up to a stone must make it easier for a 150 horse.

A few horses near the front of the market in the hurdles who are higher in that weights than you'd normally want include Whisper (153), Irish Saint (151), Fingal Bay (148) & Un Temps Pour Tout (147). In the chases, equivalent market leaders include Champion Court (157), Rajdhani Express (155), Double Ross (152), Cantlow (151) & John's Spirit (148.)

When I look at the weights, what often attracts my eye are classy, unexposed novices that have shown good form against the leading novices, and it looks as if they've got a much easier task in a handicap. In reality, they usually haven't – the highest mark a novice has defied this century is 142. It's the novices that haven't yet shown smart form over those obstacles, but are capable of it that have won - off lower marks. I know I've backed plenty of novices from marks a fair bit higher than 142 – and I have to apply a mental brake when I see them rated well into the 140s.

A classic novice that looks appealing at first sight is last year's County Hurdle winner Ted Veale, who is 8/1 favourite for the Grand Annual. He's been given experience in two Grade 1 novice chases, without ever really being put in the race – suggesting he's been laid out for this. Last season, Alderwood completed the County / Grand Annual double, but the handicapper got rather caught out by his novice chasing form. He won the County off 139 and was let into the Grand Annual off 140.

By contrast, Ted Veale won the County off 134 and, despite being beaten 47l and 31l in those two Grade 1s, he's been given his British hurdle mark of 146 for the Grand Annual. That mark is 10lb higher than his best chase RPR, (fair 8¼l 3rd to Dodging Bullets,) and he'd need to break all the modern day records for a novice to win. Given you usually need around a stone in hand to win a Festival handicap, he'd need an Arkle winning performance to win the Grand Annual.

Whilst there are no hard and fast rules, a good rule of thumb for Festival handicaps is to lower your sights. The answers to these puzzles are usually horses for whom there's a reason why they haven't been able to show their best form yet/recently, rather than those who have and need to improve it a lot further. The winners are therefore commonly found a bit further down the weights than some of the types with sexier profiles that often head the markets. Now all I've got to do is find one or two…

Finally, like most racing fans, I've been reading about the Philip Fenton case. I've no idea whether he's done anything wrong and presumably virtually everyone is in the same position of ignorance. The fact that it's taken 2 years to get to the stage where we still don't know, is an indictment of the process in Ireland and that process clearly needs radical reform. Whilst racing needs to look after its reputation very carefully, (there will doubtless be plenty amongst the establishment hoping Last Instalment doesn't win the Gold Cup, in case it turns out Fenton has done anything seriously wrong,) that's not the priority.

This is a case of someone who is being investigated for potentially cheating at a sport. Everyone accused of such cheating is innocent until proven guilty – if we abandon that sort of justice in the name of the 'greater good of racing' there's no hope for us. You find out who your friends are in this sort of situation, and Gigginstown have stood by Fenton. As things stand he's an innocent man and should be treated as such - I hope he has a great Festival.