Only Back Shorteners Ante-Post
Matt Tombs / Wednesday 11th December 2013 / 11:00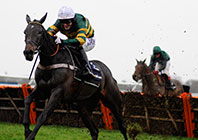 When betting on races after the final declarations are made, the main lesson a novice punter has to learn is to back horses that are good value rather than the ones they think will win. That may sound simple, but human nature exerts a strong force encouraging us to back the most likely winner, (or sometimes the most likely winner excluding a very short priced horse – you often hear people say eg "I don't back at odds on").

Once armed with some experience punters tend to form a view, which leads them to wanting to back a specific horse, (rather than simply the most likely winner). They hope to get, say, 8/1 but when it's only 5/1 they back it anyway – ie they still play into layers hands by being willing to back that horse at virtually whatever price is offered. If the layers can work out in roughly what proportions horses will be backed, they can ensure they are backed at prices that favour them.

Having the discipline not to back a horse you fancy because the price is too short, (and potentially back another one that is good value, even though you didn't especially fancy it,) is a crucial step towards successful punting. The whole Pricewise ethos was based on this principle and its huge success has helped many punters into a value mindset.

Far fewer punters bet seriously ante-post and there's an additional point that, listening to punters talking about ante-post Festival betting, it seems many don't understand. Value is not the most important criteria in an ante-post bet. It's important of course – there's no point backing something unless it's a bigger price than it should be.

But a horse that's 25/1 and should be 16/1 is still a bad ante-post bet if it isn't going to shorten. For the simple reason that if it'll be 25/1 once non runner, no bet is available, then its crazy to back it ante-post and risk it not lining up. I've mentioned before that plenty of horses don't get shortened much, if at all, when bookmakers go non runner, no bet. Additionally, as the weeks pass you get more information about an ante-post market, (from the performance of horses in that market running etc). You're better informed to back a horse with that additional information. Fundamentally, we're looking for a shortener.

Some ante-post punters will suggest that you should always look for a horse that is confirmed as an intended runner. I think that's wrong - if you're demanding a run for your money then you shouldn't bet ante-post. Of course, it's an advantage if your horse is an intended runner, (and by about February there'll be the odd Festival race where there's value in backing almost any intended runner if you think those at the front of the market won't run.) But the layers invariably know this information too and so should be factoring that into the price - theres often more value in backing a horse whose target is uncertain, in the race you think it'll run in. Having an intended runner is helpful but by no means imperative.

It's therefore vital when considering an ante-post bet to think about what will happen to the horse's price in the interim. How much you expect a horse to shorten will vary with the circumstances, in particular how long there is between when you strike the bet and the race. But if you're betting ante-post for the Festival before Christmas, a rough rule of thumb is that you should be looking for a horse whose price will at least halve.

Horses shorten either because opponents fall by the wayside, (through injury, poor performance or targeting another race,) or by improved performance, (by beating chief market rivals or by impressive performances against lesser horses.) Whilst some factors like injuries are random, it is obviously possible to assess when a horse might shorten by beating a leading opponent or because market rivals target other races.

In some races this sort of shortening is very likely to happen. For example, in the RSA, it's 12/1 the field. If, like the last couple of years, a field of only about 10 lines up, then if your horse performs decently in the interim it's very likely to shorten a lot, as most of those quoted in the lists at the moment won't run. The only reason a horse that lines up in the RSA won't be substantially shorter than it is now, is if it performs moderately in the interim.

The risk of backing a non-shortener at this stage is higher in the open Grade 1s, (which being the markets with the most form is where many ante-post punters want to bet at this stage.) The simplest example is the World Hurdle where Big Buck's is 3/1.

Realistically, how short can he start? He defended his title in his pomp at SPs of 5/6, 10/11 and 5/6. This time he'll be an 11 year old, (only one horse older than 9, Moscow Flyer, has won one of the four championship races this century). He'll have had at most 1 prep run, in the Cleeve. It's not unlikely that the ground will be desperate there and he'll bypass the Cleeve and go straight to the Festival, in which case he'll be something of an unknown quantity, which will hold up his price.

If he does run in the Cleeve, then he may not be running against many of the other market leaders, so he might not be able to show how much of his ability he retains by beating top horses. He could be visually impressive in winning on the bridle, but Paul Nicholls is unlikely to have him so fit he'll be near his best – so it's unlikely.

All that suggests he's unlikely to shorten that much. I think the layers will be out to get him on the day. Even if all goes well I wouldn't be surprised to see him go off 2/1 or even bigger, provided there's even an average field. For example, if Annie Power lines up unbeaten, she'll take a big chunk out of the market and so hold up Big Buck's price.

In Big Buck's case there's obviously also a sizeable risk he won't run – there's no way he'll be risked unless he's going really well at home. When combined with the fact he's not a likely shortener, he's a bad ante-post bet at this stage. His prep race is due to be in late January, which is a long way away. If you do think he'll go off much shorter on the day than I do, it still makes sense to wait and see the vibes in the run up to the Cleeve, rather than back him now.

A more complex example is the Champion Hurdle market. Whilst the form is hard to evaluate, most of us were impressed with The New One's demolition of Rock On Ruby at Kempton in October. At this stage it's shaping up into the best Champion Hurdle for years - so its 4/1 the field. If you're a fan of The New One, you might be tempted by 4/1.

Everyone will have a different view on whether 4/1 is good value or not, but even if it is, he's not an obvious shortener. Clearly, if many of his main rivals fall by the wayside he'll shorten but we can't legislate for which horses will get injured, (none of the horses near the top of the market are over fragile). We've got to assume that, (fragile types apart,) your horse is equally likely to get injured as others, so injuries can be ignored re the price shortening.

So what's likely to happen? The New One runs in the Bula (International) Hurdle this weekend. He's 8/13 and looks to face only one serious rival in Zarkandar. Zarkandar has been comfortably beaten in two Champion Hurdles already so any horse who's going to win what looks like being one of the strongest Champion Hurdles for years, is going to need to beat Zarkandar comfortably. In theory, a comfortable win should only lead to his price being clipped slightly. If he's unimpressive or even loses then he'll drift.

The other main races in Britain are the Christmas Hurdle and, sometimes, the Kingwell Hurdle. There are also races at Haydock and Sandown that are used a prep runs but they are rarely competitive, (and provide a good opportunity for the best horses to avoid each other.)

The only likely race that would lead to The New One shortening due to showing much better form, is if he runs in the Christmas Hurdle against My Tent Or Yours and beats him easily. If they are both confirmed as intended runners in the Christmas Hurdle then that might be time to back The New One if you think he'll thrash My Tent Or Yours at Kempton.

However, even if he does run and beat My Tent Or Yours, there will be relatively few form lines with the Irish horses. The likelihood is that Hurricane Fly, Jezki, Our Conor, and perhaps Un De Sceaux and Annie Power will clash at Leopardstown at Christmas and / or in the Irish Champion Hurdle in late January.

There's a good chance that one horse will emerge from that as the clear form pick of the Irish contenders. It might be that two will prove themselves a cut above high class rivals, eating up more of the Champion Hurdle market. Given the depth of those races compared to the British trials, it's likely that will be the strongest form and so an Irish horse might well start favourite. In which case The New One won't be able to shorten much from 4/1 unless lots of the others don't get to the race.

So even if bookmakers cut him dramatically after the Bula, it's likely he'll drift out again as a result of the big Irish races. That's vital – bookmakers often overreact to horses like The New One winning soft races, but the market rights itself later on, so such horses only shorten temporarily, which doesn't matter much.

This is nothing more than educated guesswork – nobody can know how races, injuries, running plans etc will pan out. I'm not saying The New One's price won't shorten markedly between now and when non runner, no bet becomes available and/or raceday - the point is there are good reasons to think it won't. The value is likely to be in waiting for non runner no bet, or the enhanced prices on the morning of the race. Certainly I'd be waiting for both My Tent Or Yours and The New One to be confirmed for a race like the Christmas Hurdle, rather than going in now before the Bula.

In summary, whenever you're looking at an ante-post bet – never strike it until you've considered whether and when the horse is realistically likely to shorten. Timing is everything – we'll back a horse (that is good value) if it has the chance to really shorten. I wouldn't put anyone off backing Big Buck's or The New One as they have strong claims – I just would put you off backing them now as they're not likely shorteners at the moment.