Matt Tombs / Monday 21st October 2013 / 16:00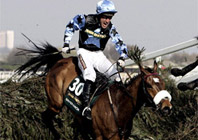 Earlier in the month, I went to the Czech Republic to see the Velka Pardubicka for the first time. I'm really glad I went this year as the race marked the last ride of legendary jockey and 8 time winner of the race, Josef Vana, a few days before his 61st birthday. For real jumps fans its definitely one of those things to do before you die – which is appropriate given Vana was once pronounced clinically dead after a fall but was resurrected to win another 4 renewals of this race.

I honestly never cease to marvel at the bravery of jump jockeys in general, but if ever you'd be convinced it was a young man's game, rather than one for 60 year olds - it would be standing by the famous Taxis fence. When you see it from the take off side it looks nothing at all – just a typical hedge in a cross-country race. All the problems are out of view on the landing side. The ditch is 10 foot below the top of the fence and the landing area, (which is 6 foot below the top of the fence,) is a massive 10 feet away. As one local put it to me – "this is real men's racing, like you used to have in your country".

It is an amazing sight and very intimidating to look at. I went with a friend who is a promising point-to-point jockey, who'd said he was going to go into the weighing room to say he was keen if a spare ride became available. After seeing the Taxis he made a beeline for the bar.

In the end all those who jumped the Taxis did so safely. With 12 falling or unseating elsewhere it was another demonstration that when courses are set up well and jockeys respect a fence, very big obstacles may be safer than smaller ones where that respect isn't there.

Orphee Des Blins followed up his runaway 2012 victory (at huge odds) with a similarly emphatic victory from the front this year. He never looked in any trouble and had his rivals burnt off a long way from home. Jan Faltejsek has taken a lot of stick when riding the likes of Knockara Beau over here, but he got his mount into a great rhythm and judged the pace perfectly. Unlike the mad dash up the straight that often occurs in cross-country races at Cheltenham, Orphee Des Blins has had the race won before the straight for the last 2 years.

I rarely bet on the cross-country race at the Festival as it's not really my cup of tea. Having seen the great Czech race I was struck by how different it is from ours, which set me thinking about how form would read across to our cross-country races.

Looking at Cheltenham results, form from the Pardubicka doesn't seem to translate to Cheltenham with no Pardubicka winner ever winning at Cheltenham – triple Pardubicka hero Peruan has done best, being a neck 2nd to Fiftysevenchannels on his only run at Cheltenham. That might be why so few Czech runners try nowadays – Orphee Des Blins was pulled up in the November race last year won by one of his Pardubicka victims Uncle Junior, (who was 45l behind him at Pardubice on 3lb better terms). He was the first Czech runner at Cheltenham since 2009.

Having been to the Pardubicka now it's easier to understand why. It's half way between our cross-country courses and the National. Whilst coping with the ploughed fields over which a fair chunk of the Pardubicka is run is obviously important, the crucial difference is that it is a big test of jumping. It's not just the Taxis, there are a number of other sizeable obstacles.

Looking at the Cheltenham course, there isn't a big fence on it. In 4 of the 9 runnings of the Festival cross-country not a single horse fell or was unseated. In total there have been 9 unseats and 2 falls in its history, (Guns N Roses and Commanche War Paint in the inaugural running are the only fallers for those who enjoy obscure Festival trivia.)

The Punchestown and especially Cheltenham courses are more tests of nimbleness than jumping. Whilst there are clear differences between the Cheltenham and Punchestown courses - the latter is actually called a "banks" course and coping with that sort of obstacle is more important there - they are relatively similar. Both Native Jack and Big Shu have won the Festival cross-country on their course debuts, having run over the banks at Punchestown previously.

The main difference between Cheltenham & Punchestown is that the Cheltenham course looks to my naked eye as being much tighter. When you consider the history that's not surprising. At Pardubice the course is set up as a cross-country course, with the odd race over conventional fences and hurdles thrown in. Punchestown's banks races are ancient (conventional chases and hurdles only began in 1960) and so form an integral part of the course design.

By contrast, at Cheltenham, the cross-country course was introduced in the 1990s in the confines of the space allowed in the middle of the existing conventional tracks. The tightness of the track should very much favour nimble types – it also means they go slower because they are on the turn all the time. That probably accentuates the ease of the jumping test.

Given the relative similarities of the Cheltenham & Punchestown courses it's no surprise that some of the leading cross-country specialists have excelled at both. The 2 most successful Cheltenham horses are Spot Thedifference (7/10 at Cheltenham and 2/5 at Punchestown) and Garde Champetre (6/13 at Cheltenham and 4/5 at Punchestown.) The legendary Risk Of Thunder who won the La Touche Cup 7 times in a row at Punchestown never ran at Cheltenham, though he did finish 2nd in the Pardubicka. Of course some horses excel at both cross country and conventional chases - such as Silver Birch who was 2nd in the cross-country at the Festival and then won the National.

When looking at ante-post bets for the Festival cross-country, ground is a key factor. For the last decade or so, Cheltenham's management has tried to produce "championship ground" at the Festival for the conventional chases and hurdles. This means watering as needed to try and ensure the meeting starts on good to soft and doesn't get any quicker than good. Inevitably it doesn't always work, but that basically limits the spectrum of ground conditions. By contrast, they don't water the cross-country course given its size and the fact it's only used for one race. The range of possible ground conditions is therefore much wider and how a horse will react to genuinely fast ground is an important consideration if betting ante-post.

The other important factor in these races is that weight doesn't seem to matter much. Garde Champetre won off 129 in 2008 and the following year as a 10 year old off a 21lb higher mark. Such an improvement in a conventional handicap chase at the Festival at that age would be very unusual. They go so slowly that additional weight isn't much of a burden compared to running over a similar trip over conventional fences.

I can't see myself raising the enthusiasm to bet on the Festival cross-country when there are so many other better races to look at during the manic week of the Festival. But if you are going to bet in it, my advice would be to focus on form over the Cheltenham and Punchestown cross-country courses, not others like at Pardubice. Don't worry too much about weight but more about ground conditions. Most of all, if a horse has been beating other horses round the Cheltenham track and is encountering similar underfoot conditions - he'll very likely beat them again.

From my point of view, having seen the Pardubice course, I'd urge trainers of decent staying chasers to consider the Pardubicka. At £62,000 to the winner its one of the biggest pots of the year and the quality of the horses is more akin to those running for £6,200 over here. Of course they need to be able to cope with banks, ploughed fields and a wider variety of obstacles – but the race would be at the mercy of any smart or even useful staying chaser if they could. I can understand why trainers are put off running good horses in cross-country chases at Cheltenham as that's a completely different test – but many more conventional steeplechasers could adapt to Pardubice. Lets hope a few good horses give it a try.