Ten To Follow 12-13 Post Mortem
Matt Tombs / Tuesday 12th November 2013 / 11:10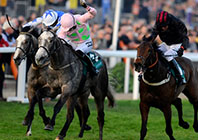 Before looking at this year's Betfred/Tote Ten To Follow competition, its time to face up to a post mortem of why I'm not a quarter of a million pounds richer for winning last season. Working out what went wrong the previous season is a key preliminary step when compiling entries.

Every 2 or 3 years the rules change. Last season was the first under the latest regime, so it's unsurprising that we've got virtually the same format this season, (the entry date has been simplified and entry fees revert to £10) - that makes it simpler than a year where the rules have materially changed.

I outlined my strategy here and set out a list of 14 core picks and 21 other picks for perms here. Looking at my selections - my 14 core picks included Zarkandar, Hurricane Fly, Long Run, Sprinter Sacre, Simonsig and Cue Card. My perm picks included Sir Des Champs and Bob's Worth. With other core picks like Oscar Whisky and Flemenstar performing decently, in theory I had a team to win or come very close to winning the competition - so what went wrong?

Before looking at my mistakes, it's worth looking at the context. Every year is different but last season's competition was characterised by 2 very unusual events occurring. Firstly, I can't ever recall so many of the bonus races being won by the horse that was either the ante-post favourite, or that would very likely have been favourite had ante-post books been running. It's not surprising so many lists had most of the bonus race winners.

Of the 13 bonus races I targeted (i.e. excluding only the RSA and Grand National), 10 were won by such a 'favourite'. Bobs Worth won the Hennessy having been ante-post favourite, (he subsequently also won the Gold Cup.) Long Run (King George), Simonsig (Arkle) and Sprinter Sacre (Champion Chase) were also ante-post favourites.

Zarkandar would have been ante-post favourite for the Bula had there been a book, (he subsequently won the Aintree Hurdle too). Similarly, Hurricane Fly would have been ante-post favourite for the Irish Champion Hurdle, (he also won the Champion itself,) and Sir Des Champs would have been ante-post favourite for the Irish Hennessy. All 7 horses above were in the top ten most selected horses in the competition.

Of the other 3, Cue Card was amongst the ante-post favourites for the Ryanair and Al Ferof went off 3rd favourite for the Paddy Power. Only the back from injury Solwhit in the World Hurdle was hard to get.

That's an incredibly predictable season for the top races from an ante-post perspective. Whilst it shows the merits of sticking to the obvious, it's highly unlikely it'll be quite that obvious again this season. Such a predictable season took some of the skill out of the competition, especially for those perming lines to cover 3 or 4 horses for different bonus races.

Secondly, 3 horses won two bonus races. To put that in context, in the previous 10 years only 12 horses had won two (of the current) bonus races in a season - and in no season had more than 2 horses won two bonus races. So from a team structuring point of view, last season's 3 dual bonus race winners was unique and way out of line with the previous 10 year average of 1.2.

This meant that you needed less horses to cover those bonus races - eg if you had Zarkandar in for the Bula, and you also had say Oscar Whisky in for the Aintree Hurdle, then that weakened your team. With the 13 bonus races (that looked gettable) falling to only 10 horses, (including Solwhit who was very hard to find), having a 'non bonus race' horse worked well. In a more typical year, it would pay to have picked 10 horses for the bonus races.

Working out which bonus races might be won by the same horse is a crucial part of team construction. When constructing teams for this season's competition, it's worth noting that of those 15 horses who won 2 (of what are now) bonus races - 5 did the King George / Gold Cup double, 3 won the Irish Champion Hurdle & Champion Hurdle, 2 won the Bula / Aintree Hurdle and 2 won the Hennessy & Gold Cup. The other 3 did different doubles - Bula / Champion Hurdle, Paddy Power / Hennessy, Paddy Power / Ryanair.

You have to have a strategy and mine is based around the fact that there are usually at least 12 bonus races worth targeting, (or as many as 14 in the years where there looks an obvious Hennessy and RSA pick). Picking 10 different horses to win (at least) one of those races is the right strategy. (I might have a small allocation to a Limestone Lad type horse that I think might run up a sequence in uncompetitive events). I expect the number of dual bonus race winners to be 0-2 as in each of the previous 10 years and my team construction is done on that basis.

You can't cover every scenario without taking a mortgage out to fund your entries and some years you just have to accept that the cards didn't fall your way. On that basis, I'm happy my strategy is right and I need to focus on not making the sort of mistakes I made last season, which I've set out below.

There were 5 horses I missed that featured in the 10 prize winning teams. Champagne Fever was in 2 prize winning teams including the overall winner, (scored 70.62 points.) He'd won the previous season's Festival Bumper. Picking novice hurdlers (ie a non bonus race horse) had not usually been a good idea - this century only Dunguib of Champion Bumper winners had scored a meaningful amount of points as a novice hurdler the following season. However, now 2 of the last 5 Bumper winners at the Festival have racked up a big score the following season. That suggests novice hurdlers, especially Irish horses who are competing in valuable events throughout the winter, should be considered.

One lesson I don't seem to be able to learn is that the winner of the Paddy Power tends to come from the first 3 in the SP market, (7 of the last 10). Every year I get sucked into taking a view based on value and keep hitting the crossbar, (this column has put up runners-up Quantitativeeasing and Walkon in the last 2 seasons). I was convinced Al Ferof (who was in 6 prize winning teams, scoring 59.1 points) was badly handicapped off 159 and so opposed him.

Of the 3 outsiders to have won the Paddy Power in the last decade, Celestial Gold (12/1) and Exotic Dancer (16/1) each scored over 100 points so you couldn't have won without them. I therefore wouldn't put anyone off including a long shot, but the lesson is that if you're doing a perm - try to include all the front 3 in the SP market. If you make entries the day before the Paddy Power, the market will be pretty mature so identifying the horses that will be in the front 3 of the SP market shouldn't be too hard. I'm determined not to make the same mistake again.

One of my rules is not to be too keen to pick novice chasers - especially those bound for the RSA, (which is much less predictable than the Arkle). It was 8/1 the field for the RSA when the competition started so whilst Dynaste (in 3 prize winning teams) was an obvious choice for the division, (scoring 73 points,) I still think it's usually the right call to oppose those sort of horses. Similar types, Punchestowns and Time For Rupert have disappointed in previous years. This year's race looks typically open (14/1 the field.)

Hunt Ball (in 1 prize winning team) scored only 25.6 points and was a possible Paddy Power winner, but predictably found the season tough from a high mark. Solwhit scored 106.1 points and was in 1 prize winning team. The perceived wisdom, (especially now its 'all 10 count' again, rather than 10 from 12 selections,) is that horses coming back from long term injury like Solwhit are too risky. Given there was no immediate prospect of him running as the competition started, (returned to the course on 31 December), it was an inspired choice. As a 6 time Grade 1 winner before the competition, he had shown himself top class but I still believe it's too risky to pick such horses. The 'do they come back?' question will be particularly important this season as taking a view on Big Buck's will be crucial.

It's only Al Ferof that I'm kicking myself for not having included, though there was a fair case for having Champagne Fever in a few teams. Looking at my percentage allocations of the horses I did pick, I made 2 key mistakes. I only had Bob's Worth in 4 of my 30 teams. Given you couldn't win without him and he was a popular choice (9th most popular) - that left me needing a miracle to have got the right perms of the other 9 horses in just 4 teams.

The other was including Grands Crus in too many teams (18 of the 30.) That was putting too many of my eggs in one basket for a horse unproven in open company. For dubious reasons, I decided to ensure Grands Crus was in (3 out of the 4) teams Bob's Worth was in - which effectively finished my chances.

Looking at that analysis has cheered me up as I think my fundamental strategy is sound. If I can eliminate the silly mistakes I've mentioned and I have some luck, this could be my year....