Matt Tombs / Saturday 8th March 2014 / 18:10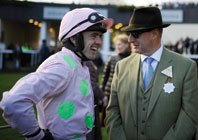 The Festival is the one time in the year where accumulators can realistically pay out a big sum from top class racing. If, like me, you only focus on the top end racing, there are rarely enough opportunities to back perms of horses at big prices at weekends to win a life changing sum of money.

With most firms NRNB, and with many of the prices likely to contract over the next couple of days, this is probably the best time to be doing an accumulator for horses running over the entire Festival period. Given the enhanced morning prices, if the horses you want to combine all run on the same day, then the morning of that day is probably the best time.

If you are going to pick, say, five horses for a Festival accumulator, then as well as the five fold, it's worth thinking about what other combinations it's worth doing. The way I look at that is to consider the payout. If you're a favourite backer and want to combine say Irving (5/2), Champagne Fever (3/1), Quevega (8/11), Annie Power (15/8) and Bobs Worth (15/8) - that five fold pays about 200/1. The four folds pay between around 50/1 and 115/1. The trebles pay between around 14/1 and 40/1.

Its worth doing the fivefold and possibly the 5 fourfolds - giving 6 bets in total. If you do the 10 trebles as well then if you have 3 winners, you have had 15 losing bets so could still be making a loss, (if it's the 3 shortest price horse who win.) Singles are about making a profit, sometimes modest – the day to day meat and drink of successful punting. Accumulators are the fun – there's no point including trebles in the scenario above as you roughly break even if you get 3 winners. Save your money on the trebles and just do the fivefolds, and maybe the fourfolds - that can return a decent sum.

By contrast, if you picked five 9/1 shots, the fivefold pays about 100,000/1. The fourfolds each pay 10,000/1, the trebles 1,000/1 and the doubles 100/1. In that case it may be worth doing the Canadian that combines all those bets. However, even then its arguable it's not worth doing the doubles – for the same reasons. If you've had 26 bets in the Canadian and you get two winners, that's paying effectively about 3/1 – which doesn't seem worthwhile.

I'd prefer to ditch the doubles and accept I'll only get a payout if I get 3 winners from the 5 bets. I'd get 1000/1 on the treble and with only 16 bets I'm effectively getting over 60/1 if I get 3 winners. Reducing the number of bets makes the accumulator more affordable and means I can get enough down so that if they all win, it really is a life changing sum of money.

When working out how much to have on, it's crucial to check the bookies pay out rules, which vary considerably. The maximum payouts are generally between £250,000 and £1,000,000 for the total payout on all the bets in the accumulator – some layers don't have a maximum, although some of those will impose one indirectly by limiting how much you can stake.

Clearly there's no point having a fiver on the 100,000/1 fivefold if the maximum payout is £250,000. Where you're taking prices, (rather than an unknown SP,) bookies really ought not to take more stake money from you than would lead to the maximum payout, but the fact is that they do - so it's necessary to work it out yourself.

I'm obviously looking for good value bets to comprise my accumulator and I need a layer that is at or near top price with them all. However, the real art to deriving value is to find inter-dependent events as I explained here.

The going is always the most likely element. It's currently looking as if there will be a virtually dry week in the run up to the Festival, with mild temperatures and light breezes. Assuming no unpublicised watering occurs that must mean a sound surface given the drainage. Whatever the ground may be officially termed, it's likely to be good spring ground on top. However, given that the previous two months or so had been so wet, the water table will be very high. As it has been so mild, there will be a much lusher covering of grass than usual.

The last time that happened was in 2000 and that led to a string of very fast times, (although there was some debate about whether the correct distances were being run, especially on the old course on the first two days.) Soft ground horses were still winning and very few horses were getting jarred up - because the high water table and lush coverage of grass meant that there was a lot of give in the ground even though it was dry on top, (the opposite to years when there is a lot of watering when it's wet on top and dry underneath.)

It's quite possible that we'll get something similar this year and one consequence of that would be that you need a really fast horse at the trip. The rationale behind that is that horses are able to run so fast on the ground, (because it's dry on top and soft underneath), the stayers will be at a disadvantage.

Guesstimating the ground is always difficult and it wouldn't surprise me if I've got it wrong - but if I can find a string of horses I fancy who will all be favoured by such conditions, I'm effectively getting enhanced prices on the accumulator as that same event is factored into each of their individual prices.

With that in mind I'm keen on the following for an accumulator who are all fast horses at the trip:
Irving (Supreme) 5/2
Cockney Sparrow (Mares) 8/1
Rathvinden (Neptune) 8/1
Arctic Fire (County) 12/1
Captain Chris (Gold Cup) 16/1

The fivefold pays over 62,000/1 and the four folds pays between 3,700/1 and 18,000/1. If all five win that's just over 100,000/1. In practice you won't be able to get all the top prices with one bookmaker and so depending on which bookmaker you're with, you'll get slightly lower odds than I've set out. If you're with a bookie that has a maximum payout of £500,000, then having £5 for each of the six bets should take you nicely close to the maximum payout.