Try A Champagne Substitute
Matt Tombs / Tuesday 3rd December 2013 / 13:15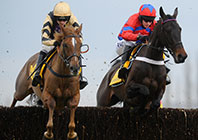 1pt Felix Yonger to win the Arkle at 16/1

There's always been an element of guessing the right target in Festival ante-post betting but, with all the extra races, working out the right target can now be as important as working out which are the best horses. That's particularly so in the novice races where there's much less evidence for a horse's ideal trip.

If that wasn't complicated enough, with so many of the top horses owned or trained by just a handful of people now, ante-post punters also need to work out how those owners / trainers will shuffle their packs. The good news is that, as a recent phenomenon, neither backers nor layers have got to grips with it – so if we can understand it we'll have a real edge. It suits my punting style as I'm not frightened of non runners if those that do run secure a good overall profit.

At this stage it's too early to apply this process to novice hurdlers, (had you heard of Pont Alexandre this time last year?) By contrast, novice chases are races about which we have much more information, as many of the contenders have run in good hurdle races.

Plenty of experience over fences counts for a lot in Festival novice chases. The winners have invariably run over fences by this stage of the season - in the last decade only 6 out of the 33 winners of the 4 level weights novice chases hadn't run over fences by the end of November. (It's noteworthy that Nicky Henderson and Willie Mullins each trained 2 of them, and they regularly start some of their best novice chasers in December.)

With that in mind I trawled through the 4 level weights novice chases, with a particular focus on the Mullins, Henderson and Nicholls camps and the leading owners. One thing jumped out - almost everybody I've heard discuss Champagne Fever assumes he's going for the Arkle. He's won the Bumper and the Supreme, both over 2m, he's going to drop down to 2m at Christmas, so why wouldn't he go for the prestigious Arkle rather than the Jewson?

Willie Mullins doesn't think like that. In the ongoing saga of Quevega continually running in the Mares race rather than the World Hurdle, (for which she'd have been a short priced favourite last season), Willie has consistently said that it's so hard to win a race at the Festival, you don't throw winning chances away to target a harder race.

Whatever you think of that philosophy, it's how the Closutton machine works – so we shouldn't assume Champagne Fever will be aimed at the Arkle just because it's the more prestigious race. The Festival Bumper and a soft ground Supreme are more of a test of stamina than a good ground Arkle, and 2m might not be his trip at this stage anyway.

So how might Mullins shuffle his pack? Looking at the markets, Mullins' big guns are perceived to be Champagne Fever, Felix Yonger, Inish Island and Ballycasey, (Champagne Fever and Ballycasey are both owned by Rich Ricci.) It's worth noting that the Wylie's, who own Felix Yonger, don't look to have another obvious Grade 1 novice chaser at this stage, (unless the Nicholls trained Black River bounces back from his fall at Newbury and proves himself up to Grade 1 class.)

Looking at Mullins stable tour in the Racing Post, other novice chasers who might have Grade 1 aspirations include Blood Cotil, Djakadam, Dogora & Touch The Eden who are all owned by Rich Ricci. Mozoltov is owned by Gigginstown. Mullins also has Suntiep, Tennis Cap and The Papparazi Kid, (who are all owned by those unlikely to have Grade 1 novices to keep apart.)

Obviously loads will change between now and March. However, at the moment it's only a dozen horses to consider so we ought to be able to put them in some sort of order. If the markets are right about the four big guns, then Inish Island and Ballycasey look the likely horses for the RSA. That would leave Champagne Fever and Felix Yonger for the Arkle and Jewson in whatever order.

Of the other 8, Tennis Cap looks interesting and might be a genuine 2 miler so could be an Arkle horse. He came out the best horse at the weights when 2nd in the County Hurdle off 141 and his front running style might make him hard to catch over the minimum trip, but he likes testing ground so might not go to Cheltenham if the ground is decent.

Mozoltov was 3rd to Champagne Fever in the 2012 Punchestown Bumper but ran only twice last season winning a maiden and a Grade 2 from Don Cossack. Mullins is talking about him being a stayer. Where he runs will depend as much on Gigginstown's other runners as Willie's. Suntiep is apparently being lined up as Patrick's mount in the 4miler.

It's always hard to guess which horses have been treated very gently over hurdles, and will improve massively for a switch to fences, but my guess is that The Paparrazi Kid and Touch The Eden won't be Grade 1 horses. The trio of Ricci's juveniles from last season are harder to assess, but it's really hard to win Festival novice chases with 5 year olds since the weight for age allowances were virtually abolished, so I'd want to see something exceptional from one to consider backing it.

On that basis my Mullins shortlist for the Festival novice chases is: Arkle: Champagne Fever, Felix Yonger & Tennis Cap Jewson: Champagne Fever, Felix Yonger & Mozoltov RSA: Ballycasey, Inish Island & Mozoltov 4 miler: Suntiep

If you think further ahead, what will be the plan for Champagne Fever in open company next season? Assuming nothing happens to Sprinter Sacre, can you see Willie running what might then be his best chaser for place money in the Champion Chase? Can you see him targeting the Ryanair Chase? Willie Mullins knows his stable is at its zenith and the next few years are his chance to win the Gold Cup. Make no mistake, that's the race he wants Champagne Fever to run in next season.

Before the Jewson existed, horses like Kicking King and War Of Attrition ran in the Arkle as novices to keep them away from the rigours of the RSA. Even top class horses like them weren't quick enough, as the Arkle is such a test of speed. The existence of the Jewson creates a perfect intermediate step for a fast novice, with realistic Gold Cup aspirations the following season, (Mullins took that route with Sir Des Champs).

With Felix Yonger beating the highly touted Defy Logic, Mullins decided to bypass the Drinmore (2m4f) and keep him at 2m. I think Mullins' current plan is to aim Felix Yonger at the Arkle and Champagne Fever at the Jewson. That plan will be fluid, but if I'm right the markets are wrong.

The Jewson is a difficult race for ante-post punters as most of the possible runners could also run in the Arkle or RSA so its even harder to be confident your horse will run. Champagne Fever is only 8/1 in any case and whilst he obviously could go off very short if he runs, if there was a Dynaste in the field like last year then he might not shorten as much. It's hard to see 8/1 as great value. By contrast, 16/1 for Felix Yonger to win the Arkle looks fantastic value if you think he'll run and Champagne Fever won't.

The other one to consider backing is Grandouet (12/1) who was an obvious Arkle candidate at the start of the season, but was desperately disappointing at Sandown, looking beaten when unseating at the last. He's been fragile and might not take to fences, (fell in 2 of his last 6 hurdles race). However, many of Nicky Henderson's big guns were misfiring when he ran, and he might just have needed the run badly. Given how weak a division it looks, he could be decent value as Nicky Henderson won the Arkle with a similar type in Tiutchev, who'd only had two runs over fences and hadn't jumped well in either.

All the others look like they need to improve to be Arkle class. Dodging Bullets (14/1) is apparently proving much easier to train this season so could progress, but needs to. Taquin Du Seuil (16/1) is apparently showing more pace at home this season, but still doesn't look an Arkle horse on decent ground. Defy Logic (25/1) looks a good novice but there doesn't look any reason why he should turn round the form with Felix Yonger. Valdez (25/1) ran a good race in a novice handicap on Saturday but, despite the high RPR (159,) I'm not sure what the form amounts to.

It's looking such a weak division that I'm itching to get stuck in and think it's well worth trusting my judgment about where the two Mullins big guns are going to end up. In that context 16/1 looks huge about the novice chaser that's produced much the best performance over 2m this season.

The timing looks right with Felix Yonger entered at Navan on Saturday. If he wins well there and Mullins states that he'll be aimed at the Arkle – he'll shorten a lot. If I've called it wrong and Felix Yonger goes for the Jewson then we can reassess the market then.