Matt Tombs / Friday 31st October 2014 / 12:40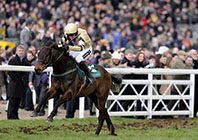 Last season I looked at the tactics for Festival accumulators. Given that ante-post books change so much from month to month, this season I'm going to look at the value each month and hopefully give some pointers towards winning a life-changing sum at the Festival.

One market I like is the Champion Chase because there are so few horses you can see lining up with any chance. Traditionally the previous year's race and Arkle are extremely strong guides – this century only 3 winners hadn't run in the previous renewal of one of those 2 races.

It's hard to imagine anything from last season's Champion Chase other than Sire De Grugy winning this time. The only plausible winner from the Arkle is Champagne Fever who looks much better over further so is an unlikely runner.

The other factor giving the market a good shape is the presence of a favourite who has a big cloud hanging over him, in the brilliant Sprinter Sacre (3/1). Whilst true greatness requires longevity, in his short time at the top he's as good a chaser as I've seen. Every true racing fan will be praying for him to come back to his best this season, in which case he wins this. Easily. Sadly, that's doubtful and reading between the lines, the vibes from Seven Barrows aren't strong enough to do anything other than oppose him at the prices.

If Sprinter Sacre isn't the same horse, that might bring Simonsig, (14/1,) into it. Given he has to prove he retains his ability and that the plan is for him to run over further, he can't be backed now – although there is obviously a decent chance one of the two will line up.

As he's still only 8, there's no reason why Sire De Grugy shouldn't remain at his peak this year. That said, he beat the 164 rated, 10 year old Somersby 6l in the Champion Chase and that's slightly below average Champion Chase form, so unless he improves again he ought to be vulnerable to a young up and coming horse. Given he could face a top form Sprinter Sacre or Simonsig, its hard to argue 4/1 is good value.

For singles I'd try to find an unexposed long shot, that I think is likely to show up, to back each-way, as the race could fall apart. There could easily be another single figure field containing a couple of no-hopers - so an early/mid 160s horse would have a good chance of being placed and might win.

However for a win accumulator, the right strategy must be Balder Succes (14/1). As Alan King said after he won the Grade 1 Maghull at Aintree - fences have made a man of him. He showed loads of speed round the sharp Mildmay track, stays the trip well and is a good jumper.

Still only 6, he looks on the upgrade and that Aintree form was franked the other day when Simply Ned, (beaten 4l in 2nd), won off 157. I wouldn't be concerned about him getting turned over at Punchestown as he chased a suicidal pace. The only concern is that he's had 3 runs at Cheltenham, (2 over hurdles and 1 over fences,) and been on the deck every time. It's possible he'll remember that but he seemed to be acting well on the track before tipping up 2 out last October. 14/1 looks too big - he runs (off 160) in the Haldon on Tuesday where the presence of Cue Card (172,) looks to give him a strong chance. If he wins impressively there he'll be a lot shorter for the Champion Chase.

Another market I like is the Champion Hurdle. Everyone agreed last season's race was a vintage renewal, yet the principles look to have been completely underrated. Faugheen could be anything and it's fair enough that he's short in the market but otherwise I saw the first 2 home from last season, Jezki and My Tent Or Yours, being the main players again – with the latter sadly sidelined.

The New One (7/2) looks a sentimental favourite because he was unlucky to be hampered by Our Conor in the Champion. He was within 2l at the top of the hill though and got done for toe when the taps got turned on, before running on all too late. He then only scrambled home in a poor renewal of the Aintree Hurdle. Perhaps he'd used too much energy getting back into it in the Champion but, a year older, I'd be concerned about him getting done for speed again. He proved his well being when converting a penalty kick at Kempton recently.

With Vautour, Un De Sceaux and Annie Power looking unlikely to run at the moment, its 25/1 bar. Whilst Irving and Vaniteux are interesting outsiders, I think the market underestimates Jezki. He looked to improve again at Punchestown – if there's a sound surface he'll set a mighty standard for Faugheen and co to aim at. He should be favourite and 5/1 is great value.

With my race fan's hat on I'd hoped More Of That would go chasing and when it was announced he's stay hurdling, I got stuck into the 100/30 for the World Hurdle. He won a vintage renewal last season on just his 5th run and sets a very high benchmark. However, I'm beginning to regret jumping in – he's clearly not easy to train and Jonjo has been talking about 'keeping him in one piece.' In retrospect 3/1 looks about right.

There aren't too many to fancy, though it's the sort of the race where the winner can be unfindable at this stage, (like the last two winners More Of That and Solwhit.) At Fishers Cross (14/1) was plagued by problems last year and so might be a different proposition with a clear run. The two I like though are Beat That (12/1) and Briar Hill (10/1). Nicky Henderson's dual novice Grade 1 winning hurdler looks a lovely prospect but Briar Hill is in danger of being a forgotten horse.

It's worth remembering that he was the Mullins yard's nap for the Festival last season, (ahead of Vautour and Faugheen,) before falling early on in the Albert Bartlett. He'd given the Albert Bartlett winner Very Wood 10lb and 3rd Apache Jack 7lb – and beaten them comfortably in a 2m4f Grade 2 at Naas. Very Wood obviously improved for the stiffer test at Cheltenham but it's not hard to imagine Briar Hill winning the Albert Bartlett easily if he'd jumped round.

Stamina shouldn't be a problem, (won a point,) and the recent vibes from Closutton were very strong. If More Of That gets there in one piece he'll be a formidable opponent but Briar Hill also looks a top notcher in the making and he could easily arrive at Cheltenham with a string of 1s in his form, as there isn't currently much opposition in Ireland in the division. That's likely to help shorten up his price, a key criteria for any ante-post bet.

I put up Ma Filleule, for the King George at 33/1 the other day - the rationale for the bet is here. From an acca point of view, that's not done the King George price any favours. However, I genuinely think she should be about 8/1 so I'm happy to include her at 20/1. As with Balder Succes, timing is important - she runs tomorrow at Down Royal. Whilst I'm expecting her to need the run, if she were to bolt up, we'd have really missed the boat.

The 4 timer pays over 20,000/1:
Ma Filleule (King George) – 20/1
Jezki (Champion Hurdle) – 5/1
Balder Succes (Champion Chase) – 14/1
Briar Hill (World Hurdle) – 10/1

One of the key ways to derive value from accumulators is to bet on inter-dependent events, as I've described before. Normally that would be looking at 2 horses - eg stablemates who will avoid each other, or who both wanted a certain type of ground etc. Occasionally, you can back the same horse for two races. This works well when a good chunk of the price in both races is whether they are up to, (in this case,) Grade 1 class.

There are few ante-post opportunities to do this, (and some bookmakers won't take such bets,) but the King George / Gold Cup double is one. A horse like Ma Filleule is a big price for both races because she's unproven at championship level. In a double you're effectively getting paid twice for that same risk – if she wins the King George she'll be a short price for the Gold Cup – say 5/1.

5 of the last 12 King George winners have gone on to lift that season's Gold Cup so it's an excellent trial. I'm keener on her King George chances as I think 3m is ideal for her at this stage. She's only 6 though and horses like Kicking King and War Of Attrition ran in the Arkle, and Kauto Star ran in the Champion Chase - as 6 year olds, before winning the Gold Cup at 7, so I'd be optimistic she'll get up the hill.

Betting with the bookies that allow King George and Gold Cup accumulators on the same horse - the 5 timer pays just over 540,000/1. With the maximum payout of £1m, you could become a millionaire for less than a £2 stake.