Matt Tombs / Sunday 8th March 2015 / 18:27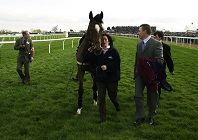 I'm much more a backer of horses than a layer, but I do like the strategy of laying a few horses for a place at the Festival. I don't want to lay a favourite, (to win,) that I think will be placed. If the reason I think it won't win is because I fancy something specific to beat it - I'll just back that other horse.

I want to lay horses that I really think will flop, (or to a lesser extent horses that might bolt up but are more likely to bomb out completely.) That means I'm focusing on horses I have a strong (negative) view on, and I'm taking a much lower risk only laying the place odds.

That's worked well the last couple of seasons with 7 out of 7 place lays in this column being unplaced. The most obvious strategy is to find formerly top class horses who are past their best and too short in the market due to excellent previous Festival form. Last season that worked well with Big Buck's (5th at 1.8) and Rock On Ruby (8th at 2.36).

The other main strategy is to find horses that have good form but look totally unsuited to the demands of the race they'll contest. We're still ante-post rules on Betfair at the moment so if you can find a horse where the market is calling its target wrongly, then that can be a great strategy.

Here's one place lay for each day to consider:

Annie Power (Mares Hurdle) – current price 8/13 – lay for a place at up to 1.38

The first day is the hardest to find a good place lay. I like Douvan, Un De Sceaux and Faugheen so they're out. Vibrato Valtat is tempting as I can see him being ridden to try and beat Un De Sceaux and then getting run out of the places.

Hurricane Fly was going to be the call but with the ground being watered and rain forecast, it could ride a lot softer than the official description. That would hugely inconvenience Jezki and Arctic Fire and I can see Hurricane Fly being placed in that scenario. If you have the luxury of waiting to see how the ground rides in the Supreme – if its genuinely good ground, (winning time of the Supreme around 3m50s – 3m52s,) then place laying Hurricane Fly would be the call.

However, at this stage I'm going for the ultra-bold place lay and taking on Annie Power. Unlike Quevega, who was deliberately kept off the course all season, Annie Power has been injured and it's clearly been a race against time to get her here. Yes, her best is a fair bit better than these but we've no idea how close to her peak she'll be.

She'll probably win, but she's a keen going sort and I can see he running with the choke out and disappointing. Given her long term value, she's not going to be knocked about to finish placed, so if something gets away I can see Ruby Walsh looking after her. It's a moot point whether to lay her at around 4/6 to win, but I definitely want her lay her at around 4/11 to be placed.

Sprinter Sacre (Champion Chase) - current price 11/4 – lay for a place at up to 2

On Wednesday I'd expected to have both barrels out against Kings Palace, who was well beaten when falling in the Albert Bartlett last year after I put him up as a place lay at 1.9. I think he needs a soft lead and I'm not convinced he's tough enough for the RSA – which is often an attritional race. The problem is that the RSA could cut up to a tiny field and if Coneygree goes for the Gold Cup, Kings Palace could get his own way up front. He's one to keep in mind for when the declarations come out.

For the moment I'm keen to lay the great Sprinter Sacre in the Champion Chase. Like Big Buck's last year I'd love to see him win, but he hasn't won for 2 years and he found nothing at Ascot last time. The flip side is that he wasn't asked for anything and Nicky Henderson is a master at improving horses hugely at the Festival from prep runs.

However, this is looking a much deeper race than seemed likely a few weeks ago and there has to be a good chance that Sprinter Sacre won't be able to cope with this level of competition after all his problems. Given how brilliant he's been, Barry Geraghty will be under strict instructions to look after him if he can't win – a hard race to get 2nd or 3rd could finish him. It's therefore much more attractive to lay him for a place than to win.

Zarkandar (World Hurdle) – current price 5/1 - lay for a place at up to 2.5

On Thursday it's a bit of a toss up between Zarkandar in the World Hurdle and Balder Succes in the Ryanair – neither of whom I think get the trip well enough.

On balance I think the World Hurdle is the better race to go for as there is a lot of depth to it and so there are plenty of different horses that could fill the 3 places for us. Zarkandar has had 3 goes at 3m in this country – finishing 8½l 4th in this last year, then 9¾l 4th to Whisper at Aintree, before getting chinned by Reve De Sivola in the Long Walk at Ascot in December. He won and finished 3rd in 3m+ hurdles in France in the autumn, but they invariably go very slowly in those French races and horses like Thousand Stars and Reve De Sivola have won those races before cutting no ice in the World Hurdle.

I'm not sure he stays the trip and I'm even less sure about his appetite for a battle. He's favourite purely on Paul Nicholls' bullish assessment of his chances. The World Hurdle tends to be won by multiple champions or new kids on the block and Zarkandar looks the classic type to take on.

Silviniaco Conti (Gold Cup) – current price 100/30 – lay for a place at up to 2.2

I basically don't bet in juvenile hurdles but Peace And Co looks a terrible price in the Triumph – he looks more like a chaser to me, so he was tempting. However the right play must be to lay Silviniaco Conti for a place in the Gold Cup.

He is the classic bolt up or bomb out type I mentioned. On this season's form, (and on his overall form on flat tracks,) he's a big price at 100/30. He's the only one who currently can be termed definitely top-class in an ordinary looking field. If you can excuse him his two Gold Cup runs, then with ulcers sorted out, cheekpieces on and the Nicholls magic keeping a stayer, who has had a lot of battles, sweet – he's a good win bet.

However, he's had 2 bad experiences in the Gold Cup, falling and then going sideways on the run in last year. He must be carrying a fair bit of mental scar tissue from those runs. Ignoring See More Business, who was carried out and so didn't get a chance, you have to go back more than 20 years for a horse who'd been beaten in his first Gold Cup run who then won the race. That was The Fellow who was chinned a couple of times under comedy rides.

The Gold Cup is also the sort of race where the young 2nd season chasers flourish. Fairly early in the season in the King George, those horses are barely out of novice company and the battle hardened campaigners tend to prevail, (only Kicking King and Long Run have won the King George as 2nd season chasers this century.)

By contrast, nearly 3 months later in the Gold Cup, the 2nd season chasers tend to have improved past the more experienced horses, (only Kauto Star, Imperial Commander and Synchronised this century have won their first Gold Cup in their 3rd season this century.)

Silviniaco Conti is in his 4th season over fences, has had a lot of hard races and two bad experiences here. It's not a great Gold Cup, but there are lots with chances and I'm expecting enough of the young horses to improve past what he can do on this course, to keep him out of the frame.