Matt Tombs / Friday 20th February 2015 / 17:01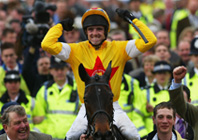 One mistake punters make is not being able to analyse the combination of novice chase form and hurdling form, when looking at races like the Arkle and RSA.

Some punters place too much reliance on previous performances by top-class hurdlers, regardless of their chase form. Last season Rock On Ruby had had only a couple of hacks round over fences, looking to lack the scope for chasing. He went off 5/1 for the Arkle and predictably his jumping didn't stand the test and he trailed in last, beaten 52l. Similarly, World Hurdle runner-up Punchestowns, (rated 171 over timber,) had looked anything but a natural in winning 2 novice chases at long odds-on, before finishing 24l 5th to Weapon's Amnesty, when sent off 2/1 favourite for the 2010 RSA.

By contrast, other punters will virtually ignore hurdling form and just try and evaluate what the runners have achieved in novice chases. 2010 Arkle winner Sizing Europe was an Irish Champion Hurdle winner and would probably have won the Champion itself, had he not gone amiss in 2008. He'd looked beaten in the Christmas Grade 1 novice chase at Leopardstown when Captain Cee Bee fell at the last. All the talk before the 2010 Arkle was about that novice chase form – the fact that he had 22lb in hand of Captain Cee Bee on hurdles ratings barely got mentioned.

Obviously, the right approach is to interpret both strands of form together. The crucial point is that the credentials needed in the 2 races are so different – the combined form needs to be analysed in different ways. The starting point is the relative importance of how much speed a horse has.

The Arkle is all about jumping at speed, (you have to 'stay' to get up the hill, but 'stayers' rarely win.) The pure ability to run fast is therefore crucial.

Jumping at a breakneck gallop introduces a big element of chance, even for experienced 2m chasers, (the likes of Moscow Flyer, Big Zeb and Well Chief have all been on the floor in the Champion Chase recently,) let alone novices. That's an element of risk that needs to be factored into the price of the fast horses that look like good jumpers. (Horses that look like dodgy jumpers coming into the race, almost never win - Tiutchev is the only one I can recall.)

By contrast, the RSA, like many staying chases, is more about getting into a rhythm and preserving energy in what's essentially a stamina test. Pure speed, (even in the relative context of a field of stayers,) is less important.

The energy saved from neatly popping away at the fences, Best Mate style, is a big advantage. Horses that stand off a mile and gain a length with a spectacular leap look great, but use a lot of energy doing it. In the Arkle, that length gained might be a crucial advantage – in the RSA it often leads to horses tiring up the hill.

The RSA is more complex in that the pace of the race varies between renewals, (the Arkle is invariably run at a fast gallop). When there were just 2 level weights novice chases, there was usually a big field for the RSA and they usually went quickly, turning it into a real jumping test and war of attrition.

Since the 4 miler became a level weights novice chase in 2010 and the JLT was introduced in 2011, there have been lots of small fields. 9 in 2010, 12 in 2011, 9 in 2012 and 11 in 2013, (compared to 15, 11, 17 & 15 in the previous 4 years.) That can lead to a steadier gallop, which makes it less of a test, and a race where class is more likely to tell. Each renewal needs looking at individually – last year 15 ran and Corrin Wood & Annacotty went really quickly, so it was an 'old fashioned RSA'.

To illustrate the relative importance of speed, or pure ability, I've set out the records of horses in the Arkle and RSA that had showed high-class hurdles form the previous season, (I've only included the previous season's form as formerly classy horses on the downgrade are rarely competitive.) Contraband in 2005 was the last horse off the flat to win the Arkle and you'd have to go back a lot further for an RSA winner who started on the flat, (I can't recall one,) so flat form has little relevance.

The definition of high-class I've used is a horse that earned a hurdles RPR of over 160 the previous season.

Since 2002, 8 of the 12 Arkles featured at least one such horse, 5 of the 13 runners winning:

2002 - Moscow Flyer (11/2) beat Youlneverwalkalone (10/1) & Barton (9/2)
2003 – Azertyuiop (5/4)
2006 – Accordion Etoile (7/1) fell
2007 - My Way de Solzen (7/2)
2010 - Sizing Europe (6/1) beat Osana (14/1)
2012 – Menorah (10/1) 3rd
2013 – Simonsig (8/15) beat Overturn (7/2)
2014 – Champagne Fever (11/4) 2nd and Rock On Ruby (5/1) 8th

Backing all the runners at SP gave approximately a 9pt or 50% profit.

By contrast, in the RSA, all 7 were beaten:

2003 – Jair Du Cochet (2nd at 4/1) and It Takes Time (6th at 3/1)
2006 – Back In Front (unseated at 11/1)
2010 – Punchestowns (5th at 2/1)
2011 – Time For Rupert (5th at 7/4)
2012 – Grands Crus (4th at 6/5)
2014 – Smad Place (2nd at 13/2)

In the Arkle this year only Un De Sceaux (RPR 164) qualifies. Whilst the value is long gone, the gulf in class between him and his main opposition is marked – and the figures may underplay it. I suspect Un De Sceaux would have recorded a much higher hurdles RPR had he taken on better opposition.

Vibrato Valtat, (who had 3 more hurdles runs than Un De Sceaux,) earned an RPR of 144. Clarcam only ran as a juvenile over hurdles, (RPR 132.) Josses Hill and Sgt Reckless ran only as novices but contested the Supreme, both earning an RPR of 150.

Of course horses like Vibrato Valtat have improved a lot this season, but whether they have the basic pace to trouble Un De Sceaux is doubtful. If Un De Sceaux takes the occasion and jumps round, I'd be astonished if he didn't win. If you back something else, it's virtually a bet Un De Sceaux won't perform.

You won't get rich backing Un De Sceaux now, but there could well be an angle on the race. It depends on how much rope the other jockeys are prepared to give him, but if they try and lay up, the placed horses could get pretty tired, (especially if there's plenty of give in the ground,) and he could win by a big margin.

Bets on winning distances are risky – Ruby Walsh isn't going to drive him out on the run in if the race is won, but I can easily see him winning by 10l or more. Tidal Bay won by 13l, Azertyuiop by 11l and Ventana Canyon by 20l and Un De Sceaux looks to have more in hand. Keep an eye out for markets on how far he wins by nearer the day.

The obvious reason for the poor record of high-class hurdlers in the RSA is that it's not a race for flashy quickeners. However, I think it's also about not having too many miles on the clock. Races like the RSA are really attritional and I think they suit talented horses that haven't been in too many battles early in their careers.

There's obviously a balance – a horse needs to be battle hardened for such a tough race, but I prefer to see plenty of chasing experience rather than having used up their hard races over hurdles. One stat to illustrate that is that every winner of the RSA since Rule Supreme 11 years ago was a novice hurdler the previous season.

In previous eras, horses seen as staying chasers were brought along slowly over hurdles. Up until a decade ago, the strategy to find an RSA winner was to find something with no hurdle form, but with good chase form – the market was always headed by classy hurdlers, and they never won. For example, between 2000 and 2006, none of the winners recorded an RPR over hurdles the previous season higher than 134.

That's changed - since then the lowest has been 132 and Denman (2nd in the Neptune,) achieved an RPR of 157, Cooldine 151, and Albert Bartlett winners Weapon's Amnesty and Bob's Worth 154 and 153 respectively. (The introduction of the Albert Bartlett has given RSA types an obvious opportunity to show good form over timber.)

Last season's classy novice hurdlers Don Poli (hurdles RPR 153,) Kings Palace (154), Valseur Lido (147) and Very Wood (153) are all similar types to those recent winners. By contrast, leading fancies Coneygree and Southfield Theatre weren't novices last season, (though Coneygree was injured rather than running in open company over timber.) On value terms I've backed Valseur Lido NRNB, who is just the sort to get into a rhythm in the RSA.