Matt Tombs / Friday 13th February 2015 / 14:07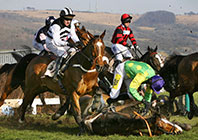 When we were preparing the Oddschecker Festival Preview Videos last season, Tom Stanley (ReinMan) mentioned some work done by Timeform on the fantastic record of horses that had won at the previous year's Festival. My initial reaction was "yes, we all know the value of Festival form – but don't they get overbet?"

To my surprise the answer was "no". The Timeform research showed if you'd backed them blind between 2010 and 2013 you'd have made a profit of over £35 from 78 bets – 45% profit. (Amazingly you'd have made a 5% profit from backing any horse that ran at the previous year's Festival.) 2014 was an even better year for that system with Lord Windermere (20/1), Holywell (10/1) and Quevega (8/11) all obliging, against 14 losers.

This got me thinking about other 'obvious' factors that I always take notice of but have assumed were so well known they were over-bet. In the run-up to the Festival I'm going to be looking at some of these and how to make money from them.

I've talked about my approach to statistics before, but it's so fundamental that it's worth restating. Every punter uses stats to a greater or lesser degree, but a stats based punter calculates the stats and then looks through the runners and evaluates how closely each matches the trend. In other words the stats lead the decision making process. I think for the vast majority of races that will lead to making losses as lots of trends are meaningless – to take an extreme example, you'd probably find a race at the Festival where a large percentage of the last 10 winners had been born on the same day of the week.

A punter like me who focuses on understanding the nature of the race and on visual clues from watching lots of races - takes the opposite approach. Thinking about the types of horses that do and don't do well, often leads to a hypothesis that ought to lead to a statistical trend. Only at that point do I look at the stats to see if they back up my theory.

That's the crucial difference – the stats never lead to a theory, they are used to see if a theory has worked out in practice. Sometimes the stats suggest there's nothing in my theory and I park it. Quite often, they imply that the theory has some merit, so I factor it into my analysis of the race. Occasionally the stats are so overwhelming that it suggests that I had underplayed the importance of my theory.

That's what happened when I started thinking about one obvious Festival factor – how old horses seem to struggle in the four championship events. I'd thought that was a very obvious point – clearly age catches up with all horses eventually and so you wouldn't expect old horses to have a great record in the four championship races at the Festival, (especially in the modern era where horses are peaking earlier in life than in the last century.)

My recollection was that older, top-class horses maintained their form throughout the season, so started at or near the top of the market at the Festival, but rarely seemed to win. My theory was that during the season, when running in the red-hot races, those older horses were battle-hardened and able to use that experience to beat the young up and coming, (usually 2nd season,) horses.

By the time of the Festival those younger horses had gained enough experience and improved past the older horses. Additionally, my gut feel is that when they really have to go through the pain barrier in the white-hot Festival races, the fact that the older horses have usually had lots of tough races often makes them struggle to run to their best.

With that in mind I looked at the four championship races during this century. By my reckoning 137 horses have contested the four championships this century aged 10 or older. 136 were beaten. The only winner was the great Moscow Flyer, who won a vintage Champion Chase in 2005 at 6/4 when aged 11.

That's an incredibly bad record – if you'd backed all those horses you'd have lost over 99% of your money. It's hard to imagine another statistical group of horses that have done so badly. Making an approximate adjustment for the over-round you'd have expected about 9-10 winners from the 137 runners, not 1.

You're first reaction might be that the sample of 137 was mainly comprised of has-beens and vanity runners, but that's not the case - 12 started favourite. None of those favourites started at longer than 9/2 and 3 were odds-on. Even if you strip out the 67 who went off 33/1 or bigger, it's an appalling record. The 70 bets would have led to a loss of £67.50 to a £1 level stake, (ie 96%).

The stat that really highlights the theory is that 29 started at single figure prices. This roll call of single figure priced losers is virtually a roll call of the best horses this century – Baracouda, Big Buck's, Denman, Edredon Bleu, Hardy Eustace, Hurricane Fly, Imperial Commander, Istabraq, Kauto Star, Limestone Lad, Looks Like Trouble, Moscow Flyer, Rooster Booster, See More Business and Sizing Europe.

Taking those 15 horses mentioned, in the seasons they were beaten at single figure prices aged 10 or older, their record before the Festival was 38/52, with 9 of the 15 winning Grade 1s. The vast majority were seen, (based on that season's form,) as being still at the peak of their powers. When combined with their excellent previous Festival form, (and a fair bit of sentimental betting,) that caused them to go off short prices before being beaten in the Festival championship race.

None of this is to say that horses aged 10 or older can't win the championship races, rather that you need to be really cautious about backing them. If all those great horses, (with the exception of Moscow Flyer,) couldn't do it – what chance does the horse aged 10+ that you're thinking of backing have?

Had On His Own not got chinned in last season's Gold Cup at 16/1 the stats would look very different. He's one of 13 runners up, which implies that many have run very well. To some extent that's true – whilst I think these older horses are really up against it and usually shocking value, I suspect the stats make their chances sound even worse than they are. That said, only On His Own and Sizing Europe, (when 2nd in the Champion Chase to Finian's Rainbow in 2012,) have actually come close to winning.

Looking at the four championship races this season, in the Champion Hurdle there will inevitably be plenty of sentimental money for the great Hurricane Fly (11,) who is unbeaten in 3 Grade 1 races this season.

In the Champion Chase, Pricewise's ante-post selection, Hidden Cyclone is 10. Alderwood (11), Finian's Rainbow (12), Sizing Europe (13) and Somersby (11) are also entered.

In the World Hurdle, Rock On Ruby (10) is well fancied despite looking an unlikely stayer. Back In Focus (10), Bog Warrior (11), Jetson (10), Knockara Beau (12), Reve De Sivola, (10), Rigour Back Bob, (10) and Thousand Stars (11) are also entered.

In the Gold Cup, Bobs Worth (10) is being talked of as the forgotten horse. Boston Bob (10) and On His Own (11) will also have their supporters. First Lieutenant (10), River Choice (12) and The Giant Bolster (10) are also entered.

So if you're thinking about backing any of these veterans, take a deep breath and run through that list of greats that have been beaten when 10 or older in the championship races. Looking at this year's list, assuming decent ground, the only one I could even consider backing is Boston Bob – plenty of the others will be figuring on my list of horses to lay at the Festival.