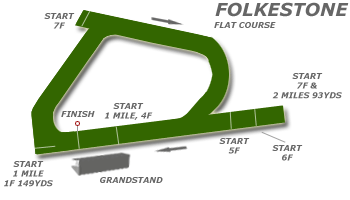 Folkestone race tracks Next
Folkestone is a slightly undulating pear shaped track with a run in of just over 2f. An extension to the round course provides 5f, 6f, 7f, 1m 7f and 2m starts. There s a gentle rise for the final furlong, but it s far from a stiff track and is best described as moderate. Horses who have run well at the track previously can be worth following.
Draw bias: On the straight sprint track those drawn low have an advantage. However those brave enough to stick to the far side rail can sometimes get lucky and find some better ground in big fields. On the round course, those drawn low are slightly favoured apart from soft ground when a high draw seems to hold a distinct advantage. It s possible to win from anywhere, but something that bags the rail does often make all the running.