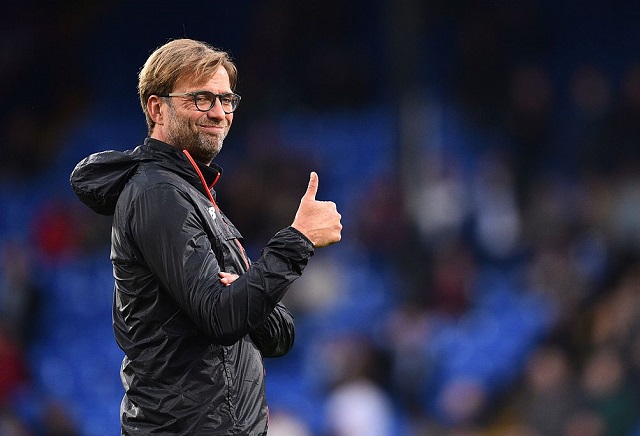 Fixtures until Christmas Day
| Liverpool | Man City | Arsenal | Chelsea | Tottenham |
| --- | --- | --- | --- | --- |
| Watford (H) | Middlesbrough (H) | Tottenham (H) | Everton (H) | Arsenal (A) |
| Southampton (A) | Crystal Palace (A) | Man Utd (A) | Middlesbrough (A) | West Ham (H) |
| Sunderland (H) | Burnley (H) | Bournemouth (H) | Tottenham (H) | Chelsea (A) |
| Bournemouth (A) | Chelsea (H) | West Ham (A) | Man City (A) | Swansea (H) |
| West Ham (H) | Leicester (A) | Stoke (H) | West Brom (H) | Man Utd (A) |
| Middlesbrough (A) | Watford (H) | Everton (A) | Sunderland (A) | Hull (H) |
| Everton (A) | Arsenal (H) | Man City (H) | Crystal Palace (A) | Burnley (H) |
Ten games into the Premier League season, Jurgen Klopp's fluid, attacking Liverpool side are continuing to impress. Sitting in third place, behind Man City and Arsenal only on goal difference, Liverpool have a very winnable next seven games leading up to Christmas. Considerably easier than their title rivals. What's more, six of Liverpool's ten Premier League games to-date have been away from home, and they have already faced four of last season's top five.
Much has been made of Liverpool's style under Klopp and there is definitely substance to the common belief that they are the most entertaining team to watch in the Premier League. Liverpool have created 148 chances in the league this season – 12 more than any other side. They also top the charts when it comes to shots on goal. Firmino, Coutinho, Mane, Sturridge, Lallana et al. have tested the opposition keeper on eight more occasions than anybody else so far this campaign, with 69 shots on target. But can they actually win the league for the first time since 1989-90?
First and foremost, they aren't in Europe. With no Champions League or Europa League distractions, Klopp's men can focus solely on the Premier League and shouldn't burn out at the back end of the season. On top of this, as previously touched on, Liverpool have had a comparatively difficult start to the season on paper, and face a far run up to the festive period compared to their title rivals. They have a very realistic opportunity to be top of the Premier League at Christmas and this, as you can see below, is more significant than you might think. In nine of the last 12 seasons, the team top on Christmas day has gone on to win the title.
Liverpool were 9/1 to win the Premier League on the opening day of the season. They are now as short as 11/4 and could very well be even shorter by Christmas.
Where do Christmas leaders finish?
| Season | Top at Christmas | Final Position |
| --- | --- | --- |
| 2015-16 | Leicester | 1st |
| 2014-15 | Chelsea | 1st |
| 2013-14 | Liverpool | 2nd |
| 2012-13 | Man Utd | 1st |
| 2011-12 | Man City | 1st |
| 2010-11 | Man Utd | 1st |
| 2009-10 | Chelsea | 1st |
| 2008-09 | Liverpool | 2nd |
| 2007-08 | Arsenal | 3rd |
| 2006-07 | Man Utd | 1st |
| 2005-06 | Chelsea | 1st |
| 2004-05 | Chelsea | 1st |