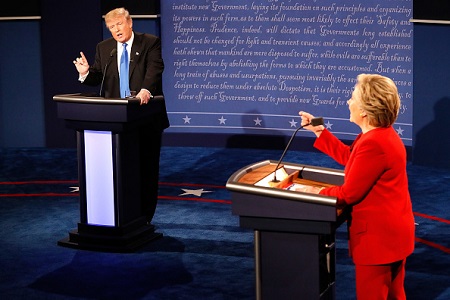 During much of the 90 minute debate between Trump and Clinton at Hofstra University, Trump was questioned over his record of perceived racism, sexism and tax avoidance.
Clinton forced Trump onto the defense on all of these issues and more, something Trump seemed relatively ill-prepared for. He appeared to lose his cool after being questioned over his refusal to release his taxes and made some inaccurate claims over policing, his support of the Iraq war and Hillary Clinton being behind the so-called birther conspiracy.
One quote from Clinton that made Trump look particularly under-prepared was:
"I think Donald just criticized me for preparing for this debate," she said. "And yes, I did. And you know what else I prepared for? I prepared to be President. And that is a good thing."
Trump did make some valid points over the economy and jobs that have struck a chord with many Americans and seen his campaign pick up popularity in the last few weeks. That doesn't seem like it was enough to overcome the wild nature he approached this debate with though and bookmakers have reacted to that.
Clinton has come into best odds of 4/9 and Trump, having been around 6/4, has seen his odds move out to 2/1 following last night's debate.