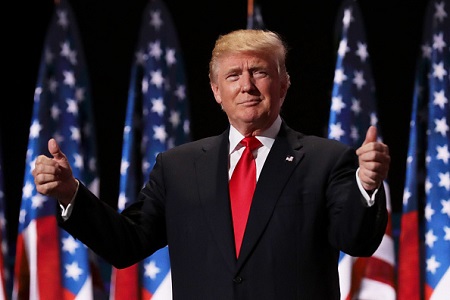 We analyse how Trump's chances of becoming President changed over the past 12 months, in terms of his odds and betting patterns.
So there we have it, Donald Trump will be the next President of the United States. Trump fought off stiff competition from Democrat nominee, Hillary Clinton, to win the 2016 US election.
He cruised past Ted Cruz in the 2016 Republican Party Presidential Primaries in a campaign that ran from February until June. It was a fairly one-sided result with Trump collecting 41 contests, and 44.9% of the vote.
Inauguration Day is not until 20th January 2017, meaning Trump will not take over from Barack Obama for two months. We've analysed how Trump paved his way to the White House in terms of bettor activity and his odds to win the election. See the findings below.
Donald Trump betting stats by month
| | Best-price to win the election | Proportion of all election bets | Proportion of all election stakes |
| --- | --- | --- | --- |
| October 2015 | 12/1 | 11% | 9% |
| November 2015 | 11/1 | 6% | 10% |
| December 2015 | 8/1 | 10% | 2% |
| January 2016 | 7/1 | 23% | 10% |
| February 2016 | 8/1 | 12% | 20% |
| March 2016 | 7/2 | 14% | 18% |
| April 2016 | 7/1 | 14% | 8% |
| May 2016 | 3/1 | 47% | 49% |
| June 2016 | 3/1 | 60% | 41% |
| July 2016 | 3/1 | 49% | 30% |
| August 2016 | 4/1 | 39% | 27% |
| September 2016 | 3/1 | 35% | 31% |
| October 2016 | 12/5 | 48% | 47% |
| November 2016 | 9/2 | 24% | 68% |