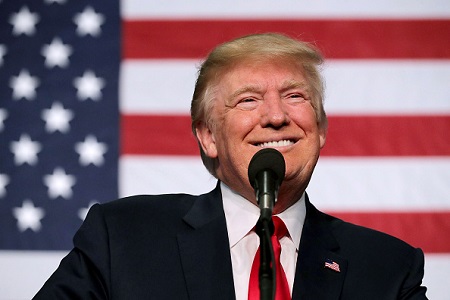 We've taken a look at how Trump went from outsider at the start of the night to a dead cert by the end of it.
Prior to any votes being counted Donald Trump's best odds of becoming president were 4/1 and Hillary Clinton's were 1/6. So just how did Trump win the election and how did the odds change overnight as he was in the process of doing so?
There were said to be nine swing states that Trump needed to win, with Florida, North Carolina and Michigan among the most important. Those states pre-election odds are below in our handy table.
| State | Best Odds |
| --- | --- |
| Florida | 15/8 |
| Michigan | 11/4 |
| Minnesota | 13/2 |
| New Hampshire | 9/4 |
| North Carolina | 1/1 |
| New Hampshire | 9/4 |
| Pennsylvania | 7/2 |
| Virginia | 11/2 |
| Wisconsin | 5/1 |
01:00 - It all started so promisingly for Clinton with the urban counties of Florida being counted first. She had a healthy lead in Florida because of that and her odds shortened to 1/10 and Trump lengthened to 11/1.
01:45 - That optimism in Florida is short lived, with Trump making up that deficit and then storming into a lead after most of the rural votes had been counted. Trump was now into 4/1 and Clinton back out to 1/6.
02:00 - A big shock in Virginia, where Clinton was expecting a 5 point margin victory. Trump was now ahead in the state and the odds changed dramatically. Trump was now into 6/4 and this was the first time that the bookies considered him to have a real chance of winning.
02:30 - Trump moves into evens with victories in some of the leaning states and his lead in Florida gets ever bigger.
02:50 - Trump had the lead in Florida, Virginia, Wisconsin and Michigan, some of the key states in the battleground for the presidency. He was now the favourite for to be elected for the first time, at 4/7 with Clinton at 11/8.
03:15 - Trump now all but certain to win Florida and was the massive favourite at 1/7, with Clinton at 5/1.
04:15 - Trump, and the Republicans, officially won Florida with wins expected in Michigan and Pennsylvania. A foregone conclusion with a Trump win in North Carolina and his odds now at 1/50.