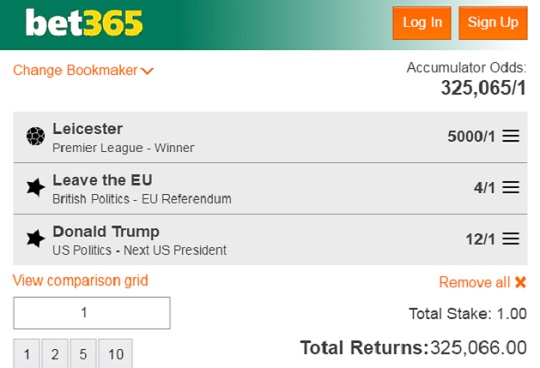 Following Donald Trump's win in the US election, there's been a lot of talk this morning about the value of a treble including Trump, Brexit and Leicester to win the Premier League.
Trump's win has continued the trend of shock results in 2016 but what was the true best-priced value of the treble when all markets were live?
In September 2015, the Premier League had just started, the EU referendum campaigns had just begun and the Republican and Democratic nominee campaigns were just getting off the ground.
Leicester had started the season in good form but no one really gave them a chance, with best odds of 5000/1. Leaving the EU seemed highly unlikely in a two horse race, with best odds of 4/1. Trump's campaign had started to build momentum having been 250/1 a year earlier and his best odds were 12/1.
Putting those three outcomes in a live accumulator would have paid a massive 325,065/1!. They say hindsight is 20/20 vision but there will be plenty of people out there wishing they had put some money on this longest of longshots now.