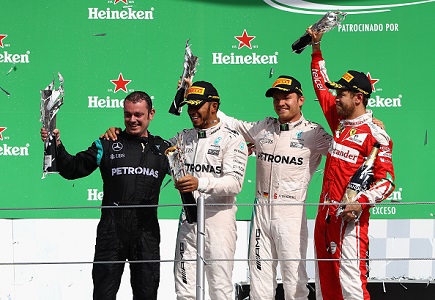 After a topsy-turvy race for the Drivers' Championship between Mercedes team mates, Lewis Hamilton and Nico Rosberg, it all comes down to the last race in Abu Dhabi on Sunday.
With Rosberg 12 points ahead of Hamilton in the table, the smart money is obviously on the German at odds of 1/4, as opposed to Hamilton at 3/1, but given how this year has gone we wouldn't rule anything out.
Rosberg could have engine problems, he could be involved in a crash or he simply could have an off day. It's generally perceived that Hamilton has the mental edge over his rival and with such big stakes on the line for the final race of the season, it is not out of the question for the pressure to take its toll on Rosberg.
With Jensen Button taking a retiring from F1 after the race and nothing on the line for him, he joked this week that Hamilton should pay him to crash into Rosberg, taking him out of the race.
'Well, unless one of us crashes into him (Rosberg will win),' Button said in an interview with GQ. 'I mean, Lewis is very rich and has a lot of money, flies around in a private jet, so I'm sure he can afford to pay me.'
For a full look at the permutations that would see Hamilton win the title, take a look at our handy table below:
| If Hamilton finishes | Rosberg needs to finish |
| --- | --- |
| 1st | 4th or below |
| 2nd | 7th or below |
| 3rd | 9th or below |
| 4th or below | Rosberg is champion |