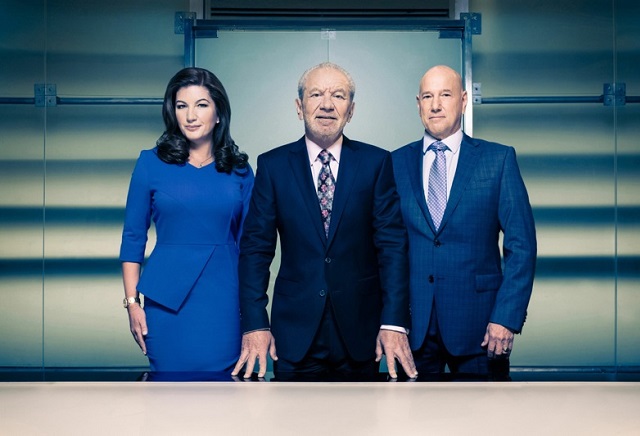 Lord Sugar is back with the 12th series of The Apprentice and he returns with his trustworthy advisors, Baroness Karren Brady and Claude Littner. This year there are 18 brand new candidates who will be fighting it out to win the £250,000 investment into their business plan. The first task is designed to show their negotiation and selling skills, with at least one contestant being fired from the losing team.
Paul Sullivan is the owner and director of a Marketing Company specialising in finance, technology, construction and property. Paul says he's here to win the competition and being one of the oldest, he must be considered to be one of the favourites because of his experience.
Jessica Cunningham is the owner of an Online Fashion Company and the Operations Director of a PR and Marketing Agency. She says "A motto I live by is: there is no competition if you're already winning." Jessica will be seeking out the weaknesses of the other candidates and she will attempt to use them to her advantage. She could be one to watch throughout the process.
Samuel Boating is a Sales Manager from London and is one of a few candidates who aren't currently business owners. The first task should suit him and if he can get off to a good start, there is no doubt his confidence will grow throughout the competition.
At 24, Alana Spencer is the youngest contestant and she is the owner of a Baking Company. Opening her first business at 17, Alana has the determination to advance to the latter stages of the competition. Lord Sugar tends to favour contestants who start at a young age and we expect him to have a soft spot for Alana.
Our favourite to win this year's show is Oliver Nohl-Oser. The 33 year old from Wiltshire is the owner of a Food Distribution Business which supplies supermarkets both in the UK and Internationally. He ticks all the right boxes when it comes to what Lord Sugar is looking for and he even likens himself to James Bond when in his suit.
As the show begins, over the next 12 weeks we will see if any of our early favourites make it to the final and be in with a chance of winning the £250,000 investment from Lord Sugar.