As bookies slash her odds, get behind the UK's latest rap sensation by using the hashtag #ShowMeTheHoney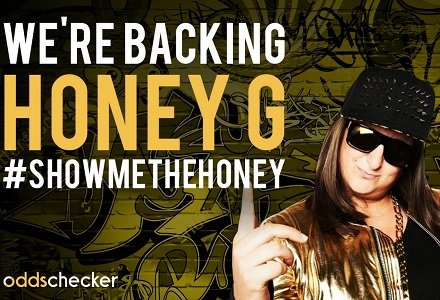 Last Saturday night saw Honey G take X Factor to a new level altogether. The latest rap-phenomenon covered California Love by 2Pac and smashed it out the park. In the words of Honey herself, "Shout out to Mrs O!" for giving us the chance to witness such a spine tingling first live performance.
Our tipster has rated Honey G to be the top over 25 act as a 3 point bet this week, and it's quite clear to us that Sharon's act has what it takes to go all the way; indeed she plans to "mash it up, tear it up, rip it up". Now's the time for us at Oddschecker to pin our colours to the mast and pledge our support to the former tennis champion with a music technology degree.
Honey caused quite a stir on Saturday night, with some suggesting David Cameron had opted for a bizarre career change. Whilst elsewhere, teenagers around the UK jumped on the #MummyG trend to show the world the similarities between the X Factor sensation and their own mothers.
However, it was the bookies that were really made to sit up and take note. The odds on Honey G to win the show were slashed from 66/1 to 12/1, before settling at best odds of 20/1. It's time for us to back the Honey Monster, and give her our support… Who's in? #ShowMeTheHoney
If "Rage Against The Machine" can do it, so can we… H to the O to the N to the E to the Y to the G, it's Honey G!
H to the 0 to the N to the E to the Y to the G, it's Honey G!!! @The_Honey_G is bringing the heat to #XFactor!pic.twitter.com/zuYi7l7quS

— The X Factor (@TheXFactor) October 8, 2016